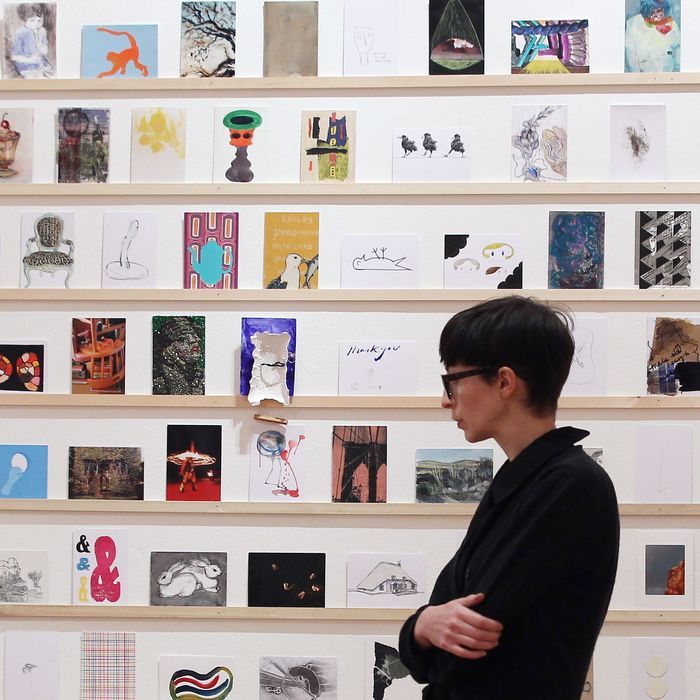 Art!
Photo: Dan Kitwood/Getty Images
In January of this year, Leonardo DiCaprio bid on and won an Ed Ruscha painting at Sean Penn's annual Haiti Rising Gala charity auction. It cost him $125,000, which to Leo is less money than he spends on newsboy caps in a year. Imagine spending over a hundred grand on a piece of art by an artist that maybe isn't even that good?
But I digress …
Whether or not you like the work of Ed Ruscha, or have a walk-in closet full of only newsboy caps, it's unlikely that you have anything close to the disposable income that DiCaprio has. I know this because you are reading this website when you could instead be on a yacht off the Cayman Islands, pretending that websites don't even exist. When you are rich, you can buy debatably good art for a lot of money, hang it on a wall that is probably a sour yellow color, and never even have to look at it. Why? Because your house has too many rooms and you forget which one you put that $125,000 piece of art in. Silly you.
For the rest of us, this laissez-faire attitude toward expensive things is not an option. My house, for example, is one long room, by which I mean it is an apartment. If I want to appear "cultured" and impress visitors, I have to make strategic decisions about what art to hang and show off. That old Goodfellas poster and a ratty tapestry are easy ways to cover blank walls, but my esteemed guests might prefer to gaze upon something more inspiring, more refined. The problem remains: I do not have $125,000 to blow on an original piece of work, especially a bad one.
Well, guess what. I have come up with a lifehack.
At an art museum, postcards of the works that appear inside generally cost $1, occasionally $1.25. If you multiplied that by 100,000, you'd be spending the equivalent amount of money that Leo did on an Ed Ruscha. But you — smarter — are instead getting one hell of a deal. For $1 or $1.25, you can take home with you the pieces of art you are most fond of, and for an additional, like, seven bucks, you can frame them and hang them up. That is less than the price of even one newsboy cap. Leo might have an Oscar, but you have ingenuity and several 5x7 framed pieces of art that you like. (Hey, if you like to splurge, spring for the 8x10 prints.)
Here's how this terrific lifehack works: Go to the Metropolitan Museum on a rainy Sunday afternoon. As is tradition, bypass the $25 suggested donation and instead empty out your coin purse on the counter in front of a scowling Met employee. You might take notice of a Velásquez. Wander through the Old Kingdom offering chapel. Admire a medieval tapestry. Catalog in your head what pieces strike you as most exciting. You can even bring a ping-pong paddle with you; raise it subtly as if you are bidding on the art right in front of you. I promise this is normal behavior and everyone will think you are rich. Then, before exiting the museum, pick up your winnings at the museum shop. No bidding war necessary. And you have spare money for a $9 coffee at the museum cafe.
Ta-da. You're an art collector.