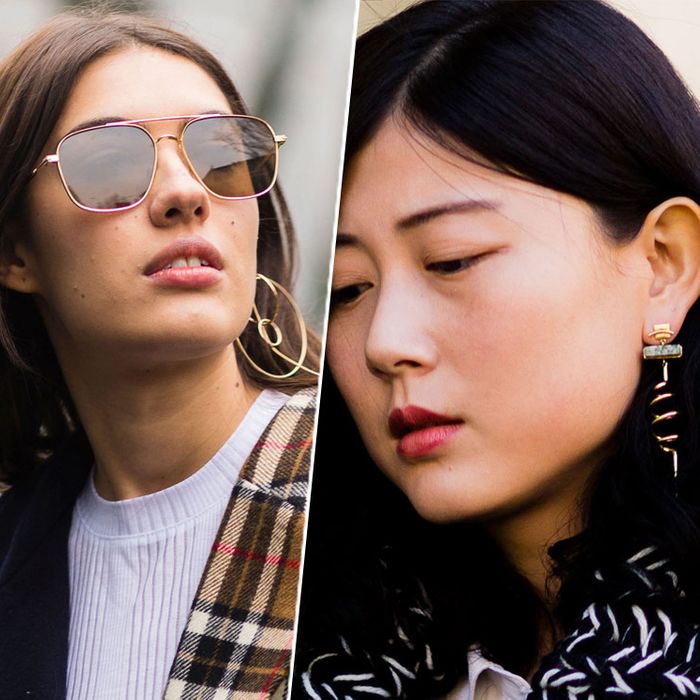 As inspired by Milan street style.
Photo: Nabile Quenum
The not-so-hidden secret behind fashion-week street style: A lot of the pieces you see in pictures are actually loaned from the fashion houses themselves, meaning they're even too expensive for the people wearing them. That said, they're pretty useful as an inspirational mood board, especially when you're stuck in a styling rut: Just look at all of the statement earrings seen at Milan fashion week. Designers like J.W.Anderson and Celine were clear favorites, with the best outfits requiring little more than an eye-catching pair, and a simple jacket or button-up to balance the look.
Unless you have a couple hundred dollars lying around (namely $560 and $650 respectively) to devote to your earring fund, the Celines and J.W.Andersons of the world will require some creative budgeting. But if you're looking to dabble in the trend, online retailer Mango has versions of every style we spotted in Milan last week. The best part? They're less than $20, so you don't feel like you have to commit to any one pair just to get your money's worth. Scroll below for the coolest ones you can get in on now.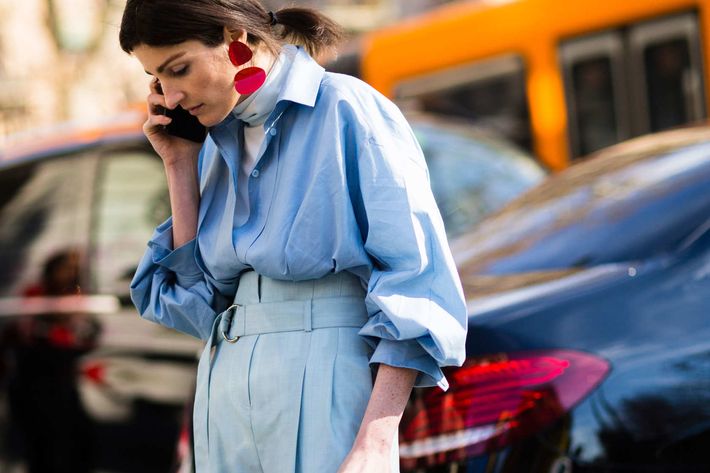 Baublebar has been making an affordable version of this style for years, but when Balenciaga and J.W.Anderson released similar spherical drop earrings last season, the trend seemed to really take off. The design was ubiquitous during Milan Fashion Week, but instead of waiting forever to save hundreds on a designer pair, opt for the budget-friendly version. No one will be able to tell the difference.

It happens every time: You buy a new pair of earrings, but then a few months later one of them is nowhere to be found. Next time it happens, don't even bother to search — take a cue from Saint Laurent and Marni and try a mismatched combo. This one has the right amount of whimsy but still looks similar enough to be a coordinating pair.

Think of these as the earring version of red lipstick. When you can't be bothered to fuss over your look, gather your hair into a bun, swipe on some lip balm, and you're perfectly pulled together. Caveat for anyone interested in these: They're so big that they almost cover your entire ear.

Remember when every pop star wore only one earring in the '80s? Well, it's back again. To give this trend a more intentional feel, and not look like you simply lost one after a wild night, pick one earring that's bound to stand out. Or if you're really not into the mismatch, these are great as a pair too.

As offbeat as it looks, fashion people really like to wear faces on their earrings — so much so that similar designer versions are sold out. They're cool and a bit creepy, perfect for the friend that's always into vintage-looking, one-of-a-kind pieces.

If you buy something through our links, New York may earn an affiliate commission.