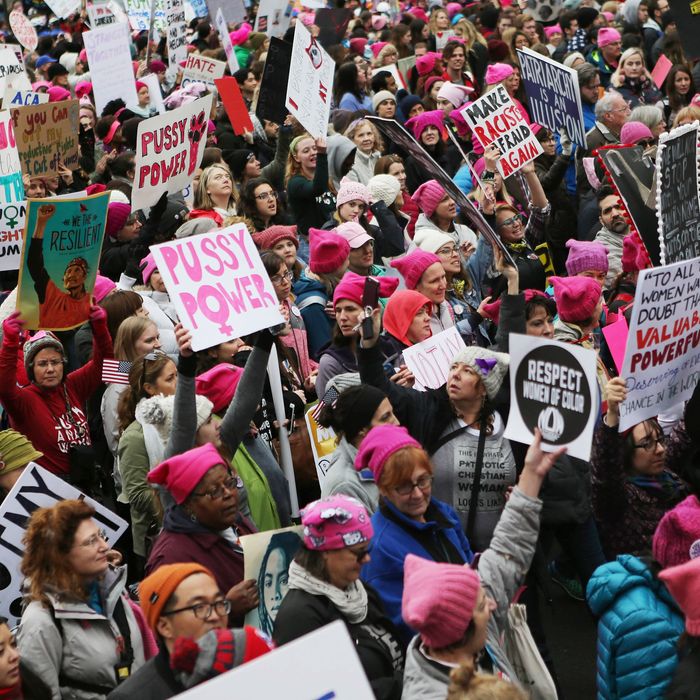 The Women's March.
Photo: Mario Tama/Getty Images
As next week's International Women's Day inches closer, questions have arisen over how to participate in the coinciding women's strike that will be happening that day. Organizers of the national Women's March released details on Thursday outlining what the so-called "A Day Without a Woman" will look like, and how you can participate.
The strike, which has delegations in over 30 countries, will happen on Wednesday, March 8. Here's how you can take part, via the Women's March organizers:
1. Wear RED — the color signifying revolutionary love and sacrifice — to show solidarity with A Day Without a Woman.
2. Only spend money at small, women- and minority-owned businesses for the day.
3. Women take the day off from paid and unpaid labor.

As a sign of solidarity with women who cannot strike for financial reasons, organizers encourage participation by doing the first and/or second action on this list.
If you don't identify as female, organizers ask that you perform the role of ally by calling out "decision-makers at the workplace and in the government to extend equal pay and adequate paid family leave for women." According to the organizers' statement, "Many households that rely on caregivers, nannies, housekeepers, and elder care will grant a paid day off in a show of respect and solidarity for the importance of care work" and other businesses are either closing for the day or giving their female employees the day off.
There are rallies and protests being held on the day, but if protesting isn't your thing, organizers advise "supporting or volunteering with local groups, and building community with each other" instead.