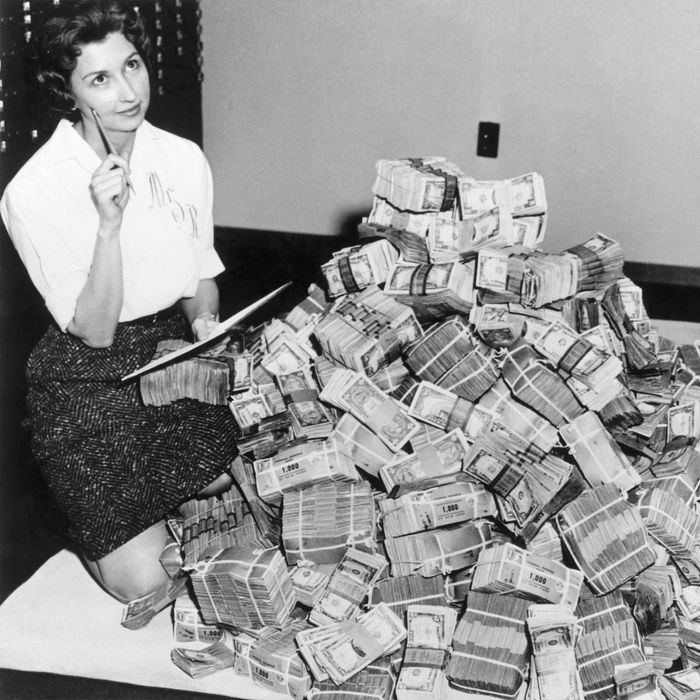 Photo: Bettmann/Bettmann Archive
Tracy, 29, desperately needs to KonMari her apartment — she has a bunch of clothes from college in the back of her closet, and some nicer, more recent purchases that she just never wears. If she could make money from selling it, it would help her kick-start the clear-out process. But she works all the time, and the last thing she wants to do on weekends is pack up old stuff and bring it to the post office (which she's never even been to, come to think of it), especially if she'll only make a few bucks. Should she bother? And how should she go about it?
About ten years ago, my friend's mom, Jane, was going through some boxes and came across her daughter's old American Girl dolls. "I wanted to see if they were worth anything online, so I put them on eBay," she said. They sold quickly — as did a slightly worn Bottega Veneta bag that Jane posted next, and a pair of shoes after that. Today, she has made over $74,000 selling stuff online; she knows the exact sum because she keeps track on a spreadsheet. "It's a little tedious," she admits, "but seeing the numbers is a great motivator." (As was the brand-new Bottega bag that she bought with a portion of her earnings.)
Jane is quick to admit that champion eBay-ing takes some elbow grease. Unlike you, Tracy, she's retired and has time to find the right-sized box for an old lamp and haul it over to UPS. "If I were still working, I probably wouldn't put so much energy into it, especially with the cheaper things," she says. For instance, she once auctioned off parts of an old broken blender. "People wanted them, because that model isn't made anymore," she explains. "So I made a few dollars instead of throwing it out."
The secret is to find the sweet spot of maximum profit for minimum time. Fortunately, the internet houses a cornucopia of consignment apps and auctioning tools that can help you be strategic and efficient when selling your stuff. Gone are the days when you have to beg strangers on Craigslist to please take your old armchair (for FREE!!!) just so you don't have to drag it out of your walk-up apartment by yourself.
But before you start, take a look at what you've got, and think about what you paid for it. "If something wasn't very expensive to begin with, chances are you won't get a large return when you resell it," says Courtney Jespersen, who studies consumer and retail patterns at Nerdwallet. "Brand names will generally give you a better shot at earning some cash." Those Rag & Bone oxfords that you loved so much in the store and then realized were toe-torture devices? Perfect. Generic labels, not so much — but more on those later.
If you're selling high-end or brand new stuff:
If you're parting with something designer, consider a third-party seller like The Real Real (which consigns luxury clothing, jewelry, shoes, accessories, and even furniture and art), Rebagg (for handbags), Paddle8 (for art, objects, and other collectibles), or AptDeco (for furniture and décor, and only available in New York and Washington, D.C.). The beauty of these services is that they'll give you an estimate of your item's price before you decide to sell it, so you'll know what to expect for your efforts. They'll also authenticate your item (which ensures buyers' trust), as well as facilitate the sale by handling delivery and payment. And finally, they'll manage return requests, which are a huge nuisance and to be avoided if at all possible. (Trading emails with a disgruntled Texan named Daisy3442 who wants to argue that your old Jil Sander wedges are "scratched," not "lightly scuffed," is no way to spend a Tuesday evening. I would know.)
While these middleman businesses offer convenience, they can also be selective. Both Rebagg and The Real Real have a list of designers that they'll accept, and will reject items if they're not up to snuff. (There's an upside to this: By keeping standards high, they gain buyers' confidence and can command higher resale prices.) "We send back items that have any wear that's front and center — i.e., a stain across the chest, a rip down a seam. If heel taps have been completely worn down or the hardware is broken, the shoes are usually returned," says Rati Levesque, The Real Real's chief merchant. "This is why it's super important to take great care of all your items — it truly extends the life cycle of the item and increases the resale value." (New life rule: Treat all your things as though you'll try to resell them someday.)
Another caveat: Third-party sellers will take a cut of the sale price, usually somewhere between 8 to 40 percent. However, when you factor in shipping costs (most high-end consignors supply prepaid shipping labels, or will arrange a free pickup), the value of your time, the efficiency of the sale (The Real Real sells 80 percent of its inventory within 30 days), and a higher resale price, you come out positive. According to Reham Fagiri, the co-founder and CEO of AptDeco, "Our sellers are likely to sell their furniture for 20 to 40 percent more on our site when compared to other marketplaces," which generally outweighs the site's 23 percent selling fee.
If your stuff is well-used or from a generic brand:
Platforms like Poshmark, Vinted, and threadUp are easy and free (or very cheap) to use, won't reject generic brands (or anything, really), and offer various perks such as pricing guidance and prepaid shipping for items when — or if — they sell. Should you want to steer clear of snail mail entirely, you can also try Letgo, a location-based app that lists items for sale nearby and encourages users to exchange goods in person (in a public, secure place, like a mall or a coffee shop — do not go to Herman's apartment to check out his $5 coffee table, but you know that already). If you're selling old electronics like a laptop, phone, or tablet, eBay is probably your best bet; you can also try Glyde, or Amazon's trade-in program. Just be sure to wipe your personal data so you don't sell your identity, too.
Creating listings is easier than ever, thanks to improved tools for uploading pictures; the trick is to be thorough. Laura Chambers, eBay's vice-president of consumer selling, stresses the importance of a detailed header. "Titles affect how your item will show up in search results, so remember to include important keywords like the brand name, size, or other descriptors that a buyer might look for," she says. In the description, accuracy is key — if you don't mention that giant merlot stain, it's not like the buyer won't notice it. "Be sure to describe the condition of your item, including the style and model number, and be up front about any flaws or if the item is pre-owned," Chambers suggests. It also helps to include a story about it, adds AptDeco's Fagiri: "Everyone loves to know the reason you're selling!"
Whether or not you make a killing on your spring cleaning, it can be satisfying to know that you're giving your belongings a second home. "I view it as a form of recycling," says Jane, reminiscing about a set of Christmas tree ornaments she shipped off to a delighted buyer in New Mexico last year. "If you have stuff you don't want, there's at least one or two people in the world who do, and then you get to connect it with someone who will appreciate it."