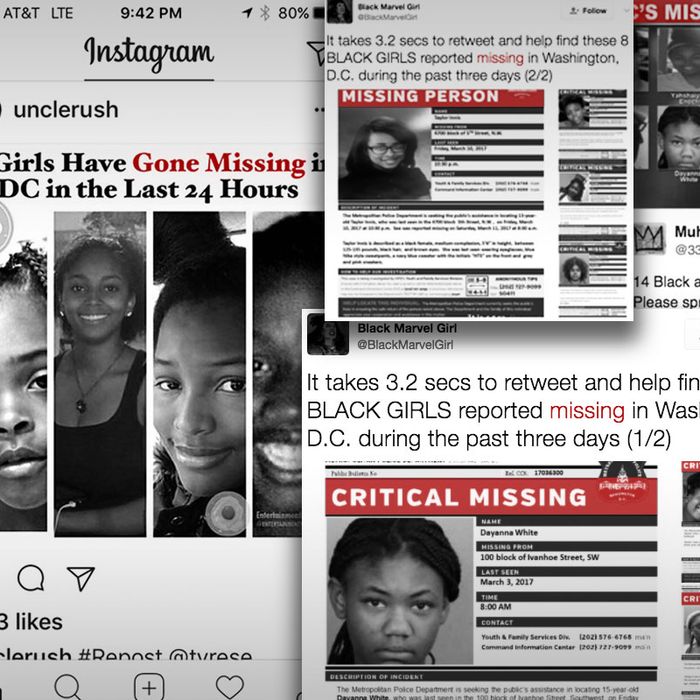 "We're just finding out what's going on in our city," Pastor Timothy McLean is saying. It's Sunday morning, and Pastor McLean, dressed in a crisp, blue suit, is pacing in front of the congregants of the Liberty Christian Church, a predominantly black church that meets in the auditorium of a Maryland high school just outside of Washington, D.C. "We're going to come up with strategies, we're going to come up with a plan of action," he says. "If they take one of our children, they've taken all of our children."
Conversations like this have been happening all over Washington in recent days, in press conferences, in community forums, and on social media. While official Washington was debating health care last week, the people that live in and around the city were demanding answers to a different question: What's happening to D.C.'s missing black children?
It started on Twitter in mid-March, when users who follow the city's official police account began noticing what seemed like an unusually high number of black teenagers being reported as missing persons. "Seven black girls have been reported as missing in DC in the last 72 hours," wrote one user. "It takes 3.2 secs to retweet and help find these 8 BLACK GIRLS reported missing in Washington, D.C. during the past three days," wrote another. Both tweets went viral, and soon D.C. officials were moving to tamp down the concerns.
First on social media and later at a press conference, the mayor and police clarified that the number of missing teens wasn't actually any higher than usual — the police were just trying to make better use of social media to help track them down. So far this year, they said, 708 people had been reported missing in Washington, 462 of them children. Nearly 200 juveniles have been reported missing in D.C. each month since 2012. In 2017, around 190 had been reported missing each month so far. "The overwhelming majority of our missing persons return home or are located quickly," D.C. Police Chief Peter Newsham said.
Their efforts have done little to ease people's fears. Last week, hundreds of residents packed a high-school auditorium in Southeast D.C. for an emotional community forum with local politicians and police, demanding to know what they were doing to bring down the numbers of missing children. The Congressional Black Caucus sent a letter to Attorney General Jeff Sessions, demanding that the FBI "devote the resources necessary to determine whether these developments are an anomaly or whether they are indicative of an underlying trend that must be addressed." Meanwhile, the social-media awareness campaign exploded. On Instagram, Tina Knowles and Nicki Minaj posted about it; on Twitter, LL Cool J, Sean Diddy Combs, and Viola Davis helped make #MissingDCGirls go viral.
The viral campaign kicked off a wave of speculation about everything from a possible serial killer to organ harvesters. One viral post claimed, incorrectly, that 14 girls had gone missing in one day. Pizzagate conspiracy theorists tried to hijack the conversation for their fake cause. But the misinformation can't overwhelm the broader truth: Ten kids going missing in a week is too many, and black teenagers are largely overrepresented in the ranks of missing youth in America. Black Americans make up only 13 percent of the overall population, but black teens totaled nearly 37 percent of people under the age of 17 reported missing in 2016. Cities don't publish this data uniformly, so it can be difficult to get a full picture of the problem, but there is good evidence that Washington isn't the only city where black youth go missing at alarming rates: a Chicago Reader analysis of police data last year found that black people of all ages were two-thirds of missing-persons cases in the city, despite being one-third of the city's population (the majority of those cases were for kids and young adults ages 11 to 21). The vast majority of missing-children cases involve endangered runaways (who are counted each time they run away), according to the National Center for Missing and Exploited Children. But the fact that missing black children are generally undercovered by the media has the effect of minimizing the urgency of their cases.
That's why Pastor McLean invited Derrica and Natalie Wilson, the co-founders of the Black and Missing Foundation, to services Sunday morning. Derrica, a law-enforcement veteran who was the first female African-American police officer in Falls Church, Virginia, and her sister-in-law Natalie, who has a background in media relations, founded the organization in 2008. They got the idea when watching how differently the media treated the case of Natalee Holloway, the white teenager whose 2005 disappearance on a school trip to Aruba became an international news-media juggernaut, to that of Tamika Huston, a South Carolina woman who disappeared a year earlier and whose case received comparatively little coverage, until her boyfriend at the time confessed to killing her.
"We're helping to bridge that gap," says Derrica, describing how the organization has helped families spread word about their missing loved ones to the media and filed police reports on their behalf. The group works with D.C. police on missing-persons cases, and they said social media has been useful in tracking down missing children. (In one recent case in Baltimore, police lauded "keyboard crime fighters" for helping them locate a missing girl after a woman recognized her from a post on Facebook.)
When they first started looking at the statistics of missing people of color in the United States, Natalie said, they were shocked by what they found. "We were very surprised. At the time I think it was a little under 200,000 people [of color] that were reported missing," Natalie said. "What about the ones who aren't reported missing? The number could be much higher."
In recent years, activists in Canada have forced the issue of missing and murdered indigenous women to the center of the political conversation, resulting in a government inquiry that began last year. According to one report, there were as many as 1,200 cases there. Though the population of Canada is much smaller than that of the U.S., activists argue that the scale of the missing people of color here — more than 240,000 people of color were reported missing in 2016, out of 647,000 cases — warrants a similar political movement. "It's long overdue here," Natalie said. "We've been saying it for a while. We're glad the conversation has started, but it can't stop. We all have a role to play."
At the services Sunday, Natalie and Derrica encouraged parents to create social-media accounts to watch their children online, and volunteers demonstrated self-defense techniques for kids. "We must have uncomfortable conversations with our children," Derrica said.
Natalie stressed that there isn't a single easy solution. "People go missing for a number of reasons," she said. Some of the missing were kids with special needs, others were fleeing domestic violence, others are being forced into sex trafficking. "We are trying to change the narrative where our missing people are overlooked. People don't see these individuals as real people — they have names, families who love them, and we want to ensure that they're not forgotten."
After the service, I talked with Derrick Butler and Brandi Martin. Both spoke on the panel at the church, and both have missing family members: Brandi's mother disappeared after breaking things off with an abusive partner in 1992, when Brandi was a little girl. Derrick's sister Pamela was last seen entering her house in Northwest Washington on her home-surveillance system in 2009. Her boyfriend was seen entering and exiting her home several more times, but Pam never left and wasn't seen again. Butler and Martin told me that they don't hold out hope of finding their loved ones alive. But they volunteer with the organization to try to help find other missing people of color.
For Martin, the newfound awareness on social media is a good thing — but it ultimately won't mean a lot unless people start organizing and volunteering to help find the missing kids. "I would love it if the people who are reposting and have so much to say about it get out and do something about it," she said. Butler agreed. "I don't want us to talk about it, and have this big blowout, and then have it die down and go back to business as usual," he said.
Additional reporting by Lindsay Peoples.