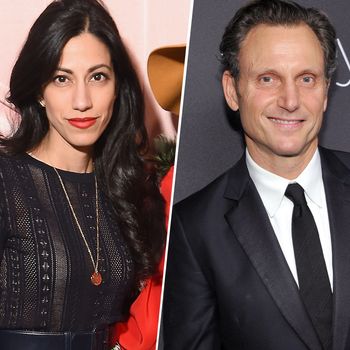 Huma Abedin and Tony Goldwyn.
Photo: Getty Images
On the heels of her terrible, horrible, no good, very bad year, we are pleased to report that Huma Abedin is still capable of enjoying the magic of Disneyland.
Recently, Hillary Clinton's right-hand woman and the reluctant star of Weiner enjoyed a trip to the Magic Kingdom, accompanied by her son Jordan, Scandal star Tony Goldwyn, and one of his daughters. There, the group ate ice-cream cones and took a spin on the log-flume ride.
According to TMZ, Abedin and the fictional president became friends during the campaign: Goldwyn gave a speech at the DNC, and Clinton and Abedin paid the actor a visit on the set of Scandal.

This is definitely our favorite politician-actor friend trip since Meryl Streep and Michelle Obama went to Marrakesh together.