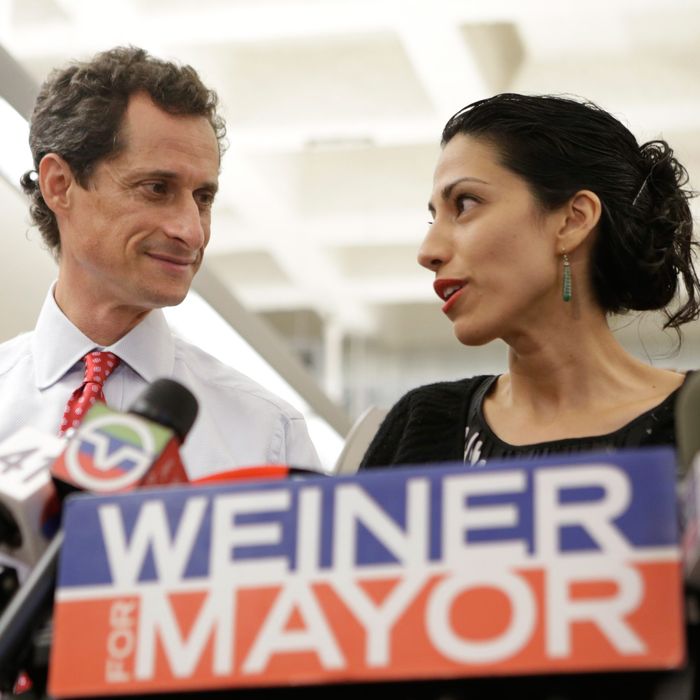 Anthony Weiner and Huma Abedin.
Photo: Kathy Willens/Getty Images
Huma Abedin has been spotted out and about in California recently with both David Foster and Tony Goldwyn from Scandal, but rumor has it she just can't quit Anthony Weiner. She announced her split from the former congressmember in August when news broke that he'd sent a text that included a "lurid crotch shot with his toddler son in the picture." That was was quickly followed in September by revelations of another online relationship — allegedly with an underage girl.
However, the New York Post is reporting that Abedin "has been working hard on her relationship with Anthony," and that he's been shacked up at their apartment about 80 to 90 percent of the time, with trips to his mom's Brooklyn home when the couple fights. This is according to a source close to the family, but that's not the only person talking to the Post.
Someone close to the Clintons told the Post that the couple's split was "more for optics for the campaign and [under] pressure from Hillary's camp." FBI director James Comey reopened the investigation of Hillary Clinton's use of a private server after the Feds began investigating Weiner's relationship with the underage girl and found "pertinent" emails on his laptop.
Weiner went to rehab for sex addiction in November.