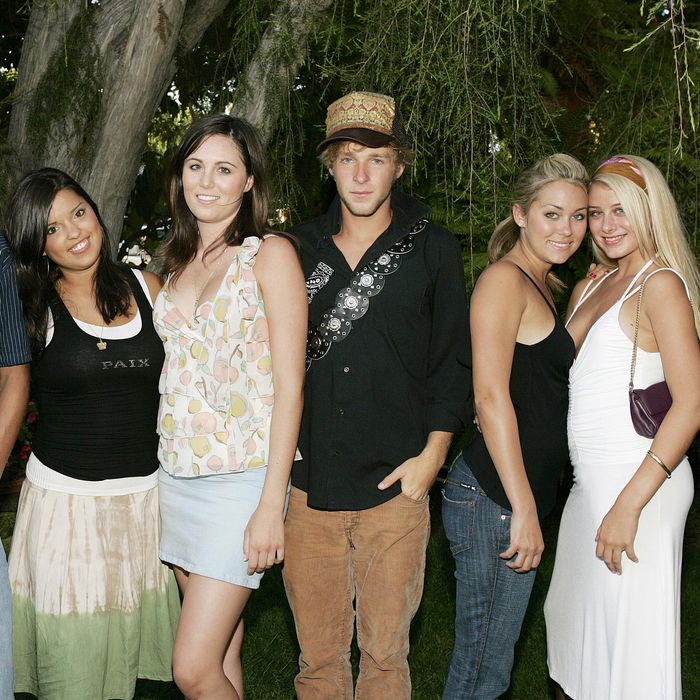 Laguna Beach.
Photo: J. Merritt/FilmMagic/Getty Images
At the end of a long day marked by chaos and confusion, a nice thing to do is imagine the past. Remember 2007? Bush was on his way out of office, everyone was texting on Sidekicks, and enthusiastic Laguna Beach fans were populating YouTube with carefully constructed montages of LC and Stephen flirting with each other in Orange County pools. Simpler times.
In the late aughts, YouTubers uploaded hundreds of these Laguna Beach montages as paeans to the best MTV reality show of all time. Each video was created in roughly the same way: Users pieced together scenes to evoke a real or imagined plotline from the show, and then set the whole thing to unmemorable pop music (Leona Lewis, Jesse McCartney, Hannah Montana). Today, you can watch these perfect three-minute compilations to remember the show, and more importantly, to relax. There is nothing more calming than watching a muted Lauren Conrad roll her eyes at somebody on the beach, while Jordin Sparks's "This Is My Now" swells in the background. Laguna Beach fan videos are my ASMR.
If, for whatever reason, you need to seriously chill out, these videos might work for you, too. Here are five to get you started.
"Lauren Conrad and Stephen Colletti," published Aug 11, 2007 by jezzebelle12, 91,458 views.
Most Laguna Beach fan videos feature the tortured teen romance at the center of the series, and this masterpiece is no exception. "Lauren Conrad and Stephen Colletti," as user jezzebelle12 explains, tracks the couple's downfall: "Lauren and Stephen are feeling awkward with each other and both are wondering where did their love go. In the end, they were not meant to be." Enjoy shots of LC sighing into her flip phone set to Tegan and Sara's "Where Does the Good Go?" Five stars!
"Lauren & Trey- Things I'll Never Say," uploaded Oct 3, 2009 by ktaurus, 44,944 views.
LC never dated Trey on the show, but what if she did? "Lauren & Trey- Things I'll Never Say" imagines that possibility with help from Avril Lavigne. "I know they were never a couple, but I thought this song would be cute for them," says user ktaurus. "I hope you enjoy!!" I do!
"Let Love In - LC/Stephen/Jason," uploaded Mar 29 2007 by MTVJunkie07, 83,344 views.
This montage, featuring the Goo Goo Dolls, tracks a more complicated plot line. I'll let MTVJunkie07 explain it [sic throughout]:
Lauren always had a hard time letting people into her life. She took the risk on Stephen and fell inlove with him. Slowly she began to realize she was second, after Kristin.. She could take play second best when he was her first… She was sad but she slowly began to like Jason. Before she knew it she was head over heals inlove with him. Towards then end she realized that it takes two for there to be this real happiness love, and that's what's she's found with Jason. I hope you enjoy it. Been working on this one forever but I never finished it
Really good!
"The Hills - Lauren/Brody - crawling back to you," uploaded Apr 15, 2008 by lani4ever123, 105,387 views.
Of course, when LC moved on to the Laguna Beach spinoff The Hills, montage-video creators followed her. This offering explores her relationships with Brody and Jason, which were both pretty bad. As user lani4ever123 explains [sic throughout], "Lauren is woundering if she should date Brody, or not, because of all his cheets. Also memories abaut Jason." Sad, but I love it!
"Lauren & Lo- I Got You," uploaded Nov 29, 2010 by ktaurus, 77,577 views.
Perhaps the most enduring lesson from Laguna Beach and The Hills is that female friendships are important. This video celebrates the LC and Lo's fun and occasionally insanely dramatic relationship. Enjoy the soothing sounds of Leona Lewis and the subtly different shades of blonde these women sported throughout the years. Thank you!