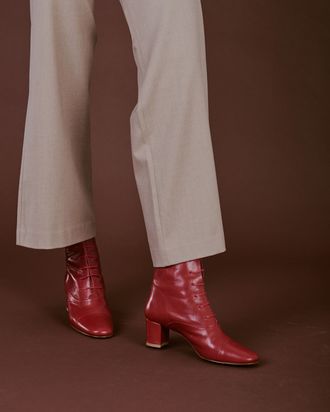 Photo: Courtesy of By Far Shoes
For the past year, my shoe-buying routine has consisted of buying a relatively cheap pair, walking down the street and breaking the heel on said pair, then running to the nearest shoe store and repeating the infuriating cycle all over again. The last time this happened, a couple of months ago, I was in Union Square and bolted to the nearby DSW. I bought an $85 pair of shoes that I didn't love but felt I could live with — until they quickly fell apart. I realized it was time to properly invest in a pair of shoes that would last. I wanted footwear that would look elegant but not boring, with a little bit of height but nothing too crazy. It was important that they look stylish with both dresses and jeans, and, lastly, cost no more than $500.
Luckily, while scrolling through Instagram, I found Bulgarian shoe brand By Far, made by a trio of female designers who aim to create retro-inspired shoes. The line fuses modern classics with vintage influences, like square toes and block heels. I was immediately drawn to the Lada boots' leather lace-up ankle style, which looked like someone had spent hours rummaging through bins at a vintage store. They do come in black, tan, and blue but the rich ruby hue is the number-one seller for obvious reasons: It's vibrant, chic and on-trend.
The boots are crafted in a rich Italian leather, then painted by hand. Instead of the flimsy fabric that makes most lace-up boots look cheap, By Far's laces are also made of that same rich, sleek leather. The heel is a manageable two inches, which makes walking around in them all day a breeze.
And they're especially great for this tricky time of year, when we're still months away from sandal weather but can no longer bear snow boots. Best of all, these boots are durable: I've worn them in the snow and in pouring rain, without any damage to the vibrant color or sturdy structure.
I wear them with cropped jeans or wide-leg pants, since they hit just above the ankle (trust me, on those days where you can't get more creative than a white shirt and jeans, your outfit will look a lot less average). I've been wearing them nonstop for the past few months, and strangers still stop me on the street to ask about my magical red boots. They're the best not-cheap-but-expensive-looking shoes I've ever bought.
Photo: Courtesy of By Far Shoes