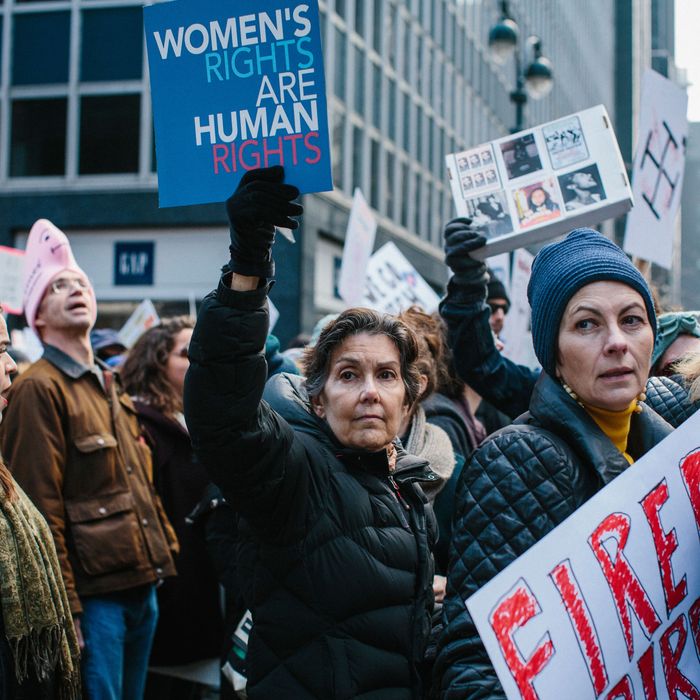 Women across the world are planning to strike on International Women's Day.
Photo: Stephanie Noritz/Getty Images
A little less than two months after January's historic Women's March on Washington, women in the U.S. and around the world will again take to the streets on Wednesday — this time to participate in the International Women's Strike, or "A Day Without a Woman." But for many women who can't afford to lose their jobs (i.e., the majority of low-wage workers in the United States), the decision to abstain from work without the protection of a union can feel risky. If you're thinking of participating, here's what you need to know about your legal rights.
If you're not entitled to a day off:
First of all, the Women's Strike isn't a "strike" in the typical sense. "A strike is about workers who have gotten together and are protesting conditions of their own employer," said Gillian Thomas, a senior staff attorney with the American Civil Liberties Union's Women's Rights Project. "We're protesting conditions imposed by our government."
If you're not entitled to a day off and you skip work anyway, that can be a fireable offense, Thomas added. The only exception would be if a male co-worker has done something similar without ramification — that could be grounds for a gender-discrimination case, although Thomas warned such discrimination would be "very hard to prove."
Even so, there's a portion of the National Labor Relations Act, or the NLRA, that protects many forms of collective action by employees — Section 7 protects employees' right to engage in "concerted activities for the purpose of collective bargaining or other mutual aid or protection." But in order for that protection to kick in, Amelia Tuminaro, a partner at the law firm Gladstein, Reif and Meginniss, which specializes in labor and employment law, says certain conditions must be met.
For instance, when workers went on strike for a Day Without Immigrants in 2006, it was to protest pending legislation designed to eliminate employment for undocumented workers. In the case of the Women's Day strike, "it's a little more diffuse," Tuminaro said. While some employees could potentially make a case for how striking on Wednesday affects their employment conditions, others would have a more difficult time connecting the dots.
"It becomes more complicated when the target is not necessarily your employer; that's the framework this is usually considered in," Tuminaro said. "It's not like anyone's employer can say, 'Okay, we can control the policies of the Trump administration.'"
If you take a vacation day:
Of course, you don't have to worry about any of this if you use a preapproved vacation day or a personal day to strike, even though doing so isn't "striking" in the traditional sense.
If you are entitled to time off and use a vacation day or a personal day to strike, you're protected if you work for a public employer — even if that employer doesn't approve of the strike. That's because public employees (people like teachers, MTA workers, and police officers who are paid with taxpayer money) are guaranteed First Amendment protections. As Thomas puts it, "when a government employer steps on your speech outside of the office, that is a First Amendment violation."
You're also pretty safe if you use a vacation day or a personal day and you work for a private employer (basically any company that's not publicly funded). Although private at-will employees don't have First Amendment protection, in most cases they're shielded by the NLRA. "Under those circumstances, the employer has no business disciplining you for off-duty conduct that involves political activity," Tuminaro said. "Who's to say that everyone wouldn't want to spend their vacation on a picket line?" She added that if an employee uses a sick day to strike instead, and if their employer requires a doctor's note or other documentation, that could be a "closer call," depending on the employer's workplace policies.
Unionized workers are, of course, the exception — union contracts may stipulate that an employer can't fire you without warning, or for things like expressing political opinions. If your boss violates that contract, there's definitely grounds for legal action, Thomas said.