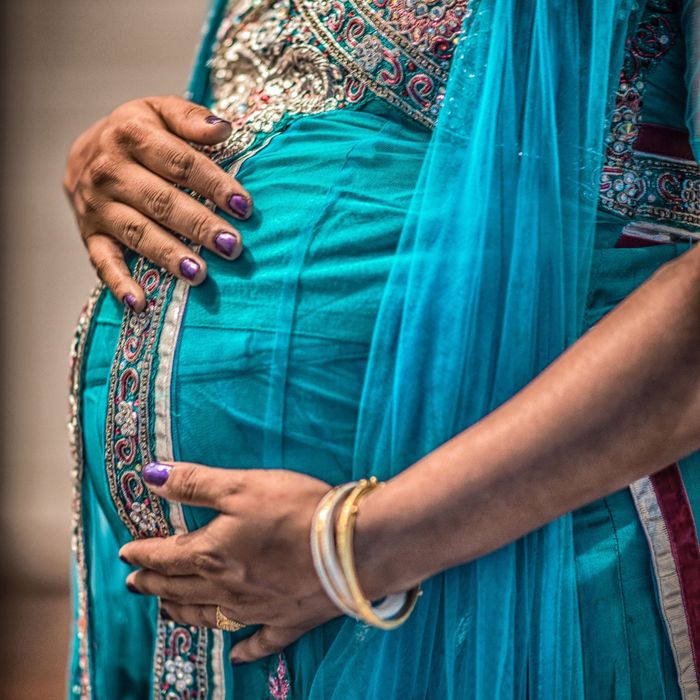 Photo: Gazi Alam/Getty Images
India passed a law to more than double its paid maternity leave, adding 14 weeks to the 12 already guaranteed by the government, reports the BBC. That's right: 26 weeks, fully paid. With only Canada (50 weeks) and Norway (44 weeks) ahead of it, India now has the third-longest fully paid maternity leave in the world.
The new law comes with a bit of fine print: The 26-week leave is available to mothers only for the births of their first two children. Women who have three children or more will have 12 weeks of paid leave, as will mothers who adopt children younger than 3 months and commissioning mothers (women who use surrogates to have a child). Companies with more than ten employees will be required to offer the full 26-week leave. Supporters hope the increase in available leave will allow more Indian women to keep working. Currently, about 25 percent of women in India leave their jobs after having a child.
And what about India's working dads? India's governmental workers have 15 days of paternity leave, which can be used by biological as well as adoptive fathers. According to the Indian Express, India's private sector has zero legislation guaranteeing paternity leave, though "many companies grant paternity leave for a week or two." Women and Child Development Minister Maneka Gandhi, the powerhouse behind the maternity-leave legislation, said in 2016 that "if men gave me one iota of hope by taking sick leave for child care, then yes, we can think of … a proposal for paternity leave." But, as reported by DNA India, the passage of the maternity-leave bill prompted some members of India's parliament to bring up paternity leave, "arguing that these days most of the children are born in nuclear families where both the father and the mother have to take care of the child."
Meanwhile, the United States currently guarantees zero weeks of fully paid leave for mothers or fathers.