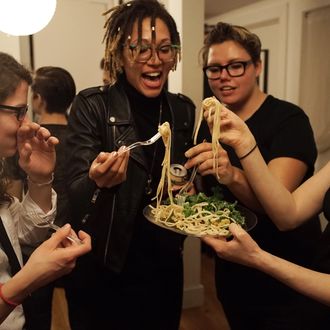 When Alex Koones — a professional chef who's worked in some of New York's most prestigious kitchens (the Breslin, Jean-Georges, and the NoMad, to name a few) — launched Babetown, a pop-up dinner party for queer and trans women and nonbinary people, in September 2016, tickets sold out in 48 hours. The next two parties sold out in ten. Koones was shocked; besides inviting 40 or 50 people on Facebook, she hadn't done much to promote the event. But even in New York, where there's no shortage of gay bars, drag shows, and LGBTQ-friendly parties, tickets continued to disappear almost overnight. "It spread very naturally," Koones says. "Babetown is what it looks like when something is a good idea."
Queer spaces have always been important; they're where we go to be accepted and understood and maybe not hit on by a bro wearing that shirt. But now, when a hostile administration has left many in the LGBTQ community feeling vulnerable, these spaces take on renewed significance. Babetown, with its $35 entry fee, home-cooked meals, and free-flowing booze, seems to have sprung up at just the right moment.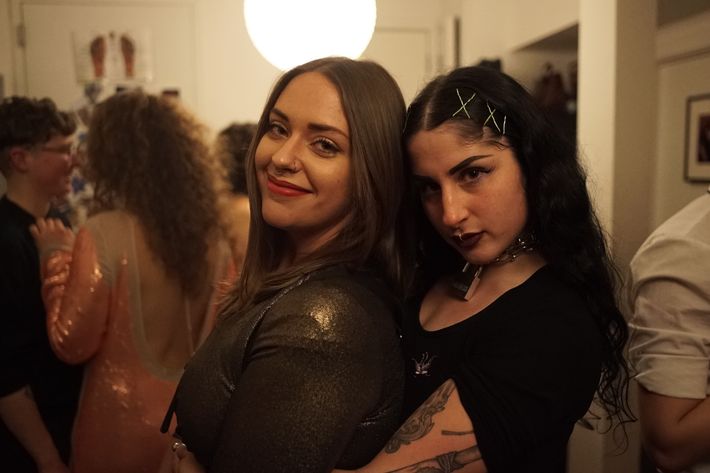 Babetown events start around 7 p.m. and take place at different venues around New York. When guests arrive, they head straight for the ice bucket of wine or beer, and then for one of the many dishes Koones has concocted: marinated swordfish in roasted-red-pepper salsa; kale Caesar salad; cauliflower and lemon pasta; or a build-your-own-beets bar (which included pickled peppers and ricotta salata). People flock to Babetown for the same reasons they'd come to any party: to eat, to drink, to network, to flirt. (Koones knows of at least three couples who've met there.) But they also come for the community. There's an unspoken understanding among guests: The world is a scary place right now, so we might as well drink.
"I want people to be able to escape from all those horrible realities," Koones says of the current political climate. "But at the same time, I think it's important for people to know how lucky we are to have this space to bolster each other."
Despite the size of the crowd, Babetown parties feel intimate. Most guests arrive as strangers, but it doesn't take long before they're sharing forks, pouring each other drinks, and doing deep readings of each other's astrological signs. Koones has worked hard to make sure Babetown is the type of place that welcomes people who can feel isolated, even in LGBTQ spaces. "I have nothing negative to say about [other] queer parties, but I think that our community has been greatly changed by gender," she says. "I [wanted to] make sure we don't leave trans women and nonbinary people behind."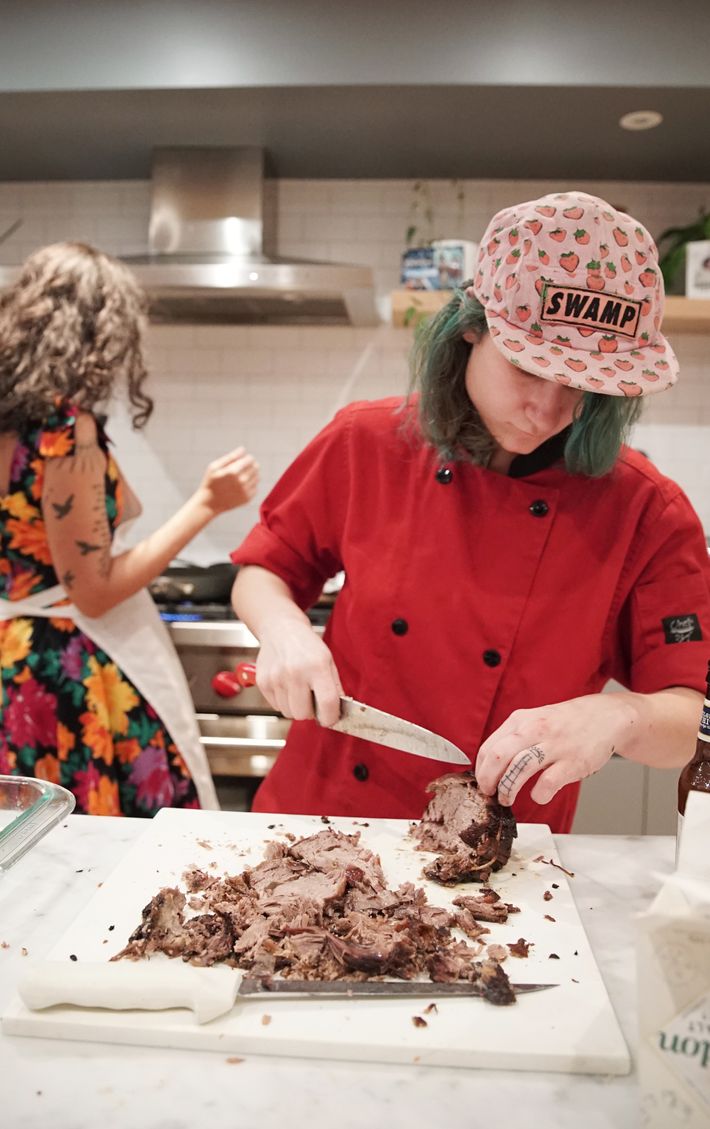 Koones is a Brooklyn native, but after graduating from college she moved to New Orleans to live in a lesbian commune. She returned to New York in 2013 to enroll in the Institute of Culinary Education, landed a job at the Breslin, and has been immersed in New York's food scene ever since. As a chef, she'd been cooking for large groups of friends in her apartment for years, and had even tossed around the idea of selling tickets, but her friends told her it was a bad idea. "That's so lame," she recalls one saying. "No one's going to pay to come to a dinner party at your house." But she was inspired by a talk from Lisa Cannistraci, the owner of the West Village lesbian bar Henrietta Hudson, which encouraged her entrepreneurial spirit. "She said, 'You don't need to wait for us to open up lesbian bars for you,'" Koones recalls. "'Go find the space. Go buy the alcohol. Go out and create the scene you want to see.' And I thought, You know, she's absolutely right."
It hasn't taken long for Koones to prove her skeptical friends wrong. In just six months she's thrown dozens of Babetown dinners and launched spinoff events like Babetown Fancy, where guests pay about twice the cost of a normal ticket ($75) to eat a sit-down, multi-course meal. There have been holiday Babetowns, Babetown Brunches, a vegan Babetown, and at least one Babetown hosted in Queens. Koones owns the trademark for Babetown, along with Be Your Own Babe Industries LLC, and she's thinking of starting a franchise of sorts: "I'd love to take Babetown to cities that need it even more."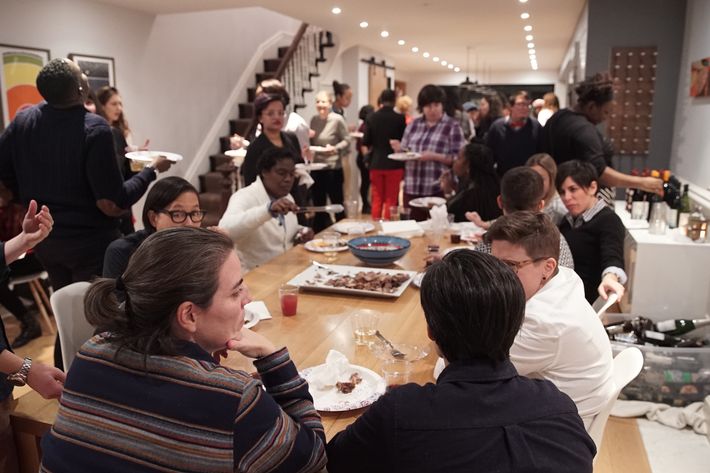 Babetown's success speaks to the skill and drive of its founder, but it's also an indication of how vulnerable people are finding safety in numbers in the Trump era. Along with rallies and protests, the queer community is coping with an unfriendly administration through things like new performance-art series and pop-up acoustic concerts. Events like these give people space to express themselves honestly, while also building a lasting community.
Recently, a straight woman emailed Koones and asked if she could buy a ticket. And although the idea was controversial among regular attendees, Koones okayed it. "I don't think now is the time to divide people up," she says by way of explanation. "I think any opportunity we have to come together as women and queer people we should take."