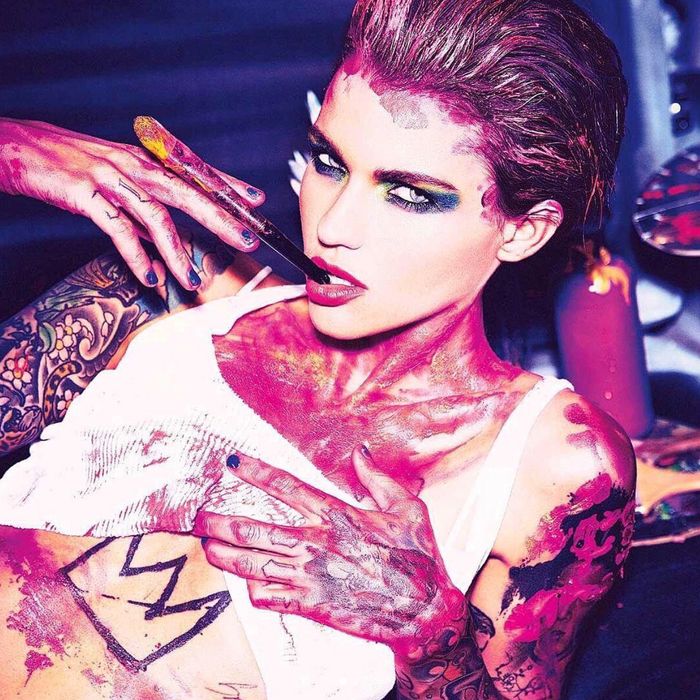 Ruby Rose for Urban Decay's Basquiat collection.
Photo: Courtesy of Urban Decay
On Wednesday morning, actress Ruby Rose and Urban Decay uploaded a series of photos to their Instagram accounts. With them they revealed that a new makeup collection in honor of artistic legend, Jean-Michel Basquiat, is on the horizon (it in fact launches April 20). Among the images, there was a photo that featured the collection's loot: two eye-shadow palettes embossed in a kaleidoscope of colors pulled from Basquiat's oeuvre; three lipsticks; three eyeliners; and a cheek palette — all of which are wrapped in Basquiat prints and outfitted with hooks so they may be hung on a wall.
No one seemed bothered by the products, but the model fronting it all — Ruby Rose — raised a few eyebrows. Before his death in 1988, Basquiat often spoke on how the absence of black people in paintings motivated him to incorporate black figures into his own art. For Basquiat, it seemed, representation mattered.
It's because of this, some argued, that the pairing felt misguided, despite Rose's noted admiration of Basquiat (her upper arm is tattooed with a giant portrait of the late artist, and her chest features a tattoo of his signature crown) and the Basquiat estate's hands-on involvement with the collaboration. To get a better understanding of the thought process behind the collection, the Cut spoke with David Stark, president of Artestar, the creative firm that has managed the licensing of Basquiat's work for nearly 20 years.
How did the collection with Urban Decay come to fruition?
As a company we're routinely going out to find interesting ways to bring artists into the cultural mainstream. Someone like Jean-Michel has been deceased for a long time and it's important for us to keep his profile high and find good, relevant ways of bringing him into the cultural landscape. When we think about a program we try and figure out who the right fit would be and vehicles that would be a good platform for us to get our message out. Urban Decay is a company we've known for several years. It took us a little bit of time to craft the program we eventually developed with them, but we did feel that as a brand Urban Decay is edgy and had an element of artistry and felt like a good fit.
Who approached whom?
We approached them about three years ago. The actual collaboration took about a year to come together after we initially met.
What was the estate's role in the collaboration?
With any licensing programs that we develop, we're granting a certain set of rights, but we have a very strict approval process. In most cases we pick the right company and we have a good perspective on why we're working with them. We have a pretty easy time creating the assets and going to market. That said, we work very closely with them in developing the final products. We have a product developer in-house that works with the brands that we work with. We also have a brand strategist that helps put together the concepts so we're very strategic about how we put the programs together.
Ruby Rose is a noted fan of Basquiat's work. Did you select her to represent the collection, or was it a coincidence?
As far as I know it was a coincidence. I think it was a happy coincidence for Ruby Rose. She was personally very thrilled that Urban Decay had selected Basquiat to do an activation with.
What is the estate's ultimate goal it hopes to achieve with this collection?
We like the idea of introducing Basquiat to a new audience and a new generation. This is a way for us to get out in a very public way and engage people with his art and hopefully get them to do a little research and learn something about Basquiat. The other thing is, there are plenty of people, when it comes to beauty, who are not necessarily the museum-going audience. There may be a consumer from Urban Decay who never steps foot in a museum and this is a subversive way of getting Basquiat into different people's eyeballs that they wouldn't necessarily see otherwise. Basquiat was a great communicator and this is a way for that art to get out and communicate on a different plane.
Where there specific Basquiat elements that you didn't want, or that you absolutely had to have?
From my side, not necessarily. We wanted to pick a brand that was a good fit, that understood their consumer, and knew how to go to market. I kind of let them [Urban Decay] take the lead on how they wanted to integrate Basquiat into their products so that it would reach their consumer. But I didn't have any specific call outs in advance.
People on social media have been critical of Ruby Rose's role as the face of the campaign. Basquiat often talked about how he painted black people because he didn't see enough of them in art. To choose Rose, a white woman, over a black person seems to counter what Basquiat hoped to achieve in his art.
I've seen some of that criticism. It wasn't that we chose her because she was white or black, she was already selected by Urban Decay to be the spokesperson for their brand. As far as looking at Jean-Michel as an individual, people would very often try to pigeonhole him and call him a black artist and Jean-Michel would say: "I'm not a black artist, I'm an artist." He would say a lot of the protagonists in his work are black figures, and he would say, "I didn't see a lot of black figures in paintings," so he would have his own subversive angle towards these things. In terms of an agenda as a black person or a black artist, it's hard to attribute that to him. Even though he grew up in a middle-class black family, his family was Caribbean. They didn't have the African-American experience. His heritage was Haitian and Puerto Rican. He had a very multicultural background.
This interview has been edited and condensed.