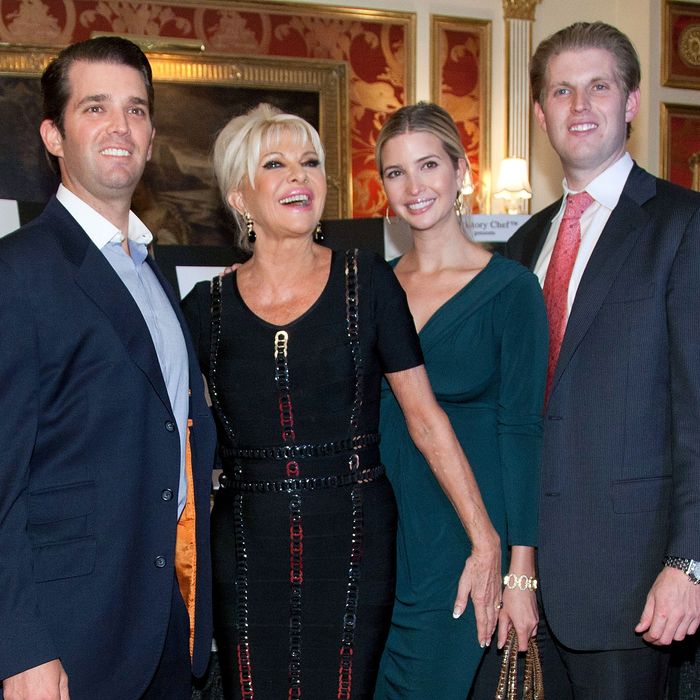 Ivana Trump with her kids.
Photo: Ben Hider/Getty Images
Ivana Trump, Donald Trump's first wife, is writing a memoir about raising her three children, Donald Jr., Ivanka, and Eric. According to the Associated Press, the woman who hired two nannies and a bodyguard to shepherd her kids around will tell her story of "motherhood, strength, and resilience" in Raising Trump, out this September from Gallery Books.
"As her former husband takes his place as the 45th president of the United States, his children have also been thrust into the media spotlight," reads a statement from the publisher. "But it is Ivana who raised them and proudly instilled in them what she believes to be the most important life lessons: loyalty, honesty, integrity, and drive."
The book will also cover her "childhood in communist Czechoslovakia, her escape from the regime and relocation to New York, her whirlwind romance, and her great success as a businesswoman," as well as "unfiltered personal stories about Don, Eric, and Ivanka from their early childhood." But according to Gallery, it will be "nonpolitical" — aside from maybe one or two pointed remarks about who did and didn't change diapers.