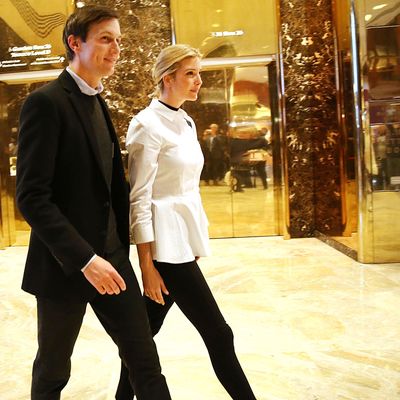 Photo: Spencer Platt/Getty Images
Good fences might make good neighbors, but a serious Secret Service presence isn't doing Ivanka Trump and Jared Kushner any favors when it comes to their new D.C. neighborhood.
At first they were just a mild annoyance for neighbors who noticed more and more "No Parking" signs taking up valuable spots around the neighborhood. When the couple's next-door neighbor, Rhona Friedman, saw a "No Parking" sign in front of her own house, that was the last straw.
Friedman said, "I started screaming," and then she started emailing people. Eventually, the parking spots in front of her house were freed up, but neighbors still have a lot to say about the Trump-Kushner presence.
Their neighbor across the street, Marti Robinson, told the Washington Post, "This is the adult child of the president. Sometimes there are 10 cars out here." Neighbors report seeing agents hanging around chatting loudly, and even changing shirts on occasion. "It is every bit as disruptive as if a very active business was allowed to come into this residential neighborhood," Robinson added. According to the New York Daily News, neighbors say "their staff haven't learned the trash pickup schedule outside their $5.5-million home."
A spokesperson for the Secret Service stated in an email to the Washington Post that the agency "makes every effort to collaborate with businesses and residents to minimize disruptions, while simultaneously maintaining the highest level of security for the individuals we are mandated to protect."