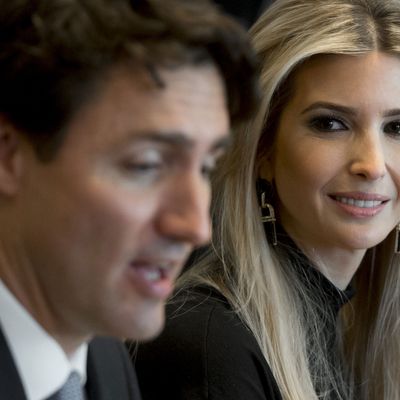 Photo: SAUL LOEB/AFP/Getty Images
Who knew that Ivanka Trump was such a fan of the theater that she'd be up for catching a performance on a Wednesday night? Forget the big, splashy Broadway musicals, too. Ivanka, it seems, has a liking for smaller, more intimate performances — like the musical, Come From Away, a feel-good story about Canadians helping Americans in the immediate aftermath of 9/11. But such is apparently the case, as Ivanka made a surprise appearance at the show tonight, alongside Nikki Haley, the new ambassador to the United Nations. Judging from photos of her in the audience, she seemed quite excited to be there.

Oh — we should note: Canadian Prime Minister Justin Trudeau was also there. Hmm.

Trudeau and Ivanka reportedly arrived at the show in the same motorcade but different cars. It's unclear whether Haley and Ivanka were invited by Trudeau, or whether their visit was coordinated across administrations in any way.

What we do have, however, is this photo of a smiley Ivanka, waiting for the show to begin.

Like we said, who knew she loved the theater so much?