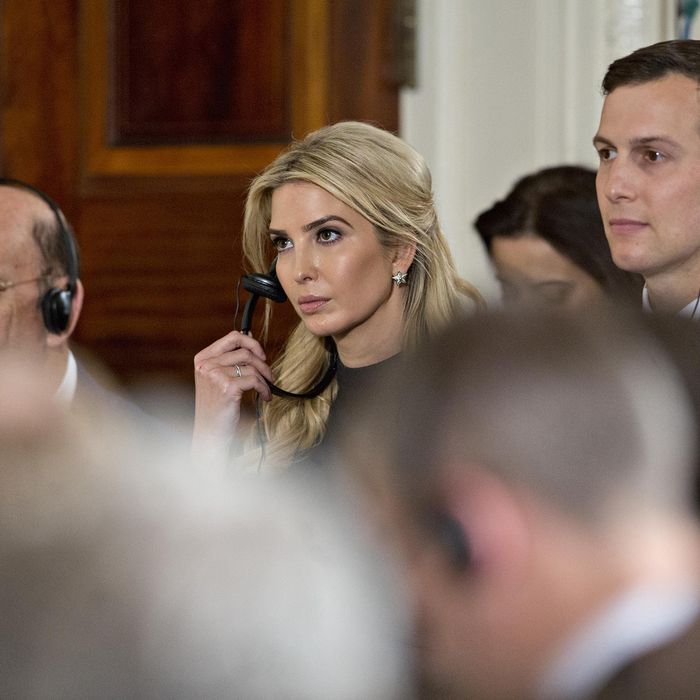 Wilbur Ross, commerce secretary, Ivanka Trump, and Jared Kushner, senior White House adviser, listen to an interpretation during a news conference with President Donald Trump and Angela Merkel, Germany's chancellor.
Photo: Bloomberg/Bloomberg via Getty Images
Though Ivanka Trump isn't technically an official government employee, she is acting in an unofficial capacity as an adviser to the president–and that apparently means she'll get her own desk at the White House. She won't be sworn in or get a government salary, but she will resemble a full-time staffer in the White House in other ways, including gaining security clearance for classified information. According to Politico:
"The powerful first daughter has secured her own office on the West Wing's second floor — a space next to senior adviser Dina Powell, who was recently promoted to a position on the National Security Council. She is also in the process of obtaining a security clearance, and is set to receive government-issued communications devices this week."

Ivanka recently made the move to Washington and in the time since, she's taken steps to try to distance herself from her namesake brand and company while declaring that she doesn't intend to take on an official role in the Trump administration. Still, she's drawn the attention of government-ethics watchdogs after she notably sat in on and participated in meetings with the leaders of countries including Japan, Canada, and Germany.
Her lawyer told the Associated Press that she will abide by ethics rules pertaining to government employees even though she won't have an official title. "Our view is that the conservative approach is for Ivanka to voluntarily comply with the rules that would apply if she were a government employee, even though she is not," Jamie Gorelick, Ivanka's attorney and ethics adviser, told the AP. "The White House Counsel's Office agrees with that approach."

Via a statement, Ivanka conceded that, "there is no modern precedent for an adult child of the president," but that she will voluntarily follow ethics rules for staffers. That hasn't quelled ethics concerns for everyone, though. Norm Eisen, the former ethics czar under Obama, told Politico that the better thing to do would be to simply make Ivanka an official government employee. "It would create some outside accountability, because if she can voluntarily subject herself to the rules, she can voluntarily un-subject herself to the rules," he said.