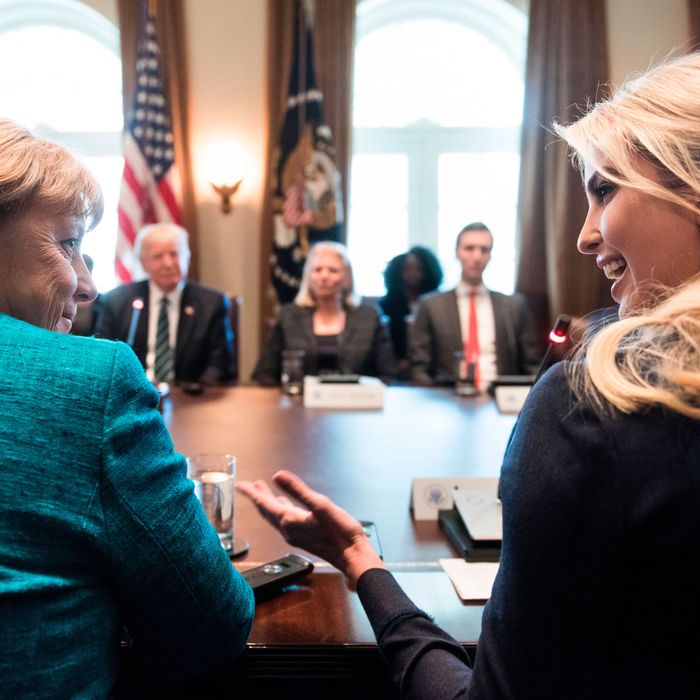 Ivanka Trump sits next to Angela Merkel at a meeting in Washington last week.
Photo: BRENDAN SMIALOWSKI/AFP/Getty Images
Ivanka Trump, who just got her very own West Wing office and is seeking security clearance, still doesn't have an official title in her dad's administration. Nevertheless, she's become the go-to person for world leaders who want to discuss "women who work." Last month, Canadian prime minister Justin Trudeau met with the First Daughter to discuss the advancement of women in the workplace, and on Sunday, news broke that Ivanka will attend a summit in Germany on the economic empowerment of women.
According to the Associated Press, Ivanka was invited by German chancellor Angela Merkel during Merkel's recent White House visit. She'll reportedly join four additional delegates to represent the United States at the summit, which will mark her first time representing her dad's administration abroad since he took office.
Linking back to the AP's report, Ivanka tweeted that she's "looking forward to promoting the role of women in the economy and the future of our workforce globally" at the conference. And after the campaign, she reiterated that she wants to "fight for" things like wage equality, child care, and "really promoting more opportunities for women."
But aside from allegedly pushing for a child-care tax credit that would disproportionately benefit the wealthy, Ivanka hasn't defined a platform or thrown her weight behind legislation on "women who work," CNN points out. Maybe a trip to Berlin will prove inspiring.