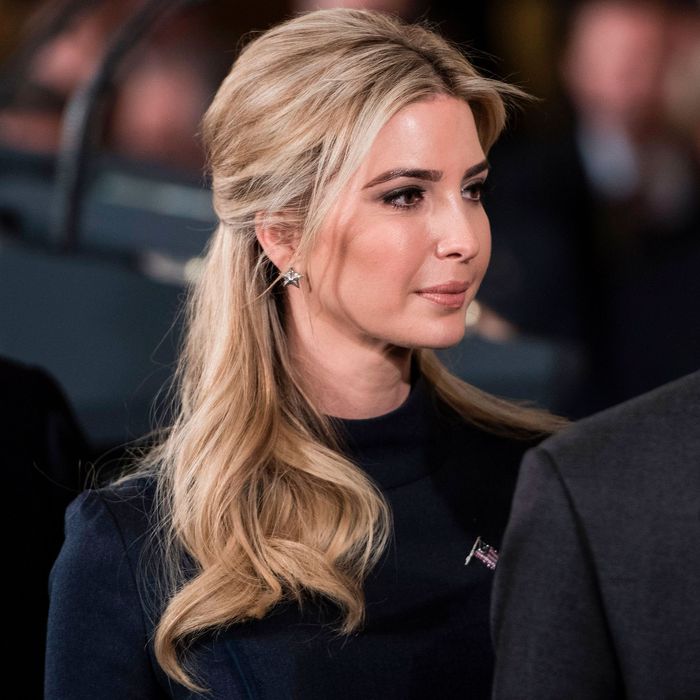 Ivanka Trump's company has had a fun few months.
Photo: BRENDAN SMIALOWSKI/AFP/Getty Images
Despite Ivanka Trump's attempts to separate herself from her fashion line — you know, the one called Ivanka Trump — it's hard even for White House officials to think of one without the other. And last week, a California-based retailer filed a lawsuit claiming Ivanka's company gets an unfair advantage because of its association with her name — and because of her name's association with the current president of the United States.
The class-action lawsuit, which was filed by Modern Appealing Clothing, claims Ivanka Trump Marks, LLC gained an unfair advantage over other retailers "from Donald J. Trump being the President of the United States and from Ivanka Trump and her husband, Jared, working for the President of the United States."
It goes on to say that the company got a boost in sales because of the president and his counselor, both of whom spoke out about Nordstrom's decision to drop Ivanka's line. The company cites numbers from Lyst, an e-commerce aggregator, which showed the brand's sales increased by 346 percent from January to February and 557 percent in February compared to the same time period last year.
The plaintiff is seeking unspecified damages on behalf of California-based women's clothing retailers and a restraining order preventing Ivanka's line from being sold in California. "As a result of their unlawful acts, defendants have reaped and continued to reap unfair benefits … at the expense of MAC and the class it seeks to represent," the suit reads.
It may have gotten a boost from her dad's Twitter account, but Ivanka's brand has struggled. Major department stores have chosen to drop it due to declining sales, and #GrabYourWallet is pushing retailers such as Amazon and Macy's to follow suit. Ivanka can ask that her brand be left out of politics all she wants, but thanks to its name, it seems the two are intrinsically linked.