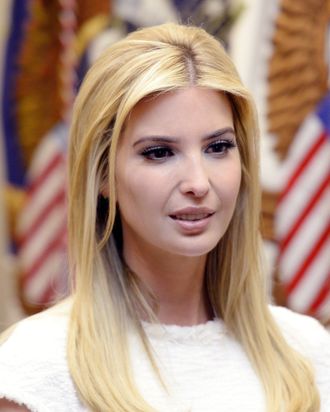 Ivanka Trump has a revised parental-leave plan, apparently.
Photo: Pool/Getty Images
Ivanka Trump's combative interview with Cosmopolitan last fall quickly made headlines thanks to the magazine's relentless questioning on the child-care and paid-leave policies she helped her dad craft. When asked such questions as, "Why does this policy not include paternity leave?" and, "What about gay couples?" the best she could come up with was "Well, those are your words, not mine," and, "The plan, right now, is focusing on mothers, whether they be in same-sex marriages or not."
Ivanka's failure to explain away the plan's exclusivity drew criticism, but according to a new report from the New York Times, the Trump administration has retooled the policy to be more inclusive:
The Trump administration's proposal originally focused only on birth mothers and would have been paid for through savings found in the unemployment insurance program. Both parties found that plan untenable because its beneficiaries were too limited and its funding was too uncertain.

Now, Trump administration officials are contemplating a plan that would provide both mothers and fathers — adoptive and biological — with a leave that would be financed in another way, possibly through the tax increase preferred by Democrats or another option to be determined with Congress.

The child-care legislation Ivanka is reportedly pushing will disproportionately benefit high-income families, and the Times notes that, when working with Republicans, she might have to restrict her policies to "the possible" — i.e., what conservatives and liberals can agree on. But there's no question Ivanka has pull in the White House; according to the Times, she led a meeting of Republican women last month to discuss her legislative agenda. Still, it remains to be seen whether any of her priorities will take hold — or how many of her political efforts will go toward helping women who are far removed from her polished, sheath-wearing image of "women who work."