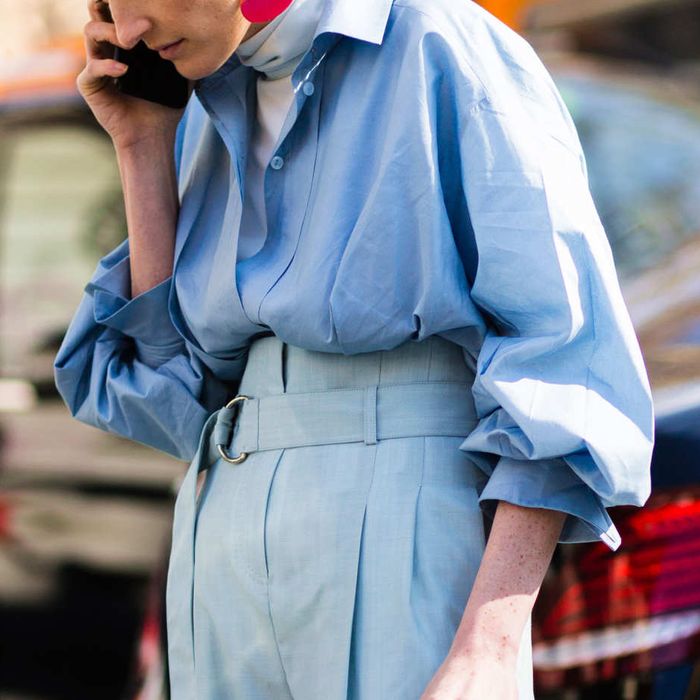 The moment I began dressing like my mother began with the "navy heather" Baxter parka from L.L.Bean. Two years ago, after many impractically prepared winters and faced with another potential polar vortex, I scrutinized and researched suitable puffy coats online. I found one posh, not-foul parka to wear in public: a black Étoile Isabel Marant puffer with a real-but-detachable fur hood. It was perfect. It was also $600. Then there was L.L.Bean's waterproof, goose-down insulated parka, a much more practical option. It was exactly the type of item — utilitarian, affordable, weatherproof — my mother would wear.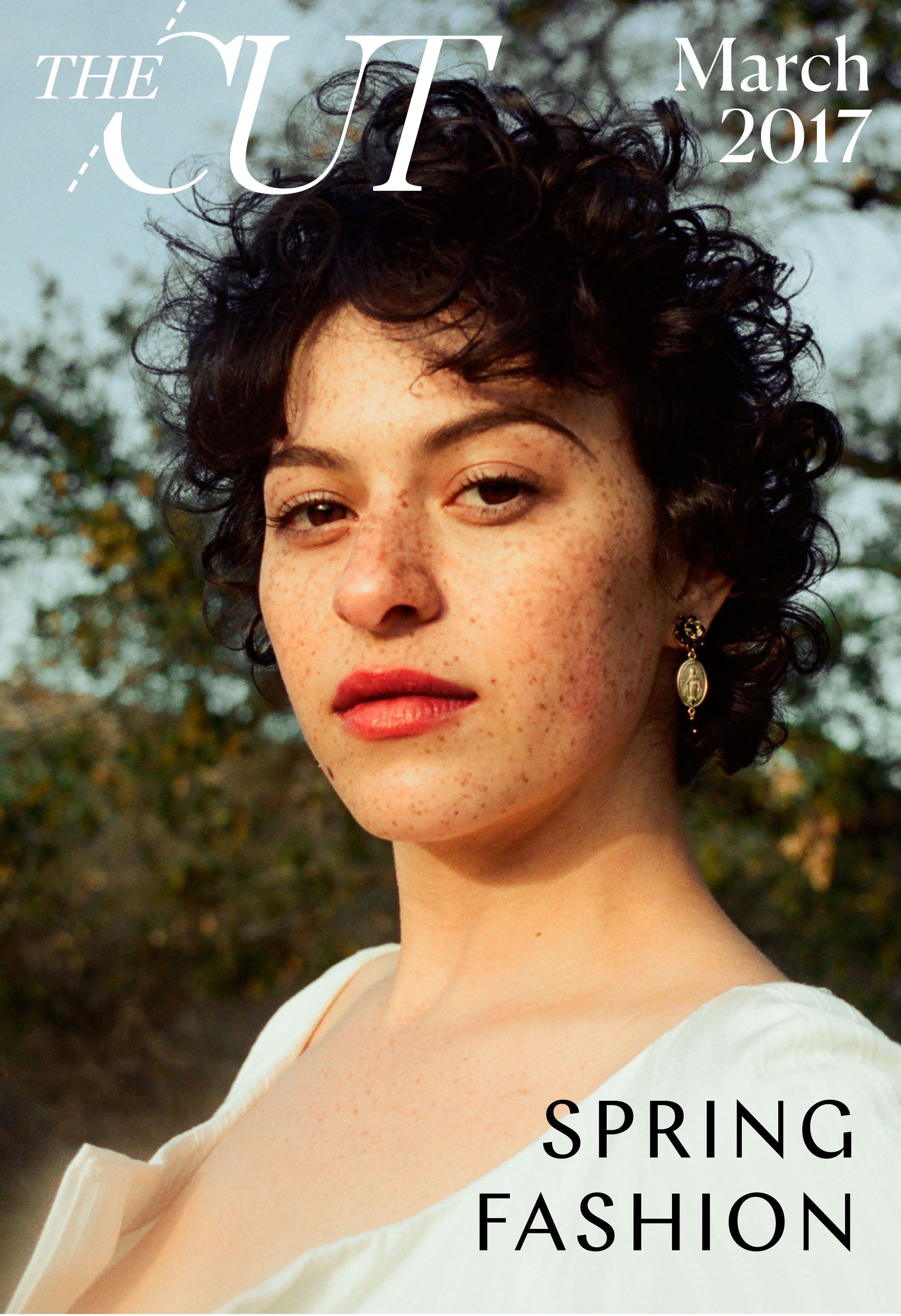 That's when some hitherto unknown pragmatic decision making dawned on me: The Étoile coat is 65 percent cotton, rendering me a walking wet blanket in a snowstorm, I realized. The Baxter parka boasted being "field tested in the extremes of New Hampshire's White Mountains." Fearing the cold, I bought the Baxter parka. I love it.
This is ironic considering I once wrote a (very bad) essay about not dressing like my mother so as to not become her. But also because growing up on the island of Oahu, a place where rubber slippers and Aloha shirts and maxi dresses and bikinis are de rigueur, I shunned casual clothing and comfort — two adjectives that represented a sort of aesthetic laziness in my mind.
Until the sixth grade, like other children my age with parents of a certain tax bracket, I frequented Abercrombie & Fitch and Hollister. I collected the raw-hem denim mini skirts, the tight, distressed jeans, and the colorful, formfitting moose- or seagull-embroidered T-shirts. Yet in middle school, it didn't matter what I wore to conform. I was the problem: My voice was too low, my stature too tall, my demeanor too outspoken. I began avoiding the mall, and started frequenting my local Salvation Army, trawling the racks for anything irreplaceable, even adult — like the red-and-white polka-dot Valentino silk blouse I once uncovered and the many oversized men's dress shirts I'd wear unbuttoned.
By seventh grade, I could name designers and models over international leaders. I clicked Style.com endlessly and perused the Fashion Spot's online threads. Clothing, I quickly learned, can differentiate you from the masses.
In high school, my aesthetic skewed older, pseudo-professional. While my friends picked Free People and Urban Outfitters threads, I preferred J.Crew or Marc by Marc Jacobs. (I once walked into class junior year when an immediate hush fell over the room. "Sorry," my friend Phil said, after a couple of seconds. "We thought you were the teacher.") In college, when I moved to New York for school, I immersed myself in the fashion world, aiming to emulate the Giovanna Engelbert, Viviana Volpicella, and Garance Dorés of the world I had so seriously studied.
I coveted whatever was currently covetable: the Céline luggage bags, YSL turquoise Arty rings, Proenza Schouler PS1s. I patronized sample sales frequently. I bought a Loeffler Randall faux-fur coat for $150 at the Barney's Warehouse sale. (My father, after discovering its price, surveyed me and declared, "Looks like you paid $150 too much.") There was the white linen Band of Outsiders blazer and two-toned Lanvin high-heeled sandals priced at a steal.
Of my sartorial choices, my mother would cluck disapprovingly. "How can you walk in that?" she'd wonder aloud. Or, "Won't you be cold?" Before I moved to New York, she (with complete earnestness) suggested I bring my ski pants to wear on snowy days.
It would be unfair to say my mother doesn't have style. Her look is certainly her own, assembled through catalogs like Land's End, REI, and, of course, L.L.Bean. But I didn't admire her fashion sense the way I admired her friends' — women like Mrs. Pearce, who carried new Louis Vuitton and Gucci purses seasonally and subscribed to Vogue. "Can't you dress like them?" I'd implore my mother, the woman who carried machine-washable, nylon handbags.
Looking back, my mother's inability to dress like her peers — her refusal to buy designer purses and relegating herself to forgettable catalog clothing — exemplifies her inherent defiance. All her life, she's chafed against what's expected; refusing to subsume herself to her surroundings, especially through style. In the '60s, when she married her high-school sweetheart, she wore a red turtleneck dress to the ceremony. Her auburn hair was curled and teased and the tight silhouette hugged her waist before falling to the floor. After the divorce, I'm unsure what she wore daily but she didn't marry again for ten years and didn't have me until 40.
I have also adopted her resistance. In New York's environment, where everyone's hyperconscious of style, exercising slovenliness (by the city's standards at least), especially since I work in fashion, makes me feel singular again. That's because clothing has always allowed me to differentiate myself. Yet in Hawaii, fashion was an armor of sorts, allowing me to transform my inherent deficiencies into something purposefully different. In New York, I realized, I was Just Like Everyone Else. That's to say, I adopted fashionista's appearance simply to establish my supremacy, mask my innate insecurities, through clothing.
My mother's style, unlike the fashion set, is something few people clamor to imitate. The same could be said of any eccentric, our reigning monarchs of nonconformity like Isabella Blow, Vivienne Westwood, and Yayoi Kusama. Of Blow's outfits, the writer Andrew O'Hagan wrote that they were "a complete reflection of her psychology and her convictions … She didn't care what people thought." The same, I realize, can be said of my mother. Embracing yourself, eschewing trends, especially as a woman, seems like the most radical statement of all.
Of course it helps that my mother does not live here; in the absence of her presence, there's only myself (and the city) to rebel against. Now, like my mother, if I cannot walk for miles in shoes I will not buy them; if clothing requires constant tugging I will not wear it; if an item will not keep me warm in the winter or cool in the summer I will disregard it entirely. Aside from my L.L.Bean coat, I wear Uniqlo Heattech under everything. Sometimes I willingly browse Patagonia. I own only two pairs of high heels, and instead switch between white Converse, black flat boots, or Maryam Nassir Zadeh sandals. My closet is filled with easy silhouettes and unfussy fabrics: billowing linen jumpsuits by Black Crane, flattering cotton trousers from Caron Callahan, vintage denim Levi's, linen, and well-worn T-shirts. For handbags, I toggle between two leather Baggu totes or a Clare V. crossbody bag.
A few seasons ago, I wore my L.L.Bean coat to an Eckhaus Latta fashion show, where I looked like a tourist who had wandered in from Canal Street. I interviewed Demi Moore's offspring, one of whom wore a black men's topcoat and had a furry Fendi keychain dangling from her purse. Surrounded by editors and "It" girls and industry folk I knew by face from my teenage years of study, I smiled at my slovenliness in comparison. "I used to care," my mother would often tell me, after I had chastised her clothing. Finally, I understood what she meant.