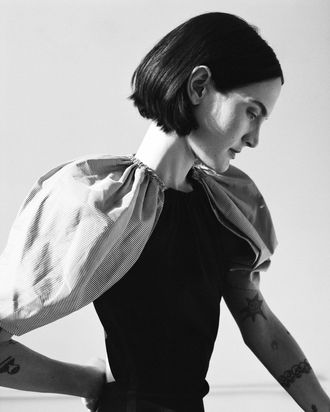 Jane Moseley.
Photo: Stella Berkofsky
As an L.A. resident, the model Jane Moseley rarely gets to do photo shoots on her home turf. So, on set for the Cut, she was happy she could bring her emotional-service dog Scampers to set (he even made it into one of the pictures). Despite a recent surge in fashion cred, Los Angeles is still at a remove from the industry capitals. But Moseley says she wouldn't want to be anywhere else right now. Returning to her native California after some time in New York has given her, she says, "this space, physically and emotionally away from New York, to check in with where I was at and what I needed."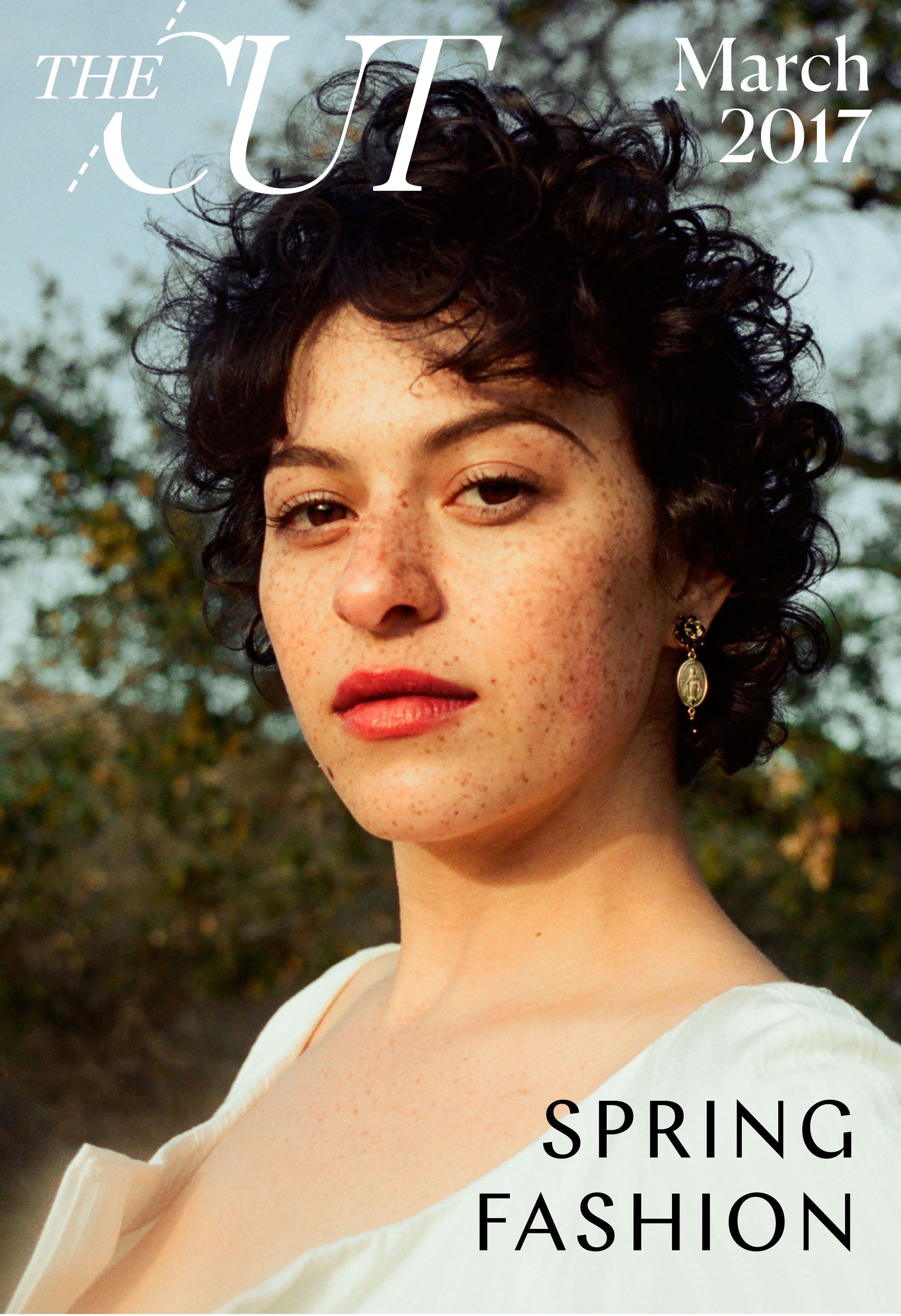 To quote an eminent Calabasian, the past few years for Moseley have been about "like, realizing stuff." She started modeling at the fairly advanced age of 28. (Despite what America's Next Top Model would have you think, very few people break into the biz well after they've reached the legal drinking age.) Still, she revels in her late-bloomer status. "When I was younger I was way less secure about a lot of things," she says, "and now that I'm older and over a lot of those insecurities, I think it's helped, not only with modeling but just in dealing with people."

Her big break came when she walked Demna Gvasalia's first Balenciaga show last year, wearing a curvilinear plaid dress that was just the right mixture of schoolmarm and hipster. "It seemed like everyone was in it together, seeing as it was his first show, and so I think the energy was all nervous anticipation," she recalls. She got the gig through a friend, photographer and casting agent Rachel Chandler. The process sounds as studiedly casual as one of Gvasalia's Vetements sweatsuits. "It was right around the time that I decided that I was going to try modeling, and I think I let her know that or something," she recalls. Chandler responded: "'Send me some pictures. I want to put you up for something.'" Moseley insists, "I had no expectation of it working out."
Despite the chill way she fell into the gig, Moseley's neuroses kicked in preshow. "I was super blacked out," she remembers. "I was trembling right before, and then the show itself was a blackout." She went into what she calls "survival mode, like, 'Don't fall. Don't do anything too crazy.' Intellectually, I kept saying 'If you fall or fuck up in some way, it's all good. You have other things in your life, don't worry about it.' But I think physically and emotionally, my body was telling me otherwise."

Even with her angular beauty, big blue eyes, and gamine Stella Tennant–esque quality, Moseley falls under the "unconventional model" umbrella, thanks to her multiple horror-movie-inspired tattoos. When she started out, she went around to agencies in New York, "and a lot of them took issue with the tattoos. I thought [it] was kind of ironic seeing as Photoshop is so good. But I guess it costs a lot of money to airbrush [them] out." For some brands, it's been a deal-breaker, while others have said — she recounts with a laugh — "Maybe for winter, when she wears sweaters or something, we can use her." More commercial brands tend to erase them, she says, though she's happy to see Zara has been leaving them untouched. Moseley also points out the double standard involved: male models with lots of tattoos, she notes, "can make that crossover to [high] fashion pretty seamlessly whereas women, not so much." It's become an archetype, "the edgy guy with the nice suit on who has full-on neck tattoos."
The inspiration for her body art came from her father, Bill Moseley, who played villainous figures in horror flicks like The Texas Chainsaw Massacre 2 and House of 1,000 Corpses. In the former, he played a grotesque, balding character named Chop Top. Offscreen, "he's a very traditionally handsome man from the Midwest," she says. "And yet, he's cast as these psychos that kill people and do horrible things." Moseley has accompanied her dad to horror conventions where his fans don't recognize him without his horror-movie makeup. "I think what makes him scary is that he probably looks so normal," she says.

Moseley has been a horror-movie fiend since childhood, and in her second life as an artist, she's channeled those dark inspirations into pieces like a series of eerie wax sculptures of seated figures. But for the time being, she is focusing on fashion. After years in New York working odd jobs to support her fledgling art career, she decided she needed a lifestyle change: "Every so often things would go well and I'd have a little show or sell some work, but I wasn't by any means very successful." She says she felt under pressure to downplay her modeling career, telling herself, "Don't do anything that can work against you being taken seriously as an artist." It's been her experience that being a female artist "is either condemned or exoticized in a way that, for me, is sort of cringe-y. I'm sure inadvertently my art has my experience as a female in there, but that's not how I identify my work," she says. "I'm always paranoid that someone's trying to fulfill a quota and that's why they need a girl and it helps that the girl is cute and marketable or whatever. I never wanted to be in that category because I was afraid that I wouldn't be accepted on a more serious level."
Still, she's plotting her return to that world soon enough. Modeling, she points out, "has an expiration date. Art, for me, never will."
Photographs by Stella Berkofsky. Styling by Rebecca Ramsey. Hair Styling and Makeup by Hayley Farrington.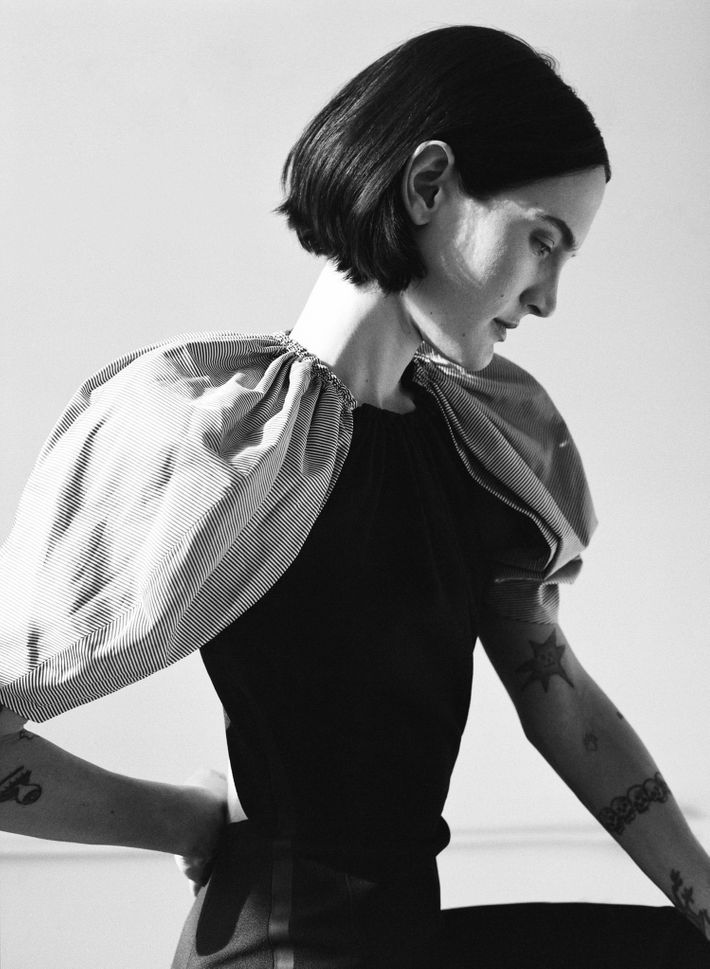 Salvatore Ferragamo Blue Silk Dress, $2,200 avaliable at 655 5th Ave., 1-866-337-7242.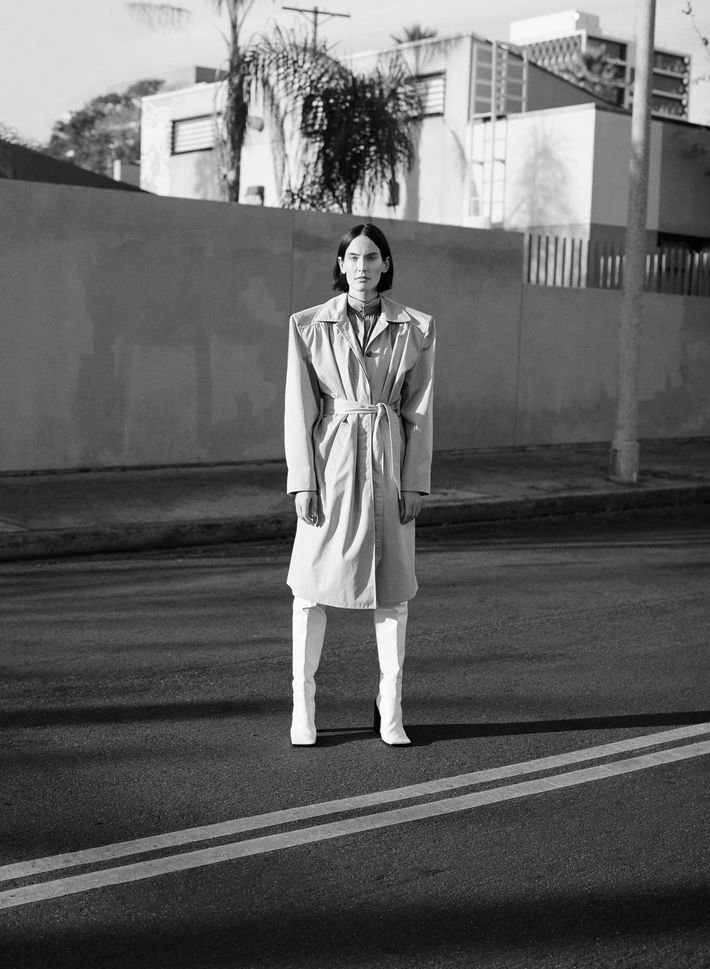 Balenciaga Black Satin Skirt, $415 avaliable at Balenciaga.com; Balenciaga Aqua Jersey 'Strangled' Top, $755 at Balenciaga.com; Balenciaga Beige Cotton 'Boxy' Trench, $2,395 at BergdorfGoodman.com; Balenciaga White Calfskin Thigh High 'Square' Boots, $1,895 at 148 Mercer St; (212)-206-0872.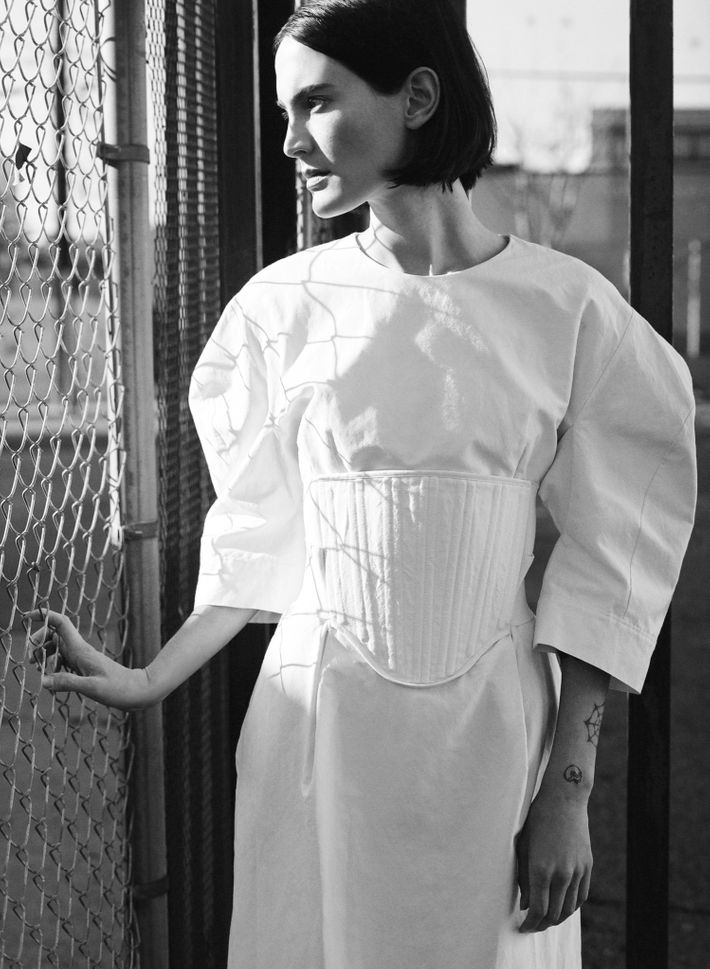 Stella McCartney Cream 'Aleena' Dress, $1245 avaliable at 112 Greene St.; (212) 255-1556.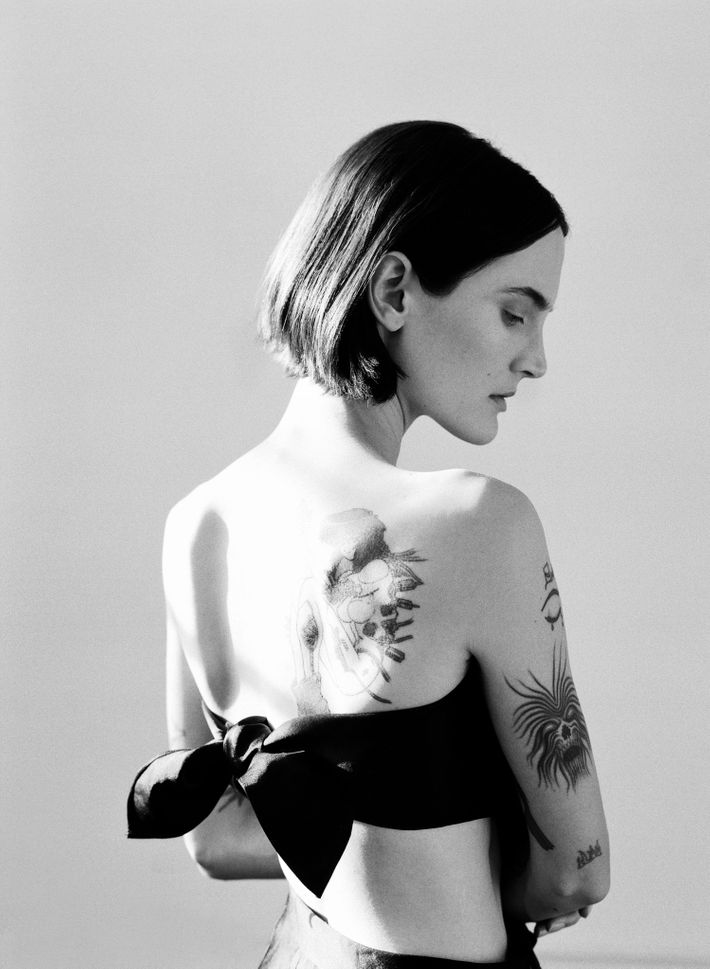 Miu Miu Top, $745, Miu Miu Skirt, $2265, both available at miumiu.com.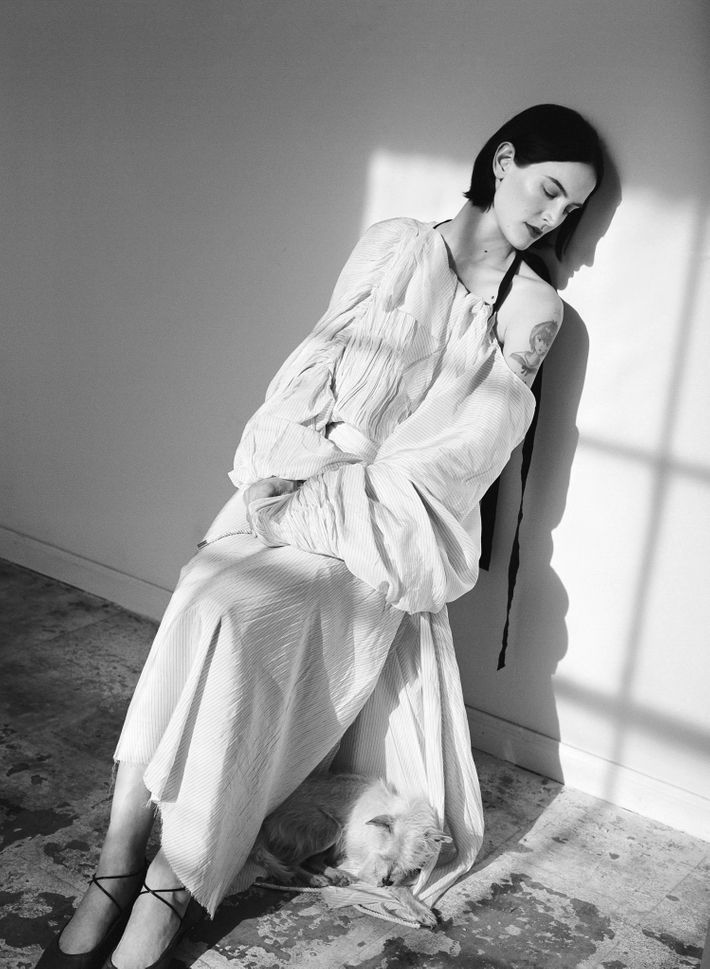 Marni Pinstripe Toile Dress, $5,080 at 611 5th Ave., (212) 753-4000; J.W. Anderson Tieback Ballerina Flats, $995 at Barneys.com.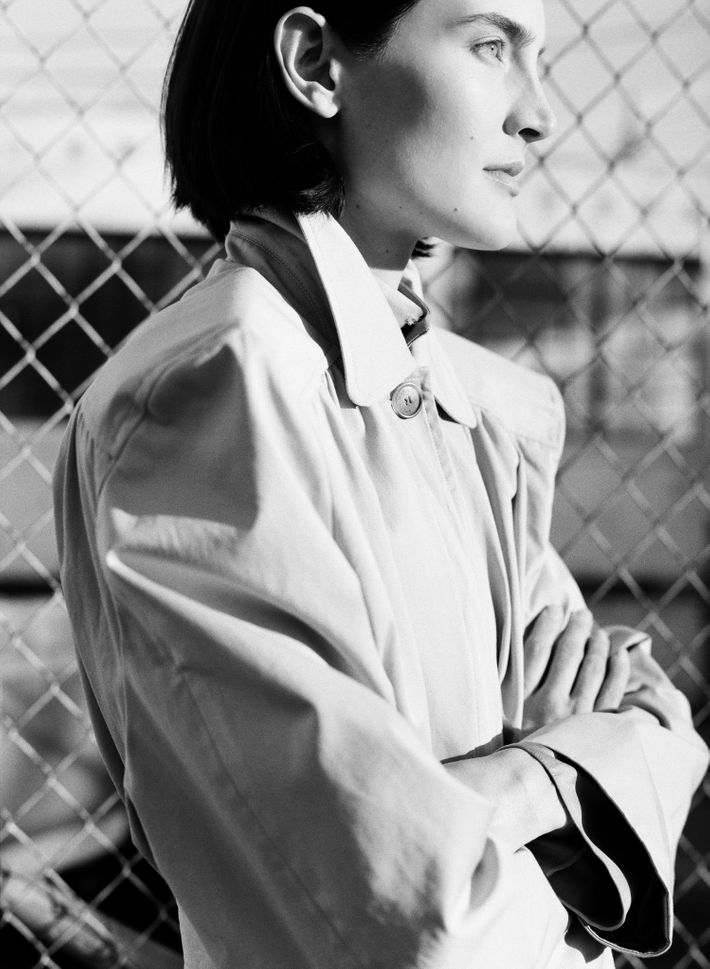 Balenciaga Beige Cotton 'Boxy' Trench, $2,395 avaliable at BergdorfGoodman.com.