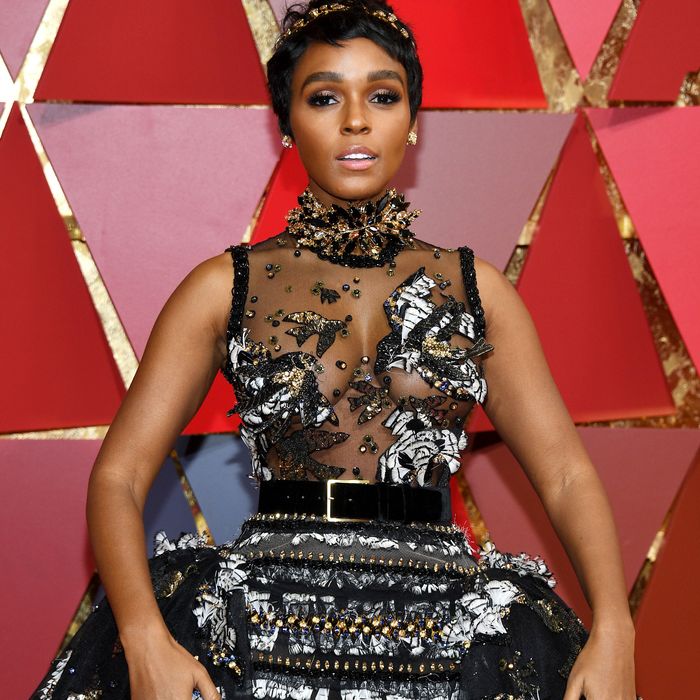 Janelle Monáe at the 2017 Oscars.
Photo: Kevork Djansezian/Getty Images
We've come to know Janelle Monáe as the suit-clad, bouffant-adorned musician tip-tapping on the "Tightrope," but 2016 introduced Monáe's thespian chops. She appeared in two critically-acclaimed films, Moonlight and Hidden Figures: "They are important to humanity, being [at the Oscars] because of those two projects meant the world," she told the Cut.
Recently Monáe spoke with the Cut about what is was like representing these two different yet equally important films at the Oscars. She also mulled over the significance of marrying style and political statements organically, and why acting in service of others makes her feel the most beautiful.
You wore this ethereal headband at the Oscars and a glittery black-and-metallic gown. What was the thought process in constructing this look?
I knew that I wanted to make a statement; I wasn't trying to have anything less than dramatic but I wanted to feel in my element.Timeless. I wanted to feel in the past and in the future. When my stylist and I were talking through the look, there was an Elie Saab couture dress that gave me everything I wanted. It was enchanting and I just felt like a space queen. When you deal with Hidden Figures and Moonlight, things in space and things that I've loved my entire career and have been obsessed since I was a little girl — that was the inspiration.
You've been vocal about how your choice of dress is a political statement. Does this sentiment extend to your beauty choices?
I'm an organic person. If creativity and politics meet, they meet; I don't try and force it as an artistic statement. It has to make sense to me, and when those moments happen, that's when the inspiration, the messaging, and the creativity can co-exist.
How did you approach your beauty looks for your characters in the two movies?
Hidden Figures was set in the late '50s, early '60s, and believe it or not, CoverGirl was just getting put on the shelves. [CoverGirl launched in 1961 and Monae is a spokeswoman.] It was magical how that happened, and that we were able to use CoverGirl makeup during that time. I could take things from my shelves, so I brought my red lipstick, my pink lipstick. I also did a lot of research. One thing the women during that era did was, they didn't wear a whole lot of makeup, but they made sure they had a pop of color on their lips, or did their lashes.
With Moonlight being set in the late '80s, early '90s, I went for a more natural look. Some days I would use CoverGirl as well. I would use the CoverGirl Oh Sugar! lip balm in Taffy just to add moisture. I wanted my eyebrows to look natural so I used the CoverGirl Easy Breezy Brow Shape + Define Powder just to keep them intact.
What does beauty mean to you?
I care about how I am as a person. I work from the internal and then to the external. I'm not into covering up my inner appearance with clothing, with glam, with all of that. I try to help other women, women of color, women in my industry, with empowerment in whatever way I can. I just started an organization called Fem the Future, and it's about creating more opportunities for women in film, in music, in media, STEM, and making sure our collective voices are heard and that we're able to compete at high levels and given the opportunities to push for our dreams. That's beauty. Honoring hidden figures like Katherine Johnson, Mary Jackson, Dorothy Vaughan, women whose stories were almost erased from history, that's beauty. What can I do for my community? That's beauty. It's not all about the external. It's all fun to play makeup and dress up, but when I go home I have to deal with myself, and what I do for others determines how beautiful I feel.
This interview has been edited and condensed.