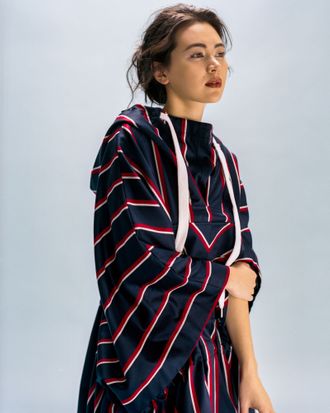 Jessica Henwick.
Photo: Andre Wagner
Though London native Jessica Henwick, 24, has been acting for years now, according to her, stardom is still a work in progress. "Becoming an actress was just about being in the right place at the right time," she tells me when we meet at Dean Street Studios in Brooklyn on an early morning in February. Henwick delves into a story about her mother encouraging her to go on a cold audition in 2009 after spotting a casting poster looking for a young Asian woman to be a TV series lead. "This was insane because there had never been an East Asian lead actress on a show in the U.K. before," she explains. Henwick was 18 at the time, too old for the part, but, "my mom convinced me that I needed to write to the casting agents and tell them why I was right for the role despite my age," she says. And as fate would have it, her training at Redroofs Theatre School (where Kate Winslet studied) wowed the casting directors enough to give her a chance. "They called me in to audition again and again and eventually the creators of the show rewrote the lead role for me."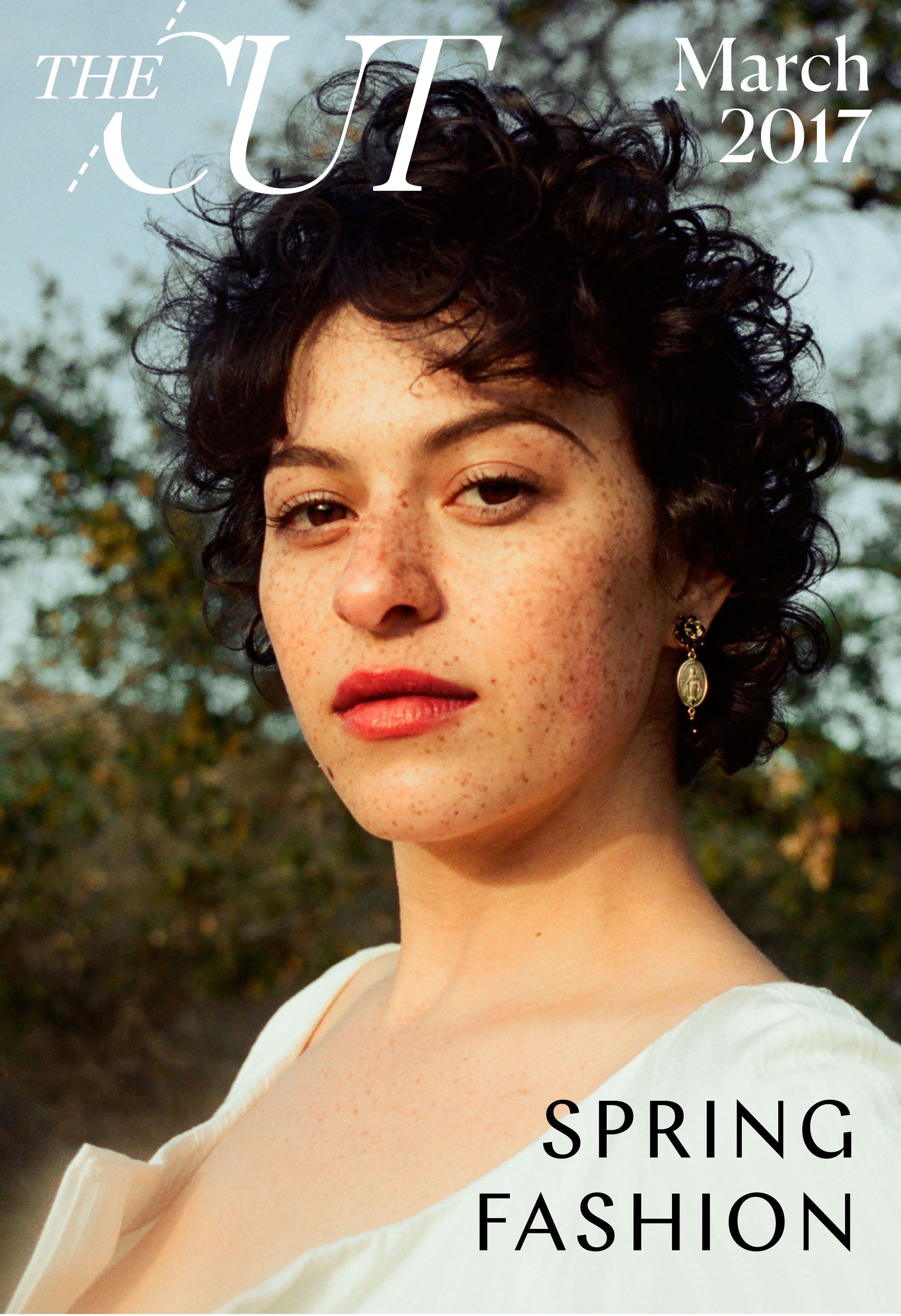 The premise of the show, Spirit Warriors, was inspired by ancient Chinese legends and followed Henwick's character Bo's journey after being transported to a parallel spirit world with special powers fighting evil. The role required Henwick to learn wushu martial arts, which would come in handy for later roles, but it also put her in an uncomfortable spotlight. "There was no one in England for me to look at and think, 'they forged a path for me,'" Henwick says, lamenting the dearth of Asian actresses in the U.K. "Even stateside, the only role model I could find was Lucy Liu, who I'm so completely different from."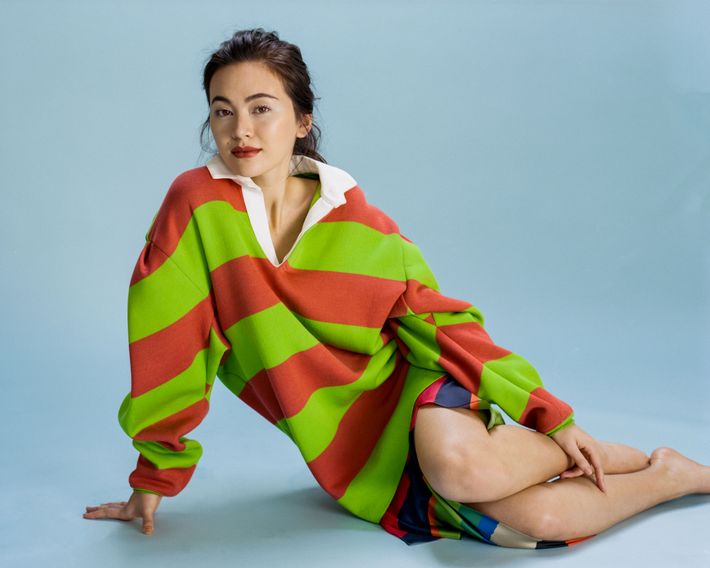 Marc Jacobs Rugby Sweatshirt, $895 at Marc Jacobs, Escada Printed Skirt, Price upon request at Escada
That realization led her to a rocky journey of what roles she should go after, despite what she felt was available to her in England. "I turned down a lot of parts and I ate a lot of canned tuna for dinner because I was just like 'No, I don't want to do that, no that's awful," she says. "But sticking to my guns paid off and I can look back now and be proud that I refused to take any stereotypical Asian parts."

Henwick describes her first professional acting gig as "trial by fire." "I had no clue what I was doing," she says. "I learned more on Spirit Warriors than I think I have on any other job. It put me in this interesting position in England, in that people were looking to see what I would do next, so I made a decision not to play any traditional Asian roles after that. As soon as you start looking into roles which are specifically Asian, Black, or Latina, you start looking at stereotypes. That's the issue minority actors face — it's not that we don't want to play our ethnicities, it's that often the role that's written for our ethnicity is a stereotype."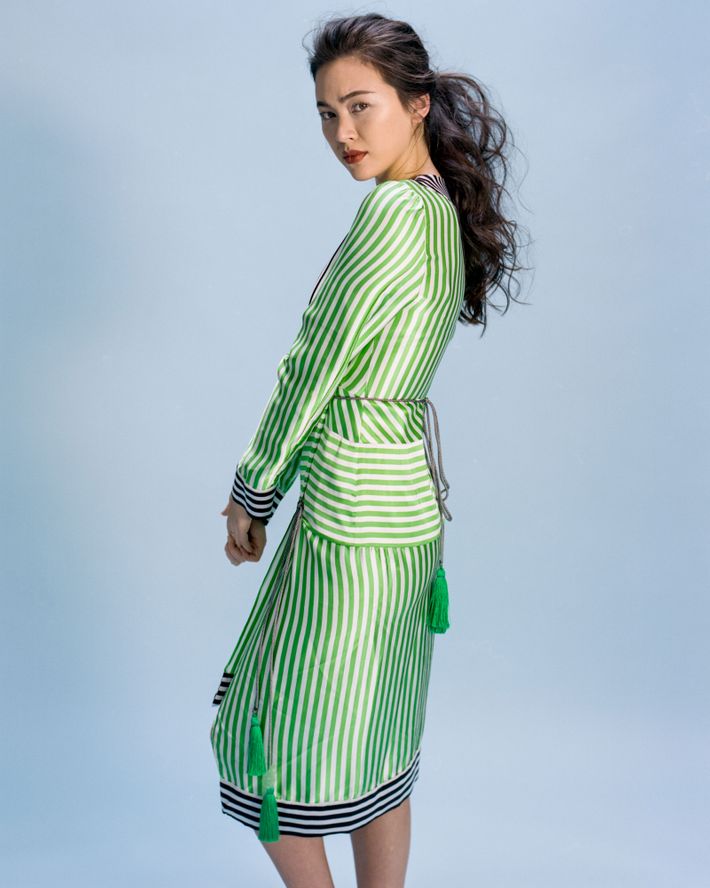 Etro Striped Silk Wrap Dress, $2,010 at Net-a-Porter
Her next big role was in Star Wars: The Force Awakens in 2016, in which she played Jessika Pava, a pilot and member of the Resistance's Blue Squadron. This led to her being cast as Nymeria Sand in Game of Thrones, one of the illegitimate daughters of the Sand Snakes, a group of sisters that have been dubbed "worthy of their own Game of Thrones spin off" (it was also a role that hit home; her father is a writer and George R.R. Martin fan). "This season gets better and better in terms of the female characters," Henwick reveals. "I think what I like so much about it as a multi-narrative is how the females lead their own story line; Sansa dominates her story line and Daenerys dominates her story line. No one can hold a candle to them."
Next up was Marvel and Netfllix's production of Iron Fist, in which Henwick plays a young Japanese-American woman who runs a martial-arts studio in Chinatown, and finds herself at a crossroads. "When Colleen meets Danny he brings everything that she needed; chaos, excitement, and an adventure that she had been searching for but hadn't been giving to herself. It's sort of the really awkward meet-cute moment and it all just goes from there."
Though Henwick downplays being a Marvel character franchise, it's no secret that the comic franchise has thrived off predominantly male-run story lines, making it even more refreshing to not be playing the damsel in distress. "Our stunt coordinator Brett Chan really put me through the ringer," she says. "We set goals of how much weight and muscle I was going to gain in order to do stunts properly. I had weight training, aggression sparring sessions, and did Katana and Aikido forms of martial arts. I have never been so physically annihilated before but it was everything that I wanted. Male actors always brag about transforming themselves for roles, but it's very rare that a woman gets the opportunity to [in the way that I did]." Critics cited Henwick as "the most fully realized character, with a rich supporting performance that should not be overlooked."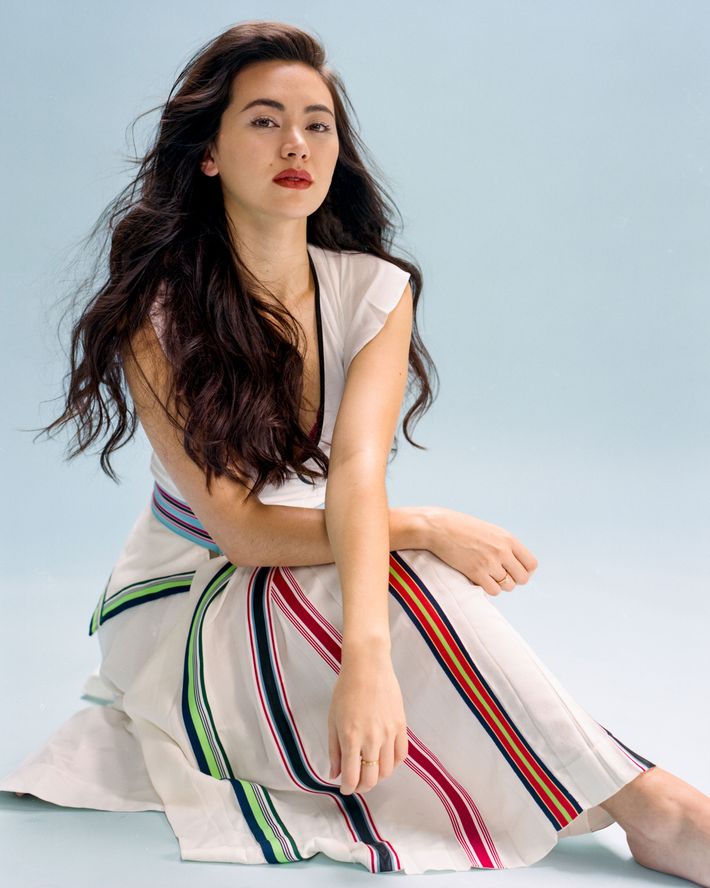 DVF Bodysuit, $268 at DVF, DVF Side Pleated Ribbon Skirt, $598 at Saks Fifth Avenue
In addition to Iron Fist, Henwick stars in The Defenders, a direct continuation story line that picks up a month after, combining the heroes from previous characters we've come to meet on Netflix like Jessica Jones, Daredevil, and Luke Cage. "It's a phenomenal ensemble piece," she says. "Even if the fans have only seen one or two of the shows, The Defenders makes sense because everyone comes together and it's so much fun."
She's also starring in the British TV series, Fortitude, a psychological thriller, alongside Dennis Quaid this year, and she co-wrote and produced a short film, The Heart of The Forest, about a mother and daughter on a hunting trip in the forest who come across a man there to commit suicide, which was recently nominated for best short movie at the Copenhagen Film Festival. Reflecting on being on four TV shows and having successful side projects before the age of 25, Henwick says that her work is far from done. "As an Asian actress in Hollywood, there are 100 glass ceilings," she explains. "Every time you break one, there's another one waiting for you. But I hope I'm helping by portraying characters that are forward-thinking women, and producing and writing roles for women who are in their 40s, roles for women who are underrepresented in this industry. I have no respect for Hollywood's rules."
Lead Image Credit: Rag & Bone Striped Poncho Dress, price upon request at Rag & Bone. Photos by Andre Wagner, Styling by Lindsay Peoples, Makeup by Rebecca Restrepo, Hair by DJ Quintero.