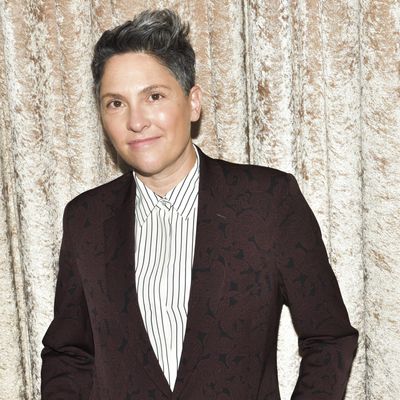 Jill Soloway.
Photo: Rodin Eckenroth/FilmMagic
Transparent's Jill Soloway was the keynote speaker for the film portion of SXSW, and the majority of her talk centered on gender parity in the industry. "My entire career could be simply talking to documentary directors asking me why there aren't more women directors," she joked, before listing the many structural reasons why women aren't hired as often. You know the drill — the patriarchy, guys giving jobs to their buddies, stuff like that — but there's one tip in particular she shared that will resonate with anyone riddled with imposter syndrome and self-doubt.
"A lot of my realizations as a director came from just going, 'Okay, I have everything I need. I have to just be here, I have to be able to tell my instincts from my impulses or my instincts from my anxieties,'" she told the audience. One tool that helped her with that was simply taking notes and, separately, "trying to be in my body."
However, Soloway admitted that sometimes the self-assuredness of male candidates can override the best of intentions. "Sometimes I just want to give them this job because they're communicating to me that they've got this," she told the audience. She also stressed the importance of mentorship, which is one aspect of her production company, Topple. "It's not just about finding the person, it's about protecting the person all the way through."
Soloway's newest project, I Love Dick, premieres May 12 on Amazon.