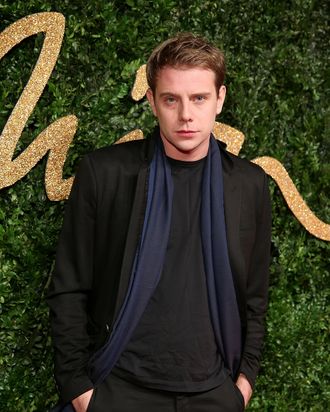 Jonathan Anderson.
Photo: Mike Marsland/WireImage
Uniqlo has assembled an impressive roster of collaborators over the years, from Carine Roitfeld to Jil Sander to Christophe Lemaire. The latest fashion figure to sign on is Jonathan Anderson, the designer of J.W.Anderson and Loewe. The project was announced this morning in New York, at Uniqlo's global press preview.
Anderson, who is originally from Northern Ireland, will present a line inspired by the British-heritage motifs that have shaped his work. The collection will include clothing for both men and women and is set to launch this coming fall.

"When I think of Uniqlo, I think of things that are perfectly made, that people have spent a lot of time considering; it's a difficult job, and I think Uniqlo does it very well," the designer said in a statement provided to the Cut. "Working with Uniqlo is probably the most incredible template of democracy in fashion, and it's nice that my design can be accessible to anyone, on all different levels."

"Much of the clothing we wear today has a long history, and many styles originated from uniforms or workwear. The British Isles constitute a treasure house of such apparel," said Yuki Katsuta, senior VP of fast retailing and head of research and design at Uniqlo. He pointed to duffel coats and fisherman's sweaters as examples. "In partnering with J.W.Anderson, one of Britain's most innovative and creative brands, we will tap into traditions while pursuing progress in designs and fabrics, to craft styles that are enduringly appealing."