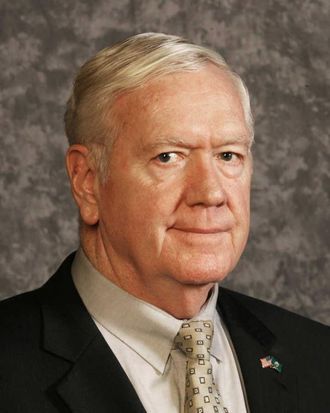 State Senator Steve Fitzgerald.
Photo: Kansas Legislature
After a Republican Kansas state senator received a notification that a donation to Planned Parenthood had been made in his name, he wrote a letter to the health-care organization, comparing it to a Nazi concentration camp. In a new interview with the Kansas City Star, State Senator Steve Fitzgerald not only stood behind his comments, but he also said Nazis should be "incensed" by the comparison.
Last week, a letter Fitzgerald sent to Planned Parenthood Great Plains was posted to Twitter, written after the state legislator received a letter telling him that a $25 donation had been made on his behalf. Fitzgerald wrote, "This is as bad — or worse — as having one's name associated with Dachau," referring to the first regular concentration camp established by the Nazis. The letter from Fitzgerald continued, "Shame on your organization and shame on anyone that would attempt to blacken my name in this manner."
The lawmaker told the Star in a Monday interview that he felt his only options were to "either send them that or ignore it." He added, "I figured, I don't want my name associated as a donation to Planned Parenthood, in my name, to go on undenounced by me." Fitzgerald also called the donation and letter from Planned Parenthood "harassment" and "political theater."
"I think the Nazis ought to be incensed by the comparison," Fitzgerald told the Star.
Fitzgerald's letter, however, has had a "domino effect" of inspiring more people to make donations in his name to the organization, according to Bonyen Lee-Gilmore, a spokeswoman for Planned Parenthood Great Plains. "It's this kind of inflammatory language that adds to the shame and stigma of safe legal abortion. The state of Kansas has much bigger issues to be dealing with, and this is just an unacceptable attack on women's right to choose," Lee-Gilmore told the Star. Cecile Richards, the president of Planned Parenthood Federation of America, told the Star that Fitzgerald should be "ashamed" and called his comments "disturbing."