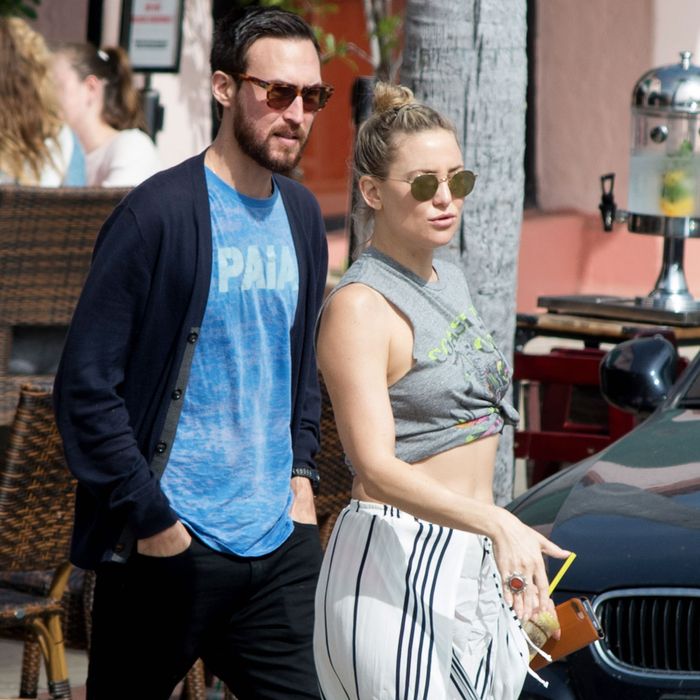 Kate Hudson and another musician.
Photo: TheImageDirect.com/TheImageDirect.com
There are some celebrities who have a "type." Leonardo DiCaprio, for example, likes Victoria's Secret models. Adam Levine, for another example, likes Victoria's Secret models. Kate Hudson, meanwhile, likes rock musicians, and guess what: She is reportedly dating another one. The Daily Mail just posted several photos of Hudson making out with Danny Fujikawa, a bearded 30-year-old who used to play in the band Chief. You can see too many photos of her kissing this guy in front of a Los Angeles juice bar here.
In the past, Hudson has had relationships with The Black Crowes front man Chris Robinson (bearded), Muse front man Matthew Bellamy (goateed), and Jonas brother Nick Jonas (fresh-faced, for now). She also reportedly hooked up with Diplo (a DJ).
Yes, Fujikawa is another musician, but he is different from Hudson's past boyfriends in some ways. One distinguishing characteristic I found: He has an ironic LinkedIn profile. On it, he bills himself as the "Organizer of Energy" and "Musician of Honesty" at Lightwave Records. Okay!