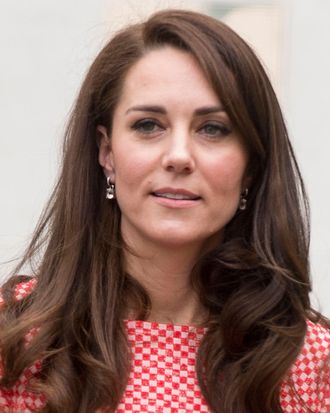 Kate Middleton.
Photo: Mark Cuthbert/UK Press via Getty Images
Kate Middleton opened up about the struggles of motherhood in a Thursday speech, revealing that while she's found the experience to be "rewarding and wonderful," she's still faced difficulties and challenges that have at times left her feeling insecure.
Speaking at the launch of the Best Beginnings film series, a partner of her Heads Together charity, the Duchess of Cambridge was uncharacteristically candid about what it's like being the mother to 3-year-old Prince George and 1-year-old Princess Charlotte. She revealed that as much as she loves being a mother, it has still been a "huge challenge" and she's had a tough time transitioning from being an independent person to a caretaker, first and foremost.
"Even for me, who has support at home that most mothers do not. Nothing can really prepare you for the sheer, overwhelming experience of what it means to become a mother," Middleton said. "It is full of complex emotions of joy, exhaustion, love and worry all mixed together. Your fundamental identity changes overnight."
Middleton went on to say that, although these feelings are universal, there is no rule book on how to be the perfect mother. "You just have to make it up, and do the very best you can to care for your family. For many mothers, myself included, this can at times lead to a lack of confidence and feelings of ignorance," she said.
Maternal depression (which can occur before, during, or after pregnancy) affects 1 in 9 women, and the Duchess explained that many end up suffering in silence due to the fear and shame associated with admitting that they need help. "Some of this fear is about the pressure to be a perfect parent," she said. "Pretending we're all coping perfectly and loving every minute of it. It is right to talk about motherhood as a wonderful thing, but we also need to talk about its stresses and strains. It's okay not to find it easy, and asking for help should not be seen as a sign of weakness."
The Duchess added, "Our children need us to look after ourselves and get the support we need."