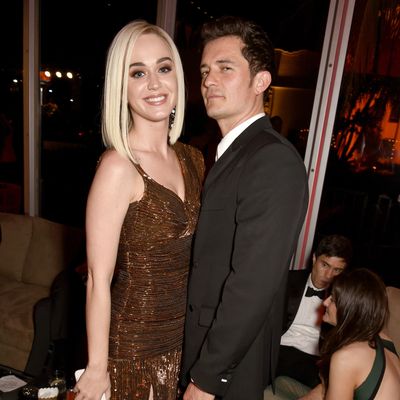 Distance makes the heart grow fonder?
Photo: Dave M. Benett/VF17/WireImage
Katy Perry and Orlando Bloom might be giving us a 2017 update on what it means to "consciously uncouple" (as Gwyneth Paltrow so memorably once declared). Per reps for the two of them, the once blissful partners-in-crime, who were fond of teenage-like PDA and dressing up as politicians for parties, are taking a break. As in, they are, "taking respectful, loving space at this time," after a year of dating.
By all accounts, things were going pretty well between the two last year, with Perry even hinting that babies were on her mind and rumors floated that Bloom was considering proposing. Their number of outings together also pointed to sunny and clear skies. In September, Bloom shared a photo of the two at Burning Man and he later celebrated Perry's birthday with her in October, according to People. Though they spent the following month apart, by late December, the two were back at in dress-up-as-a-couple mode and singing holiday carols to kids.

In fact, it was only on Sunday that Perry and Bloom were photographed at the Vanity Fair Oscars after-party, looking happy enough to pose for the camera. And then go their own their own way. "Katy didn't spend much time with Orlando," a source at the party told People. "They got together for a photo, but that was about it."
If a picture is, indeed, worth a thousand words, they're certainly not all truthful.