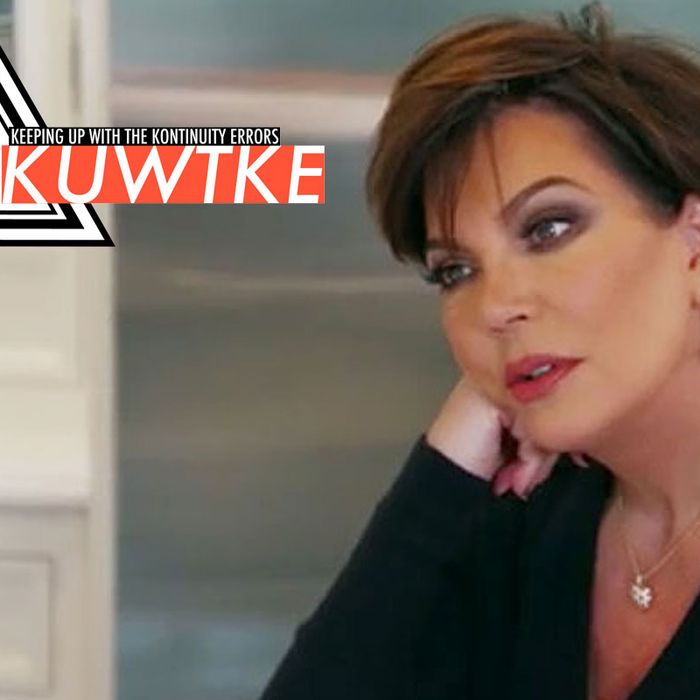 Photo: Courtesy of E! Entertainment
This week's episode of Keeping Up With the Kardashians covered the story at the forefront of Kardashian/Jenner/West news for the past six months: Kim Kardashian's Paris robbery. Told from Los Angeles, New York, and Paris, Kim's story is presented from her point of view. The episode was the perfect mix of sweet, sad, and hopeful, teasing us with what KUWTK could be, should they start telling stories as they truly happened and not in made-for-TV packages.

Scene 1/Cold Open:
As most epic and iconic television specials do, last night's episode started at the end: Kim Kardashian returning to New York from Paris, just hours after her robbery. To preface her return, text of the exact date flashed on the screen to give context for the entire hour. Somber, but very pulled together, Kim walks into her New York apartment building and in the elevator explains to her family that she doesn't want to mention the robbery or cry in front of her kids. The elevator doors open and Kim squeals "Bugs!" to let North and Saint know that mommy is home. Before we can see more of Kim reuniting with her family, we're taken back a week in time before the robbery took place. This scene was filmed on October 3, 2016.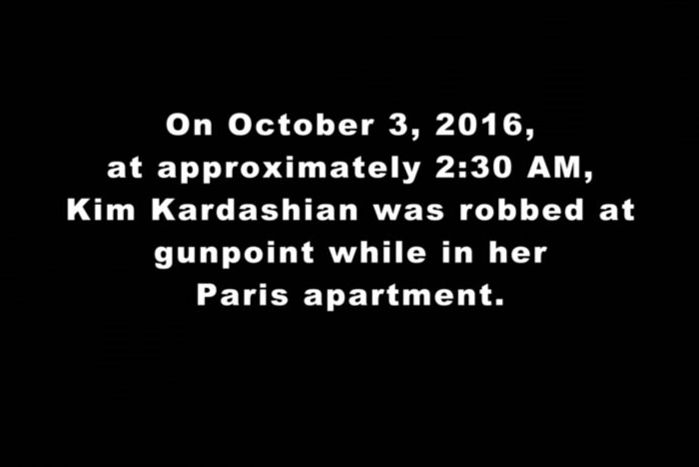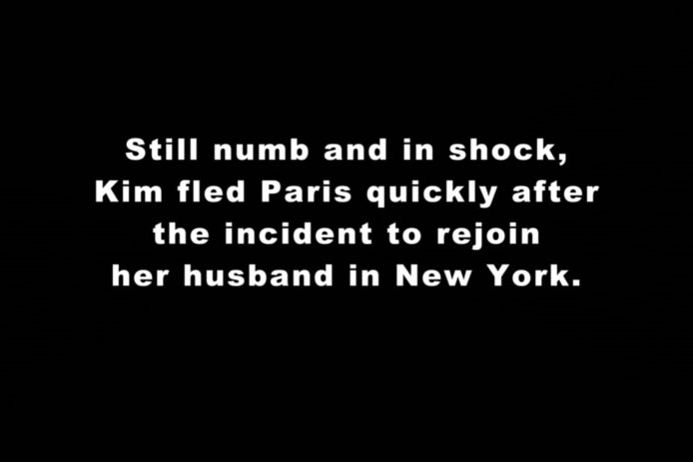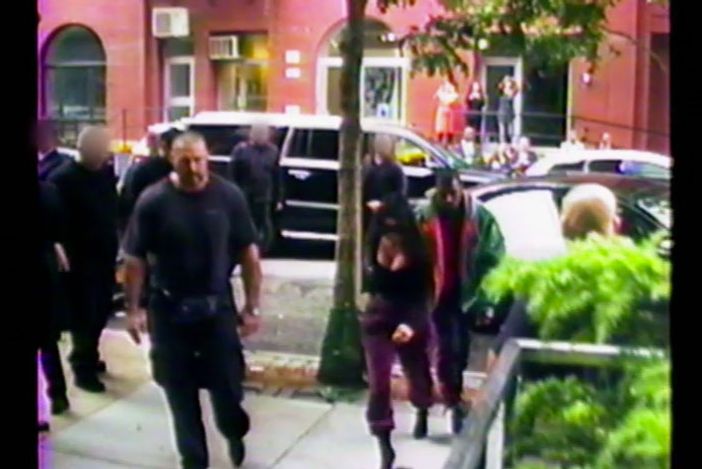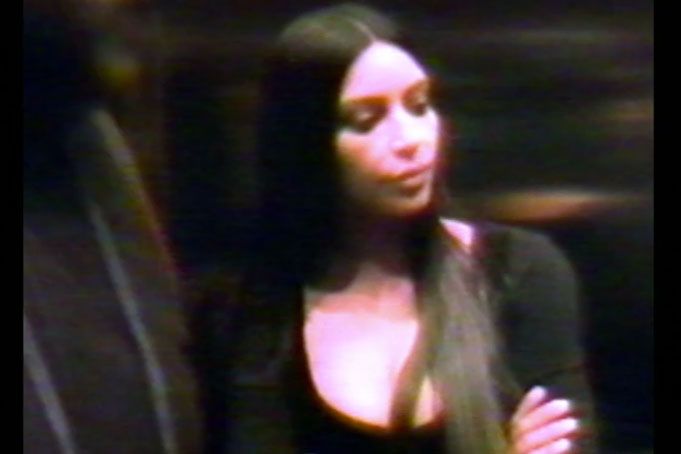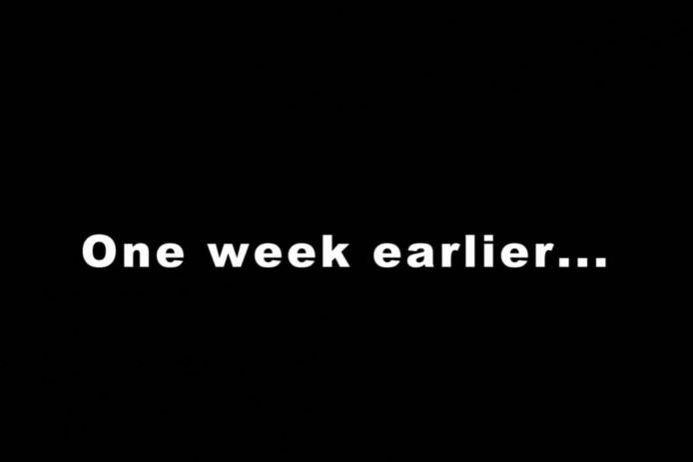 Scene 3:
In Calabasas, Kourtney meets Kardashian/Jenner wardrobe stylist Monica Rose to pull outfits for her trip to France. Kourtney has never been to Paris Fashion Week, so both she and her family are super excited for the eldest child of Kris to experience the luxuries of fashion shows out of the country. In her bedroom, Kourtney sifts through hundreds of garments and tries on options for Monica and Mason, who is proving himself to be his family's biggest critic: He says the options his mom has pulled make her look like a "balloon" and a lady Steve Urkel. Homeboy's references are top-of-the-line and make insults by adults alive during the Urkel era seem like creatively defiant hospice patients. Kourtney's fitting was filmed on September 22, 2016.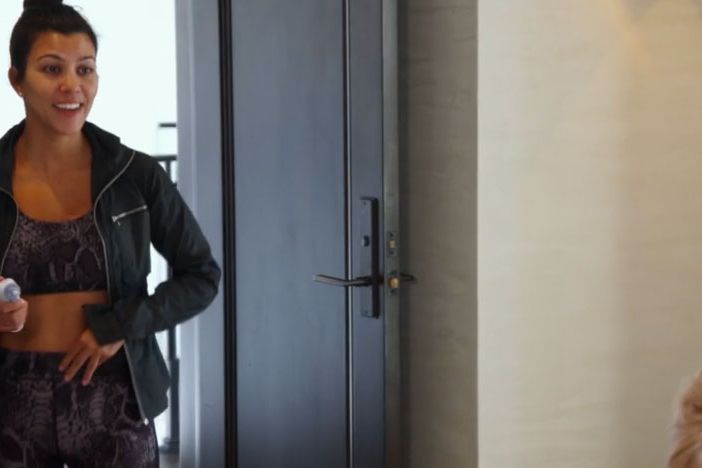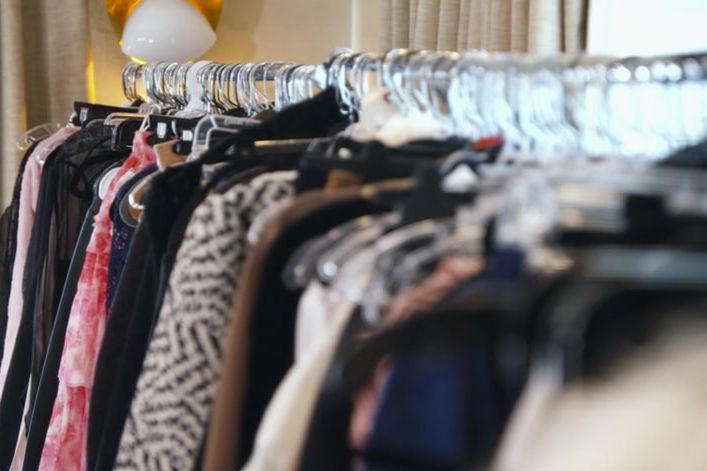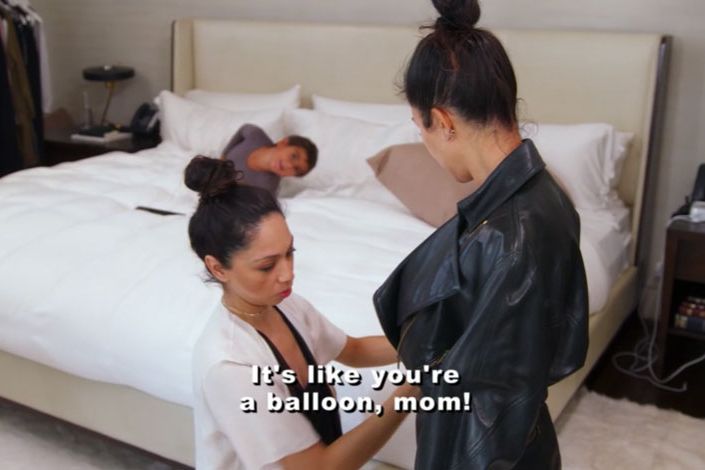 Scene 6:
Days later, Kourtney meets Kim in Paris. Busting through Kim's apartment doors, she's met with icy stares from Kim and her glam squad, who are already preparing for the Balmain show later that evening. Realizing she may not even have time to shower off an international flight, Kourtney rushes to try on looks for the evening. First, she puts on an almost-flesh-colored two-piece that Kim rightfully calls "not flattering." Luckily for Kourtney, stylist-to-Calabasas-elite Kanye West is flying into Paris for #OneNightOnly to fix Kim's Paris wardrobe, as he did not like what he saw her wearing online. This scene was filmed on September 29, 2016.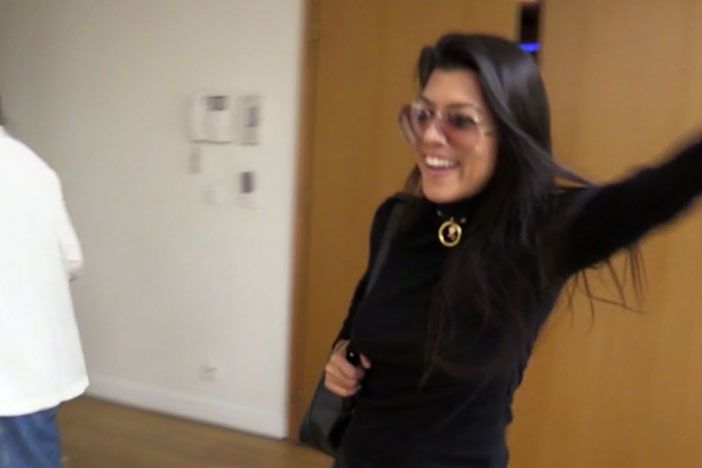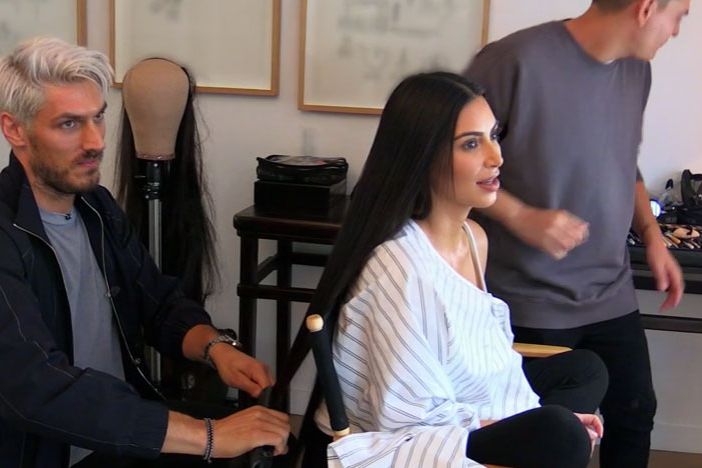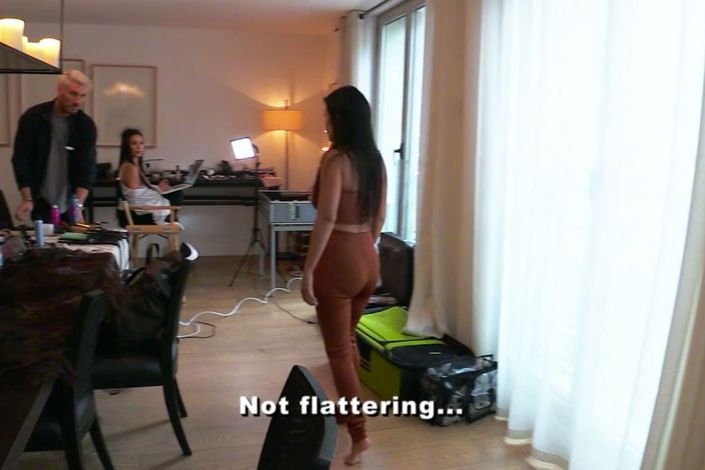 Scene 7/8:
Later that night, Fashion Police Kanye West buzzes about the apartment fastening together looks for Kim and Kourtney to wear to the Balmain show. That night's look will set the "tone" for the rest of their trip — they cannot fuck up the moment. He tells Kourtney to forgo jewelry and simply wear sunglasses with her cotton swimsuit and cover-up. On his only day off between shows, Kanye, in SWEATS, "fixes" Kourtney and Kim's fashion crisis, by making them look like netting you'd use to catch fish.
Like Scene 6, this scene was filmed on September 29.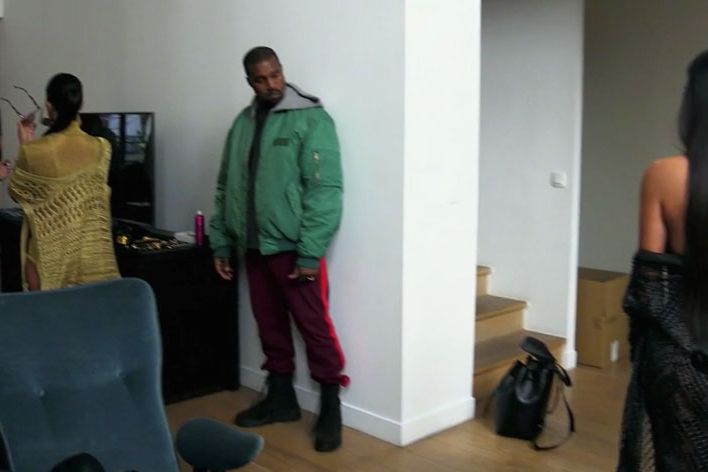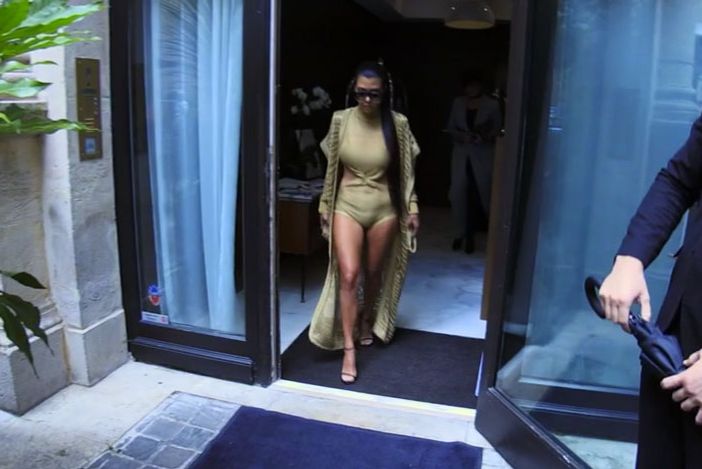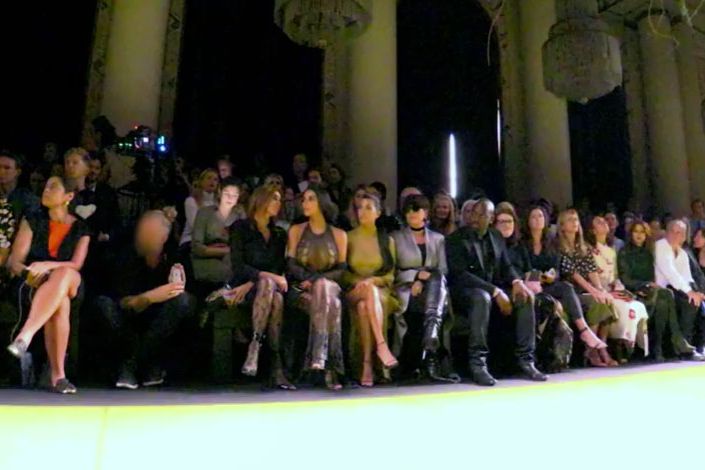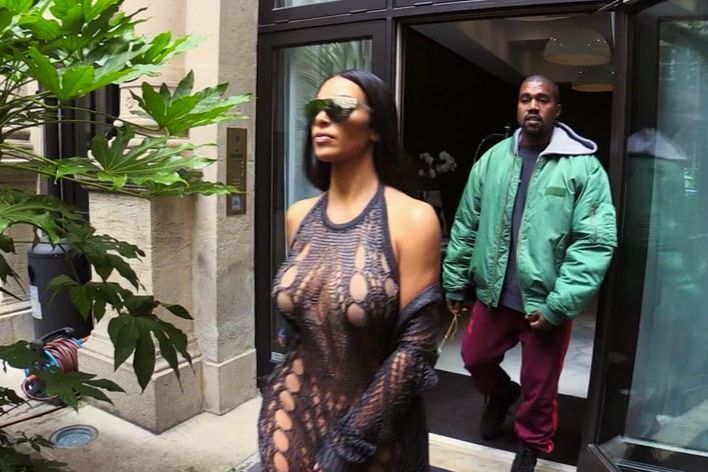 Scene 9:
Kim, Kourtney, and Kanye (who calls himself a ghost) make a stop at the Givenchy showroom to pull looks for Givenchy's runway show, in which Kendall is walking. Somehow, all of the clothes both Kim and Kourtney pulled in Calabasas and had shipped to Paris just won't do, so after Kim tells Youssef Marquis, the brand's press director, about being attacked earlier in the week by a prankster, they get styled by Kanye. Kim enjoys having Kanye with her in the showroom because he's the only one with enough "balls" to pull one-of-a-kind couture pieces for Kim to wear in her daily life walking from a car to a restaurant, a car to an apartment, or a car to a fashion show.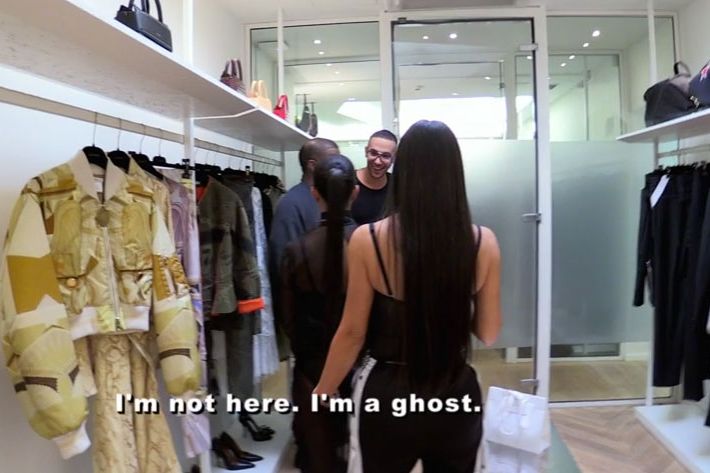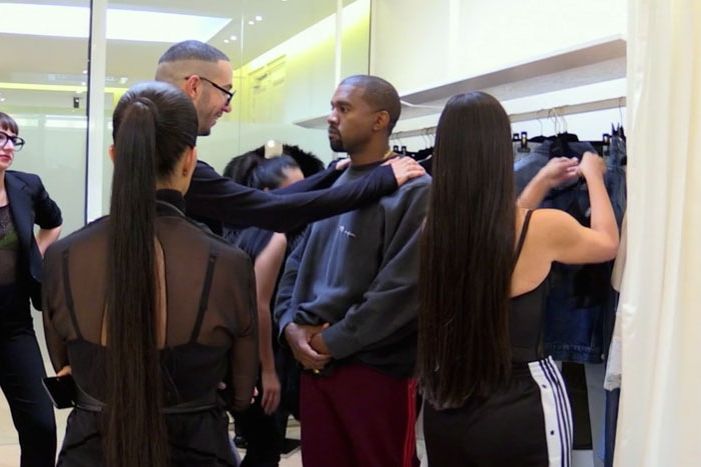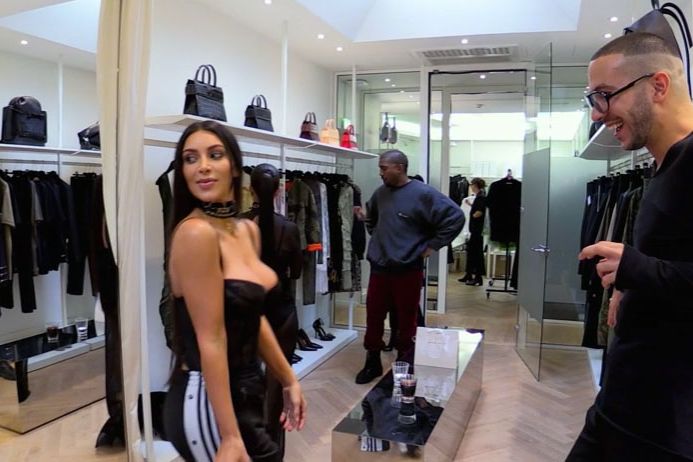 While being styled and even telling the story of a notorious celebrity prankster trying to kiss her ass on the street, Kim is very carefree and happy.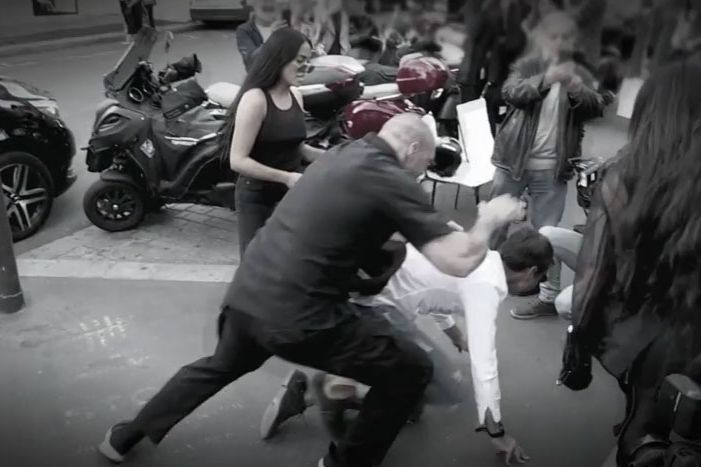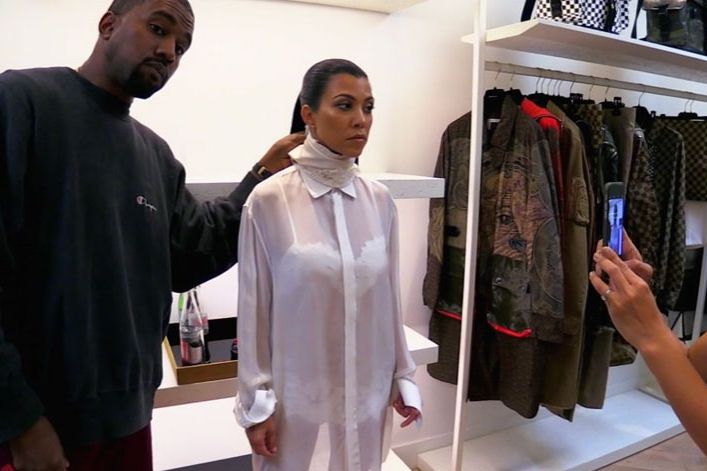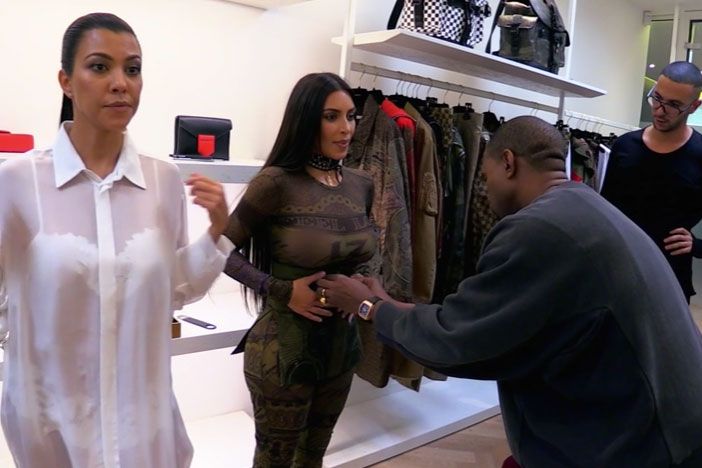 This scene was filmed on October 29, 2016, four days before the Givenchy fashion show and Kim's robbery.
Following dated text on the screen that tells us it's the day of and hours before Kim's robbery, we see Kim and Kourtney prepare for that night's Givenchy show. Kourtney has never seen Kendall walk in a fashion show, so she's anxious. Kendall's excited for her sister to see her work — she even lies and says that she enjoys when her family comes to shows, despite being filmed chastising family members who even deigned to think about coming to her Victoria's Secret show in 2015. Calm as a button, Kim prepares to leave for the show.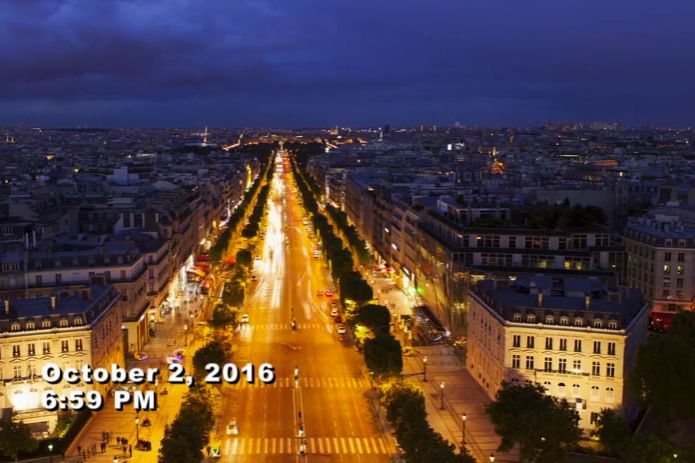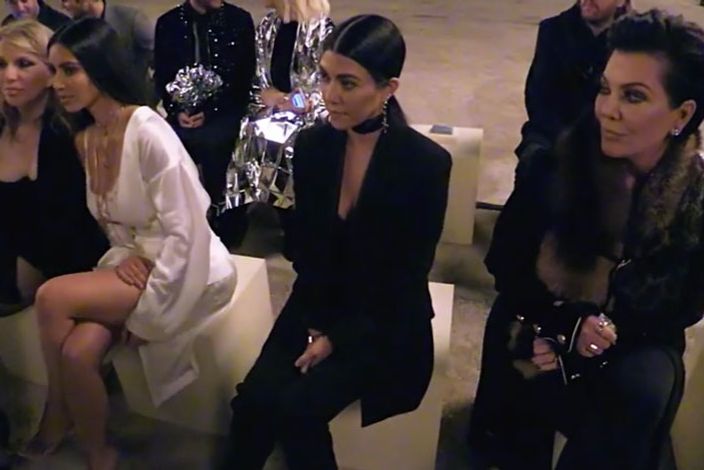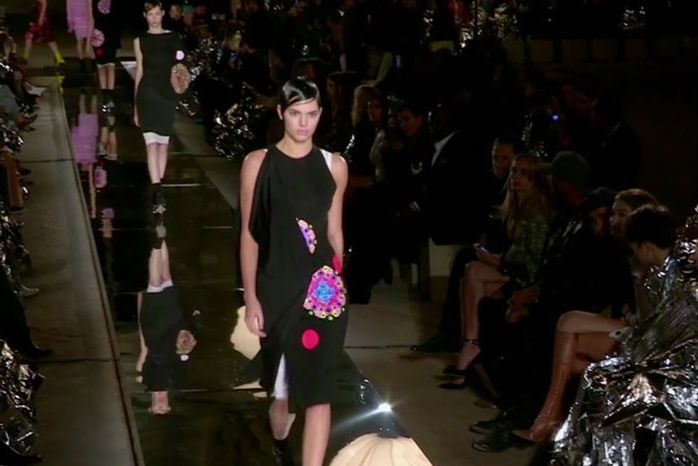 Yet again, the family sits in the front row and watches Kendall work the Givenchy runway. After the show, Kim, Kourtney, and Kendall talk with Joan Smalls about going out on the town that night. Kim wants to stay in. They're leaving Paris the next day, but she doesn't mind that Kourtney wants to spend her last night clubbing and even recommends switching her low ponytail for a high pony.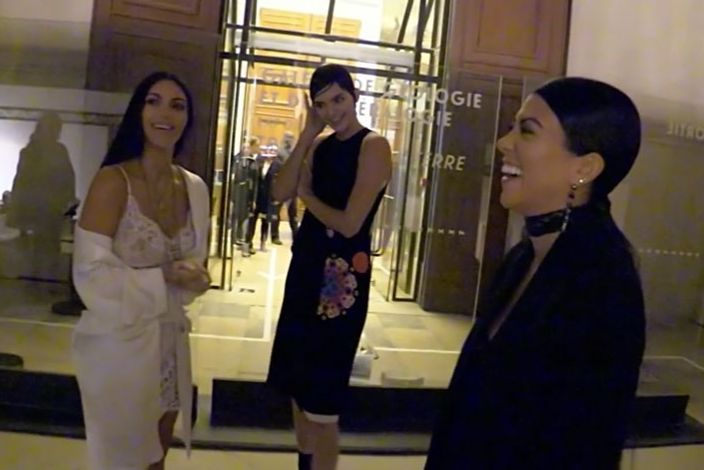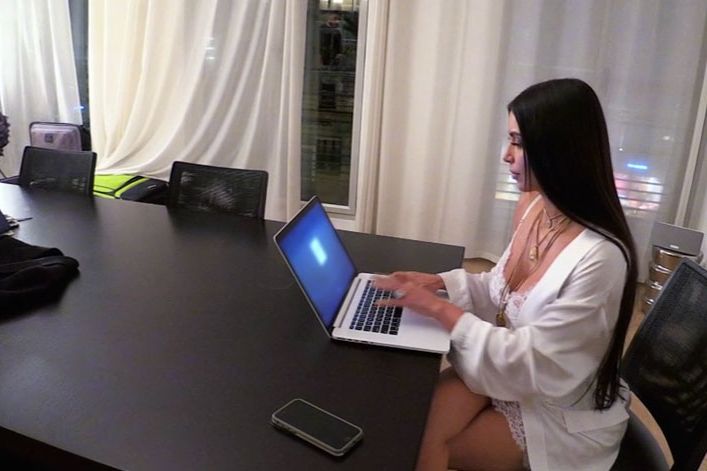 This scene was filmed on October 2, 2016, and ends with Kim in her Paris apartment, sitting alone on her computer.
Scene 12:
Prefaced with text telling us that the following scene was taken by Kanye's documentary crew, Scene 12 is of Kanye in concert on the night Kim was robbed. Mid-show, Kanye is pulled to the side of the stage, where someone presumably whispers that Kim has been attacked. Kanye ends his show, citing a family emergency. Like Scene 11, this scene was filmed on October 2, 2016.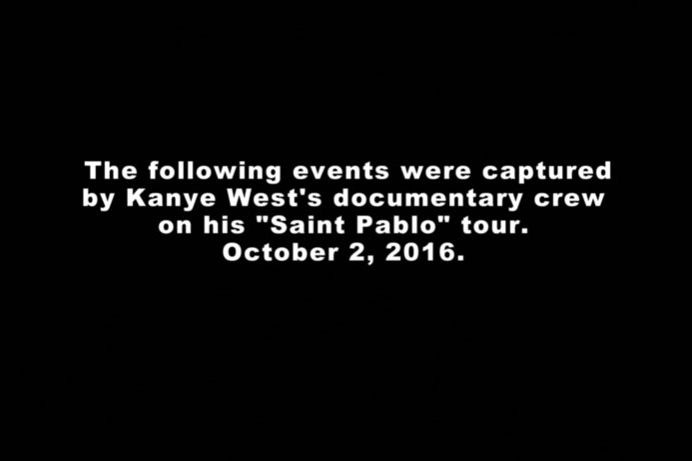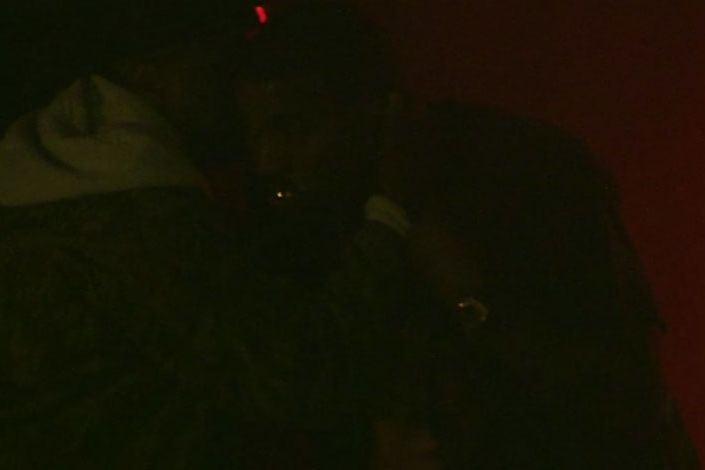 Scene 13:
Accompanied by images of Parisian streets, sirens, and Kourtney and Kendall partying, Kris, Kourtney, and Kendall tell their version of events in straight-to-camera confessionals. Kourtney remembers getting a call from Simone, their stylist in Paris, asking if everything was all right. She was staying in a hotel room near Kim's and says she heard her scream, "Take whatever you want." Shortly after, Kourtney got a call from a hysterical Kim begging for help.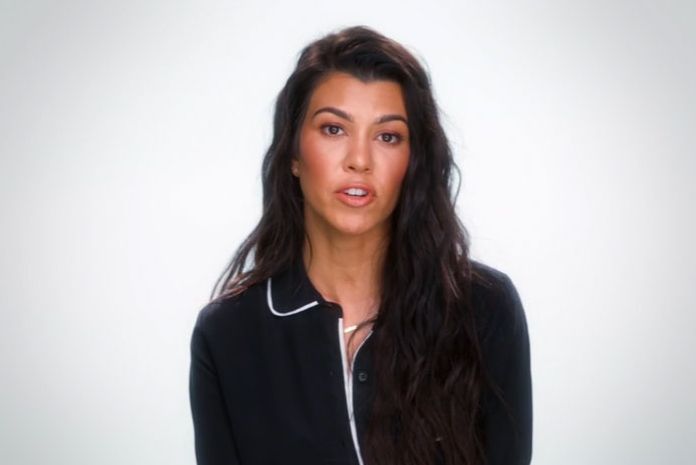 Kendall, who was in the club with Kourtney, remembers Jen Atkin, their hairstylist, telling her that Kim was attacked. Kendall immediately started crying and "bodying" people to get out of the club and rush to her sister.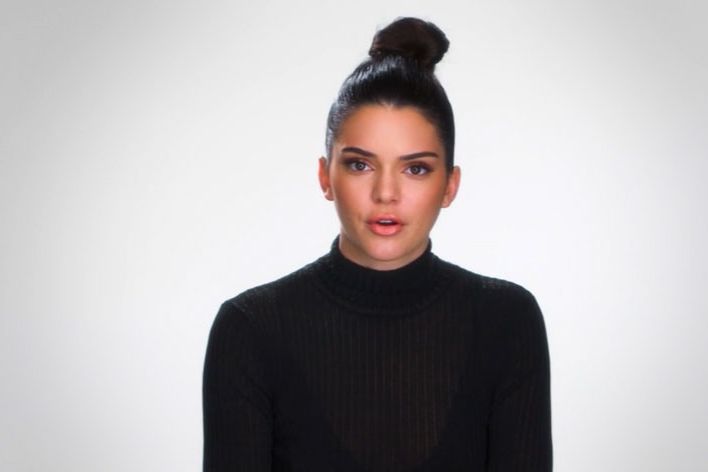 Kris remembers it as the worst night of her life. For Kris, she mainly remembers getting the news, rushing to the hotel, and feeling a sense of relief when she could see that Kim was alive and unharmed physically. When her family walked in, Kim was sobbing in the corner, and after they finished all pertinent police work, the family left Paris before the sun came up.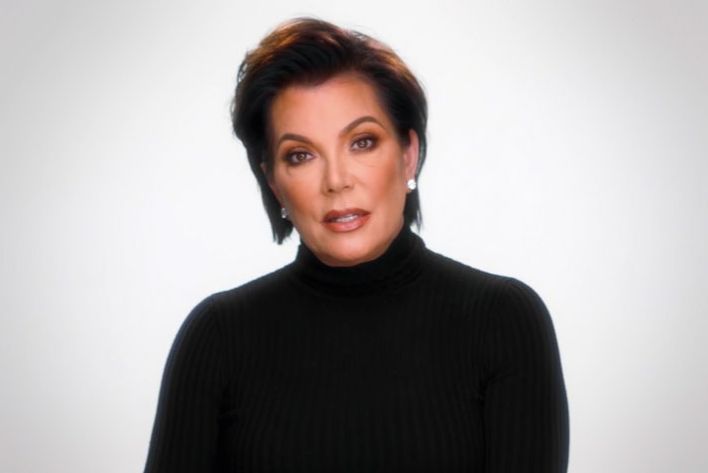 Scene 14:
Following her family's experiences from the night of Kim's robbery, the show returns to Scene 1 on October 3, 2016, when Kim sees her kids for the first time. As promised, Kim keeps her composure and hugs and kisses her kids as if nothing happened. After greeting them, she sits down for breakfast with Kanye, Kris, Corey (Kris Jenner's boyfriend), and Kanye's staff to break down what happened the night before. Throughout the whole scene, Kris battles tears, and Kanye tells Kim that if something "really happened" to her he wouldn't stop until the men were dead.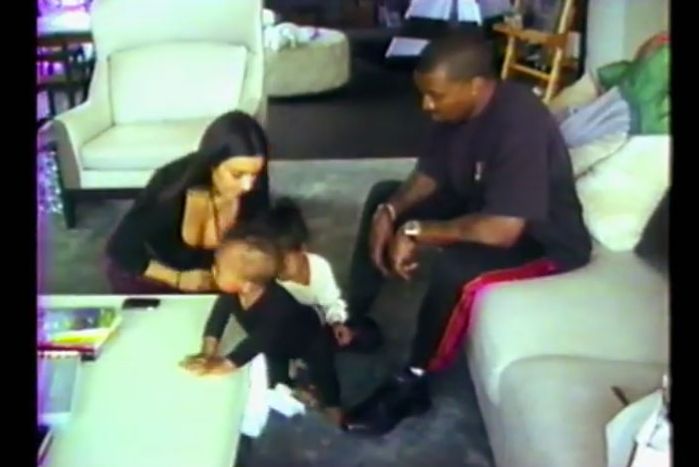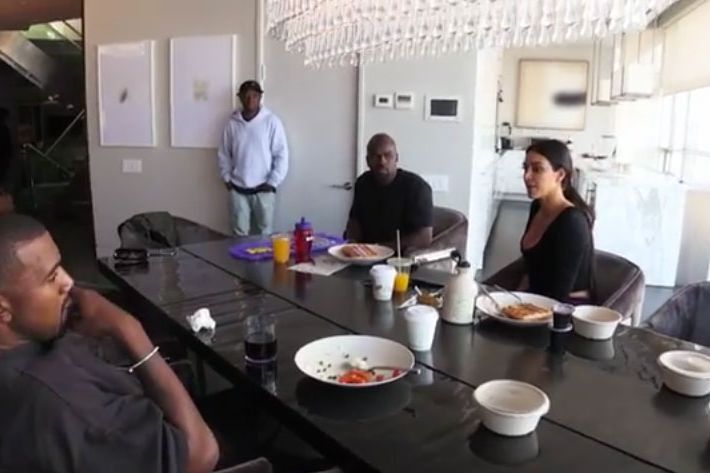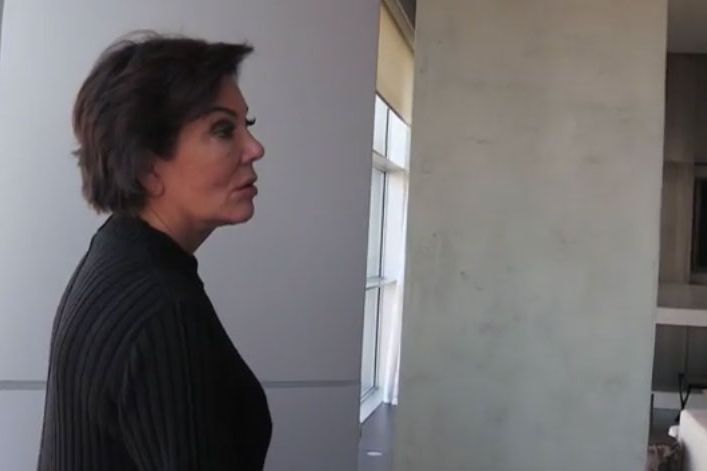 Scene 15:
Kris and Kim make their way back to Los Angeles. Kris advises Kim to go see someone because she doesn't know if Kim will suffer from PTSD. Kim doesn't think she will, but agrees that now their entire family will need to beef up security and, unlike before, have armed guards stand outside of their hotel doors. Aside from planning for future security measures, Kim tries to wrap her mind around the fact that reports are surfacing claiming she faked the entire attack. This scene was filmed on October 6, 2016.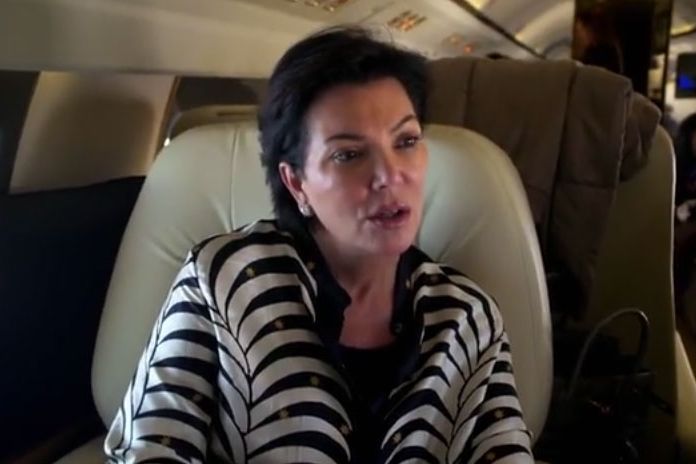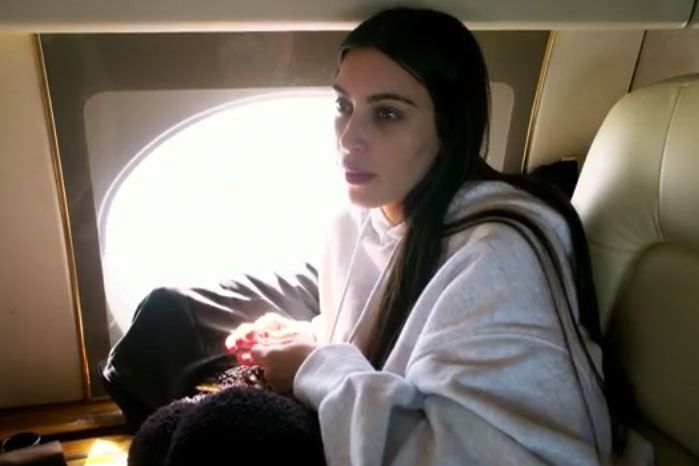 Scene 16:
In Kris Jenner's kitchen, Kris, Kendall, and Kourtney tie up their Paris narrative for the cameras. Kendall says she's still "exhausted" from the ordeal, while Kris is still woken up by nightmares about her other kids walking in on the robbery. Kris, beat to the highest of GAWDS, leans her head in her hands as though she's talking about the robbery in October 2016 and not January 4, 2017, when this scene was really filmed.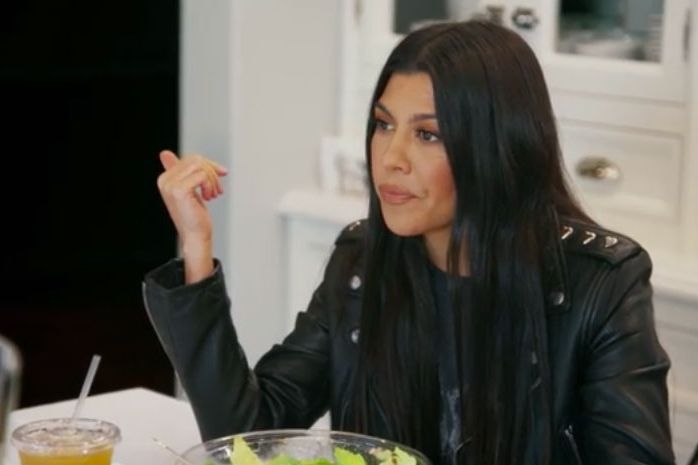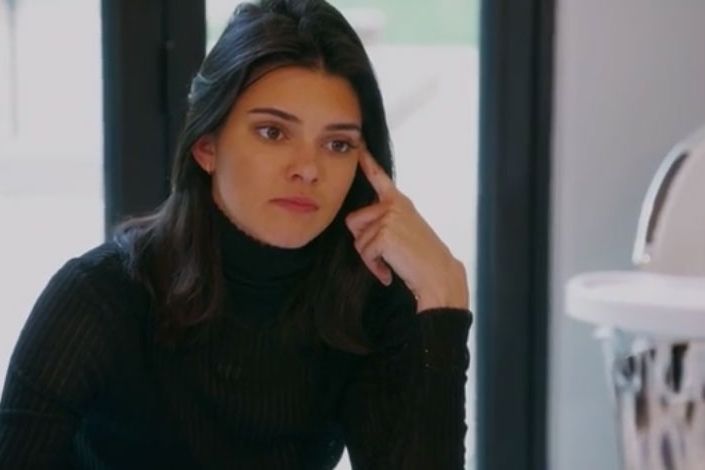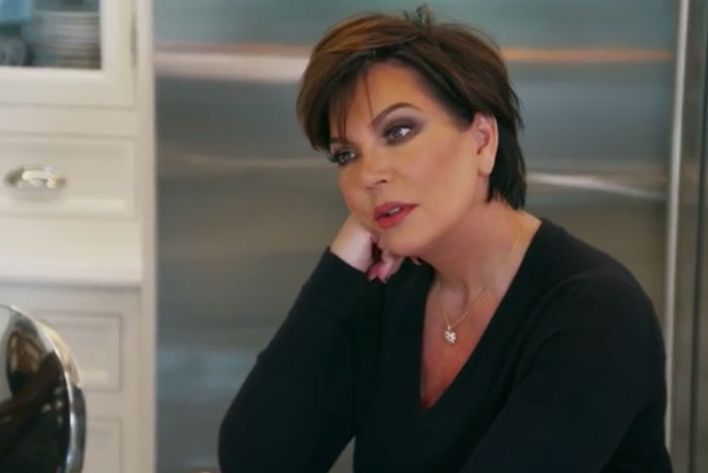 Scene 17:
In the most anticipated scene of the episode, Kim meets with her sisters, Kourtney and Khloé, to talk about the robbery. At Kim's house, Kim and Khloé hug. Khloé's come straight from the airport; Kourtney, straight from Calabasas.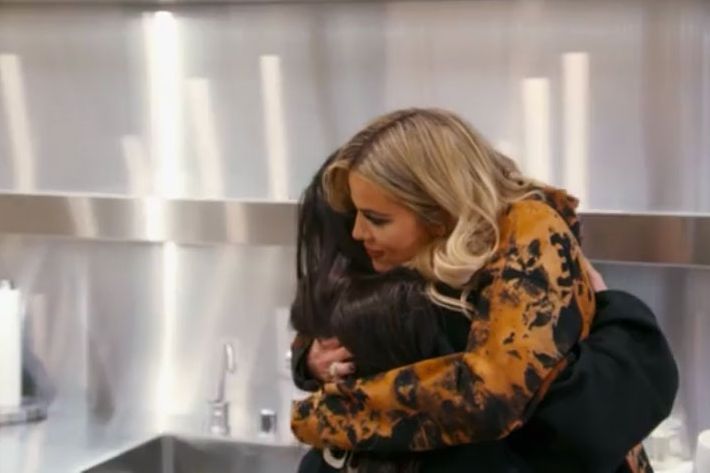 Just days after, Kim seems relaxed and tells her sisters that she has been sleeping fine. However, today she has some anxiety because Kanye's away on tour and she's sleeping alone. Before Kim gets into the details of her robbery, she tells Khloé that she and Kourtney had a conversation the morning of the robbery detailing what they would do should an armed robbery occur. Kim put her plan to use that night by telling robbers to take whatever they wanted.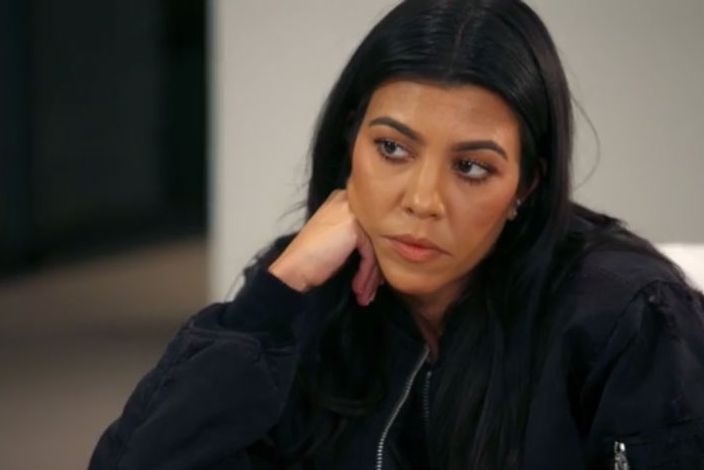 Kim's retelling of her attack is shown through straight-to-camera interviews and her conversation with her sisters. It's heartbreaking. After explaining how she was tied up and scared she would be raped or shot in the back if she tried to run, Kim breaks down when she recalls the moment she was in fear of being raped and reconciling in her brain that she would be murdered. While suffering, Kim says she prayed for Kourtney to have a normal life if she were the one to find her dead body in bed.
In her confessional, Kim explains that she was anxious when the French police arrived after her attackers left because they were wearing the same uniform as the robbers, minus the masks. She thinks the robbers were following her Snapchats that night, where she talked about being alone while her sisters and friends went out to the club.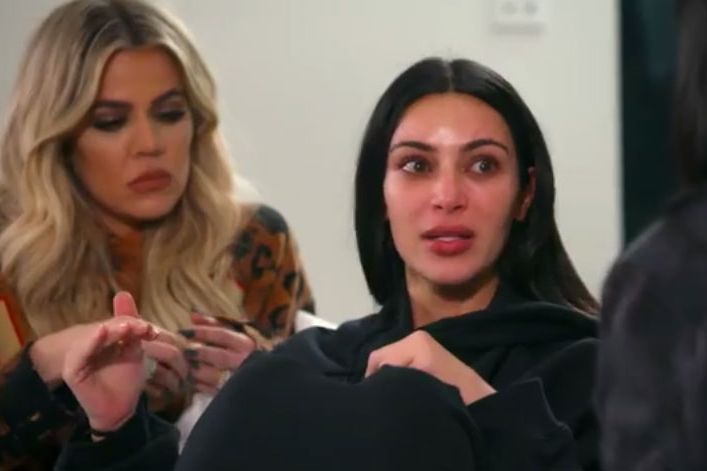 Thankfully, Kim's worst fears did not come to fruition. Still emotional, Kim calls the ordeal "whatever" and reminds herself and her sisters that everything is replaceable.
The show ends with a montage of Kim's family.
Shockingly, this scene is 100 percent authentic, as it was filmed on October 6, 2016, just days after the robbery.
Dolls, thanks for following me on this journey this week. As sad as it is, the episode was great and sets the tone for an even more explosive season. Continue to keep up with your girl next week for another #KUWTKE recap of Keeping Up With Bugs' Mommy. #SafetyandCreativity