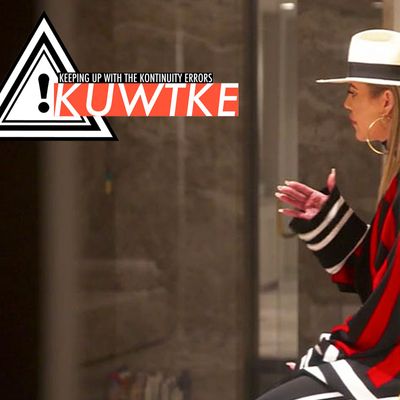 Photo: Courtesy of E! Entertainment
On this week's episode of Keeping Up With the Kardashians, our A plot is Kim's recovery from her Paris robbery, our B plot is Kendall's stalker trial, and our C plot is Kris Jenner's constant worry over her children's safety. Follow me, fellow Dolls, as we dissect all of the Kontinuity Errors in Kalabasas. #LEGGO
Scene One: Cold Open
This episode opens with Khloé doing press on Ellen. She's anxious because she's the first in the family to speak publicly since Kim's robbery. Not particularly happy with what she's been tasked to do, Khloé accepts support from her mother, Kris, who visits her on set. Kris tells her youngest Kardashian daughter that she's a "sight for sore eyes," which Khloé is confused by. Kris explains that seeing Khloé makes everything better for her sore eyes (basically repeating the phrase). When it's time for Khloé to film, she immediately talks about how hard the robbery was for Kim and how the whole family is adjusting, and that it will take time to heal. A very empathetic Ellen DeGeneres and Kevin Hart (IKR!) look on. Like Scene 22 in the season finale of season 12, this scene was filmed on October 10, 2016.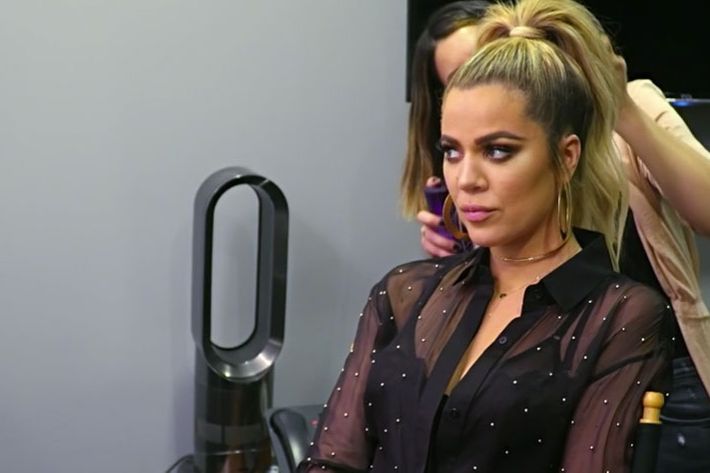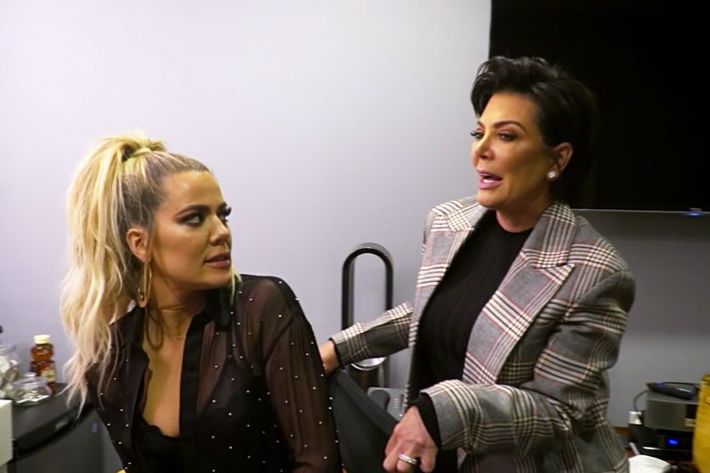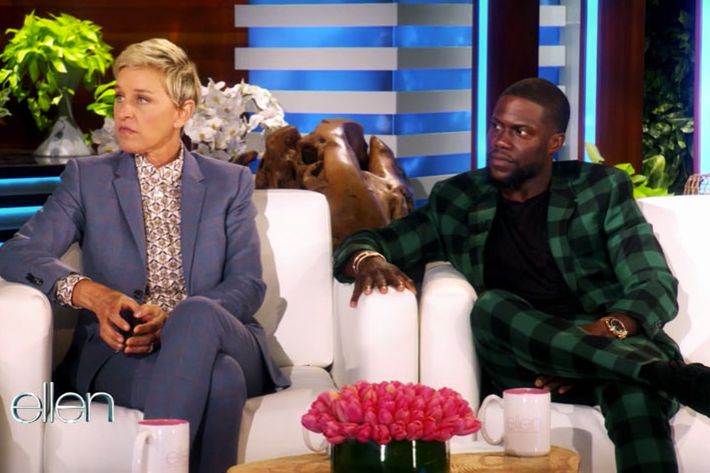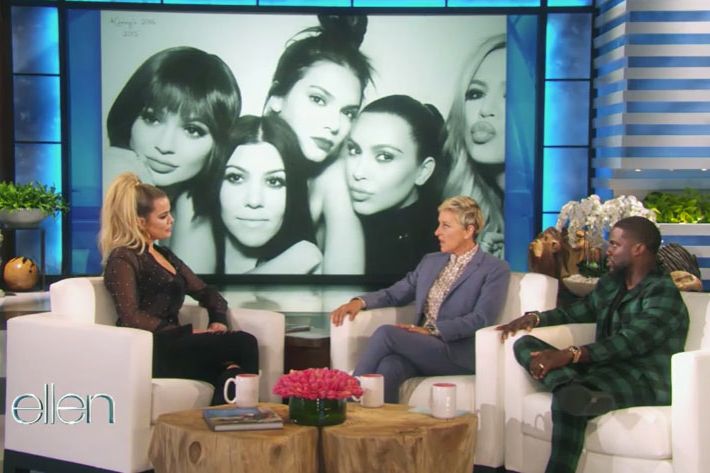 Scene Two
On their drive back to Calabasas from the dregs of California where Ellen is filmed (Burbank, specifically), Kris and Khloé talk more about Kim's robbery, which happened in the early hours of October 3. Kris rehashes the story of what happened to Kim right before: October 2 is the anniversary of Robert Kardashian's death, and that morning, Kim's BlackBerry sounded an alarm to acknowledge the day. According to Kris, Kim's phone had never done that before. Kris believes it was a warning from Robert, alerting Kim that something terrible was to come. Khloé listens to her mother repeat the story, and when Kris is done, Khloé asks how her mother is, because the woman is obviously unwell. Kris appreciates the ask and admits that Kim's ordeal brings her back to Nicole Brown Simpson's murder, after which she had wondered what more she could have done to save her friend. Only, in this case, Kris keeps wondering what would have happened if Kourtney and Kendall had walked into the room while the robbery was taking place. Like Scene One, this scene was filmed on October 10.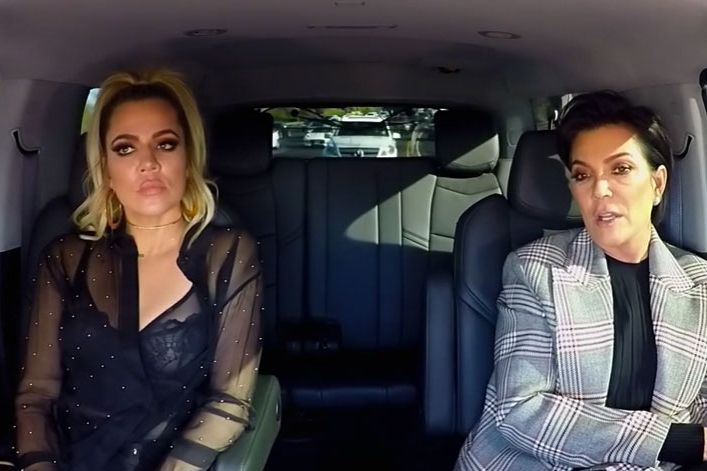 Scene Three
At Kourtney's house, Kourtney, Scott, Kris, Khloé, Rob, Chyna, Corey Gamble, and the kids gather for a very early dinner — the sun is still shining. Before eating, Kourtney prays over the food, using the same boring, tired voice one would use to count to 100 in a ten-year-long game of hide-and-seek. Dining next to a massive window, Kourtney mentions that Kris thinks she should have it tinted, for heightened security. Kourtney argues that she likes to look out to the street, Kris argues that potential criminals like to look in, and *I* argue that her sister was robbed at gunpoint just a week before so listen to your MAMA, Kourtney.

Kris then tells the table that none of them have enough security, and Kim hops on to zero in on Rob and Chyna, warning them to scale back on their "flashy" online posts. Like children, both members of the couple nod. After schooling the table, Kim tends to her phone, where she's received a link to the newest Halloween costume: her, bound and gagged. Kim is disgusted, and rightfully so, but remains calm. Like Scenes One and Two, this scene was filmed on October 10.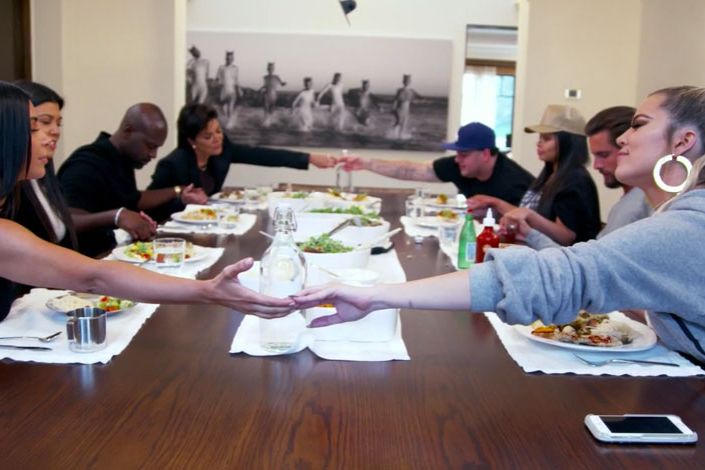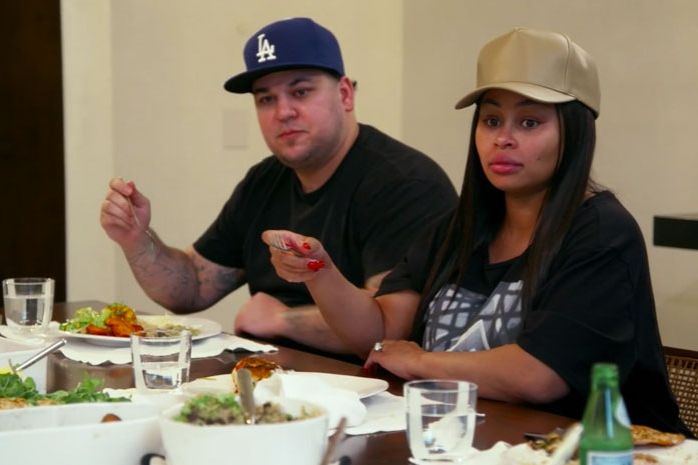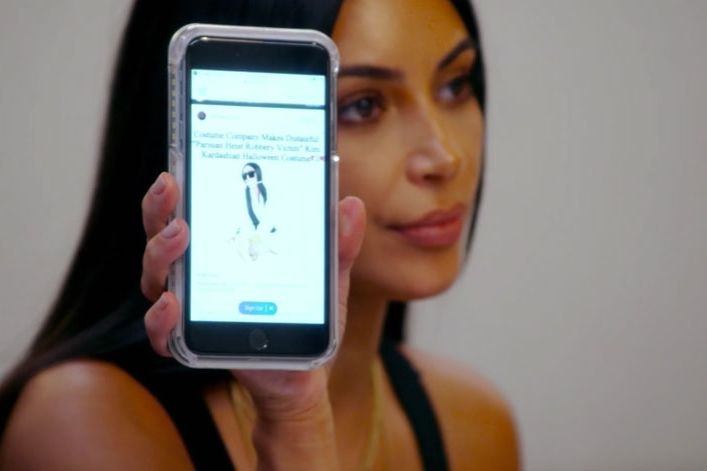 Scene Four
At Kris's palatial estate, she visits with her company, Instagram model Kendall Jenner and professional deadbeat Scott Disick. Kendall tells her mom and not-quite-brother-in-law that she's having friends over that night because she doesn't feel comfortable in her home. Before Kim was robbed in Paris, Kendall dealt with a terrifying trespasser who made it through her gate as she pulled into her home. While she screamed and cried in the car, the man banged at her window, wanting to "talk." Kendall called her friends, who met a distraught Kendall at her home and basically put the man under citizens' arrest until the police got there. Now the man is in jail and facing trial. Kris asks if it's like a proper trial, where a jury is picked. Kendall says it is — it's "like a movie." Sadly, Kendall must be mentally stuck in a time before the trial, because this scene was filmed on October 31, 2016, almost three weeks after the trial on October 13.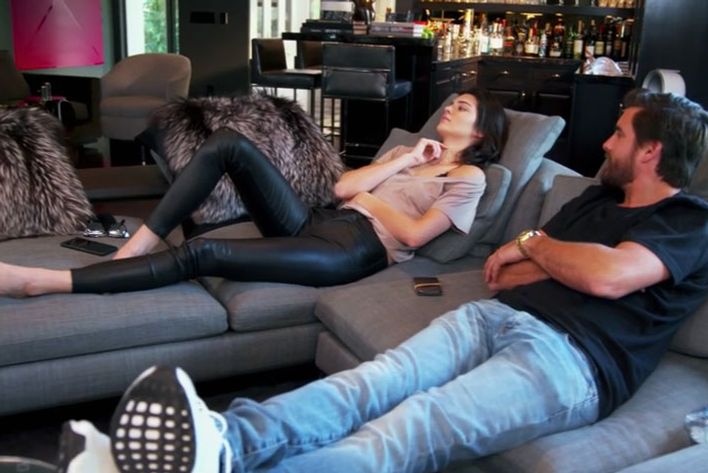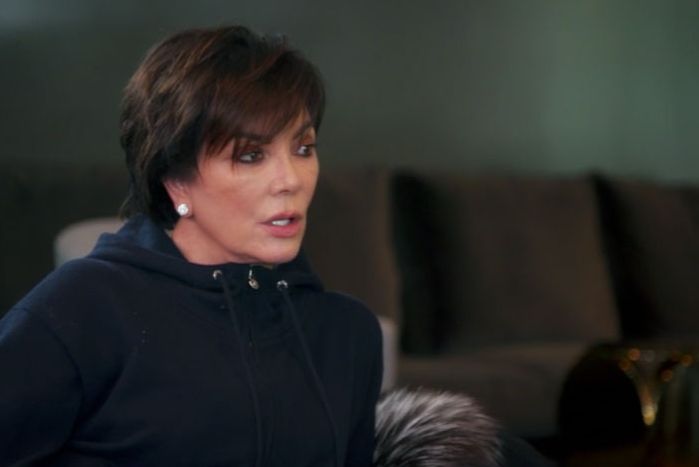 Scene Six
Kim visits Kourtney at Kourtney's home and is very downcast. Kourtney, on the other hand, is hyped on her latest Snapchats, which she thinks make her look very "Armo" (a.k.a. Armenian). She's in a full-glam beat-down, but wearing an Adidas tracksuit, of which she's very proud. Kim indulges her sister slightly, as the two reminisce about their dad's Fila garments, which Kourtney lost.
But Kim's just got off a two-hour phone call with a French attorney, with whom she's been working to get certain stories about her robbery taken down from the internet. A few sites got video footage of Kim on her phone in her hotel room hours after the robbery, which were paired with claims that someone who was just robbed at gunpoint would have no need to use a phone, "proving" that the incident was made-up. Kim successfully got the video removed from the internet and a public apology was issued. Kim and Kourtney then look at other false stories written about Kim's robbery, pointing out the efforts to disprove her official statement: She wasn't bruised from zip ties, the door showed no sign of forced entry because the concierge let the robbers in, and she wanted to FaceTime her husband and kids. Thanks to Kourtney's Snapchat, we know that this scene was filmed on October 12, 2016.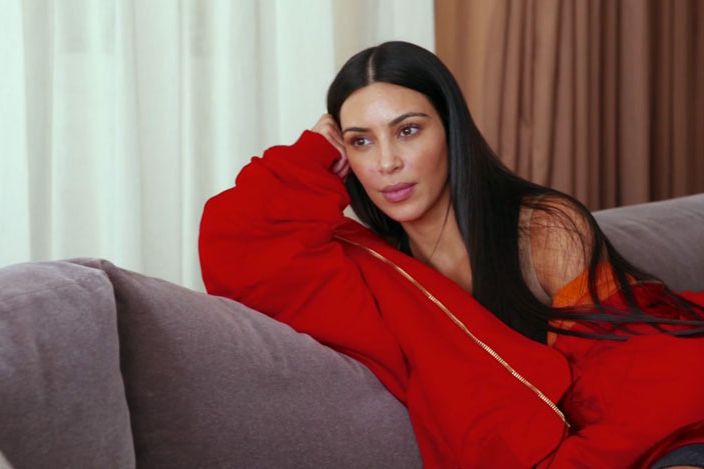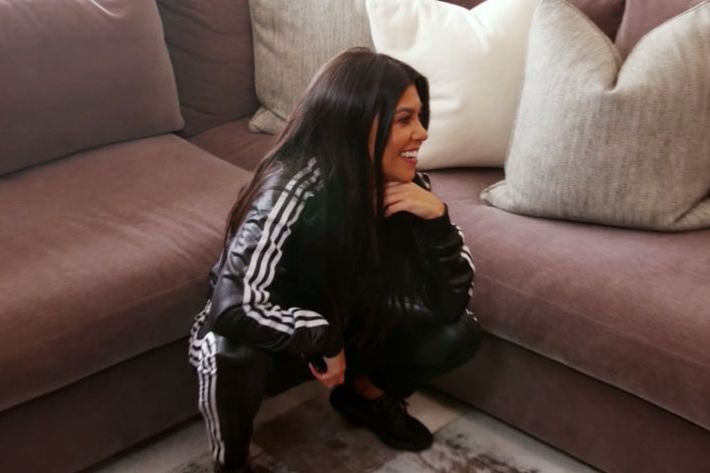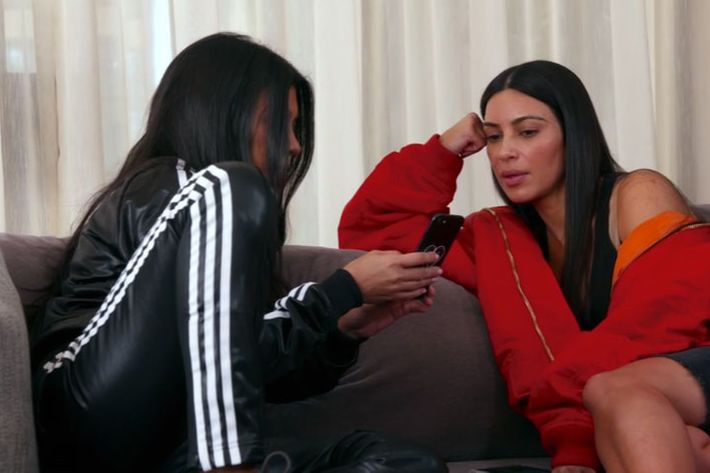 Scene Seven
In the backyard of Kris's home, Kendall talks to her mom about "just" being called to testify against her stalker. Kendall admits that she's overwhelmed by the court process and would like to not testify. She also feels uncomfortable sending her stalker to jail, as she believes he has mental-health issues and a hospital would be more suitable. Thankfully, Kendall's choker and leather pants are glued to her body, so we know that this scene, like Scene Four, was filmed on October 31. Kendall is participating in what we like to call an "inside day," where she films multiple scenes in one day, all while changing up a single piece of her wardrobe. So, in a way, she did celebrate Halloween while working.
Scene Eight
In the saddest scene of the episode, Khloé visits Kim at her Bel Air home. Searching for Kim, Khloé finds her sobbing in her bedroom after being reminded of the robbery. Khloé tells her sister that it's all right to cry because she was traumatized. She also tells her sister that it's okay if people doubt her experience because Kim and her family know her truth, which is all that matters. And then, in a truly unusual moment for the series, Khloé can be heard telling the crew, "We need to stop. I just don't want everything on camera right now." The crew obliges. This scene was filmed on January 23, 2017.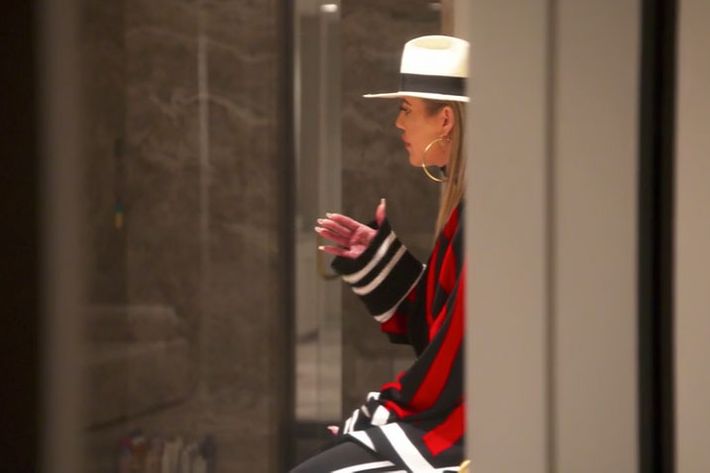 Scene Nine
In her infamous white hoodie, Kim visits Kris's home. Kourtney is also there, and when Kim tells them that she's exhausted, Kourtney says she is, too. Kim asks why, and Kourtney answers that, since the robbery, every little sound wakes her up. Kim calls what Kourtney's experiencing "Paris jitters" and holds back laughter, then tells her mom and sister why she's so exhausted and didn't get any sleep the night before. She's shaken, it turns out, from a false alarm: Even though she sleeps with at least four bodyguards protecting her home, Kim became terrified when Kanye entered their house in a way he usually does not — by coming up the front steps instead of the back ones. It was 3 a.m., post-concert for Kanye, and after a show Kim says Kanye can't really hear. He didn't hear her scream, "Hello, hello?!"
Still hearing loud footsteps and no answer to her calls — just like in Paris — Kim started sobbing. She also grabbed North, who had fallen asleep in her bed. Thankfully, it was just Kanye, but Kim calls him an "asshole" for breaking his pattern, and told him that they need to come up with a plan so that he never scares her like that again. Kim also tells her mother and sister that she had to throw some body wash away, because the same one she was looking at when she was tied up was unpacked and placed in her shower. This scene was filmed on October 25, 2016.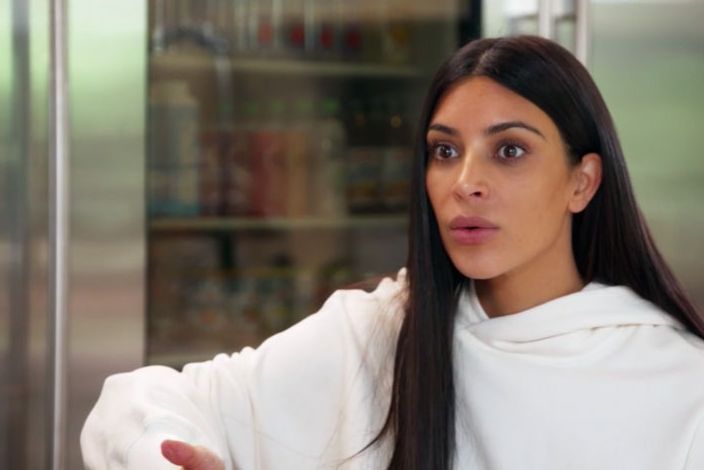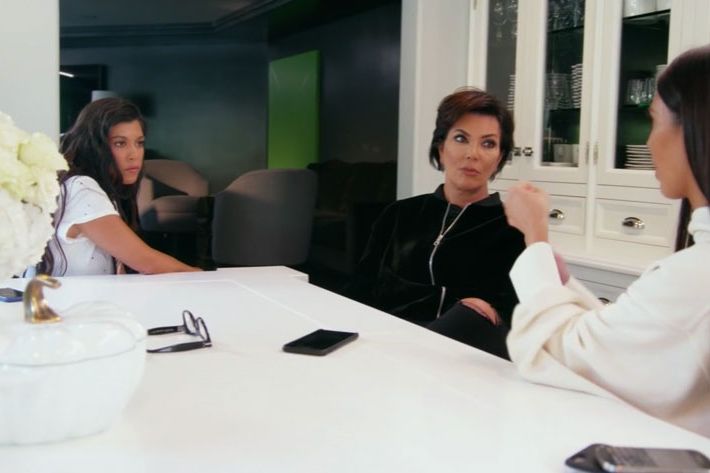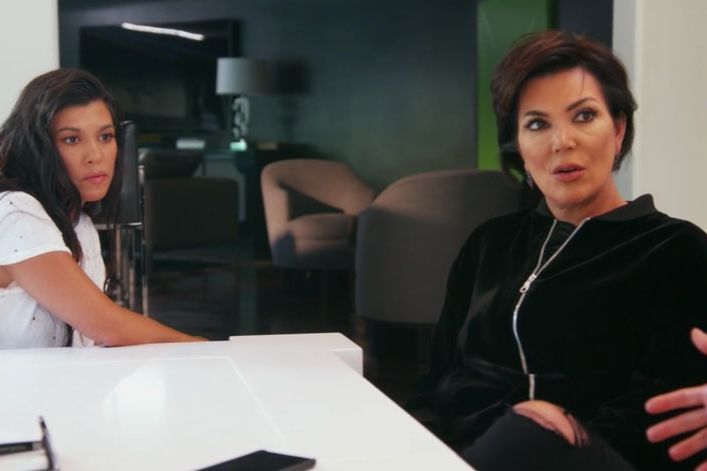 Scene 11

On her way back from a day of filming in Kris's studio (a.k.a. home), Kendall takes a three-month journey over to Kim's New York City home to knock out another scene about her stalker. In her chosen "tattered" look, Kendall asks Kim for her advice on testifying against her stalker. Kim thinks Kendall should go for it and "set the tone" for what she'll accept in her life, or she won't be able to sleep at night. Gunning for an Emmy, Kendall tells her sister that the thought of seeing her stalker in court gives her crazy anxiety, then wipes away an invisible tear. This scene was filmed on February 14, 2017, in New York City.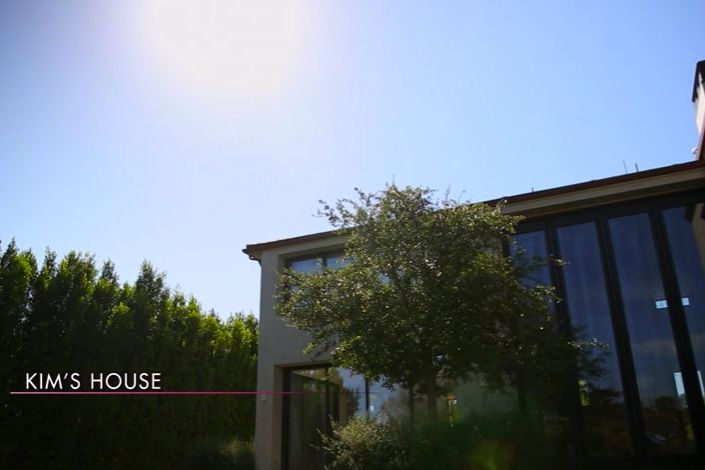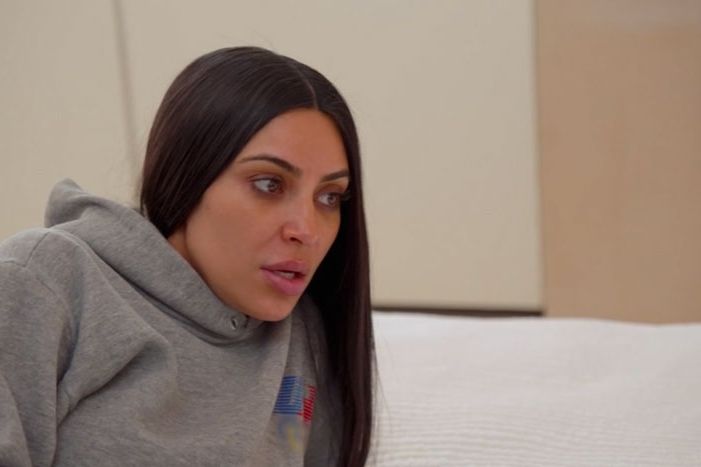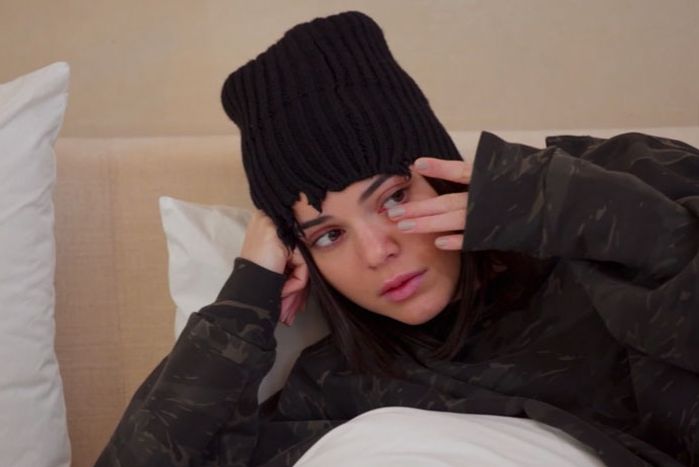 Scene 13
At Kim's actual Bel Air home, Kourtney visits to bank some sweet Snapchat footage and talk to Kim about Kendall's trial. After rolling around and posing with North's toy, Kourtney and Kim call Kendall, who just left her trial. Kendall thinks it went well, and because of TMZ, Kim knows her stalker got five years added to his restraining order. Kim also tells Kendall that there's a pretty funny courtroom sketch of her on TMZ. Kendall doesn't find the sketch as amusing as Kim does, but she takes it in stride. Shockingly, this scene was filmed on October 13, 2017, the day of Kendall's trial.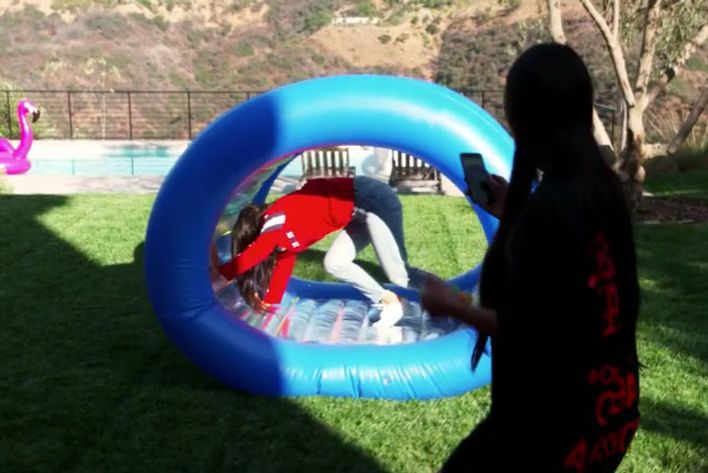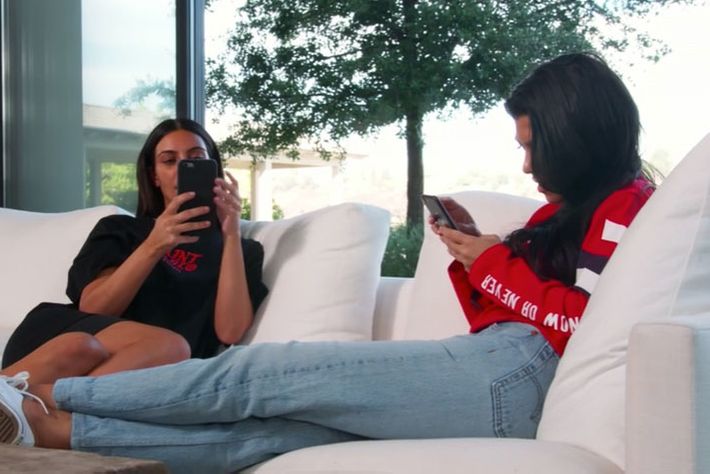 Scene 16
It's Kim's birthday, and since she's still out of the spotlight and recovering from her attack, the family throws a quaint surprise party for her at her house. Kylie is the first to show up, and is severely out of place in a body-con dress. She sees Kris in comfy clothes and asks if that's the vibe, which it is, so Kylie changes into sensible leisurewear with high heels. Kim's nearest friends and family gather, and surprise her in her driveway as she pulls up, since they know jumping out at her would not be wise after what she's been through. Kim's first gift is from Kendall and Kylie: a new "SAINT" choker. Her original one was stolen, or "lost," as Kim likes to say. The family indulges in cake, and all is well. This scene was filmed the day after Kim's actual birthday, on October 22, 2016.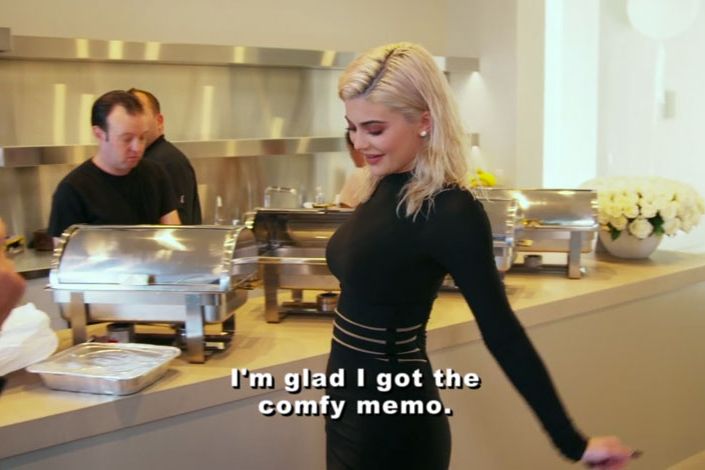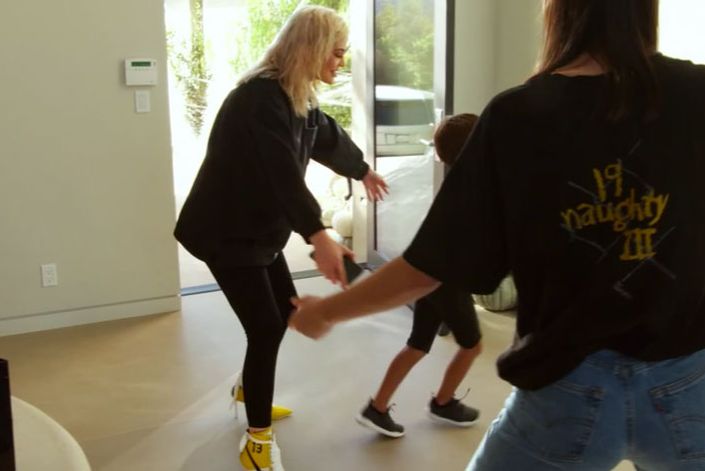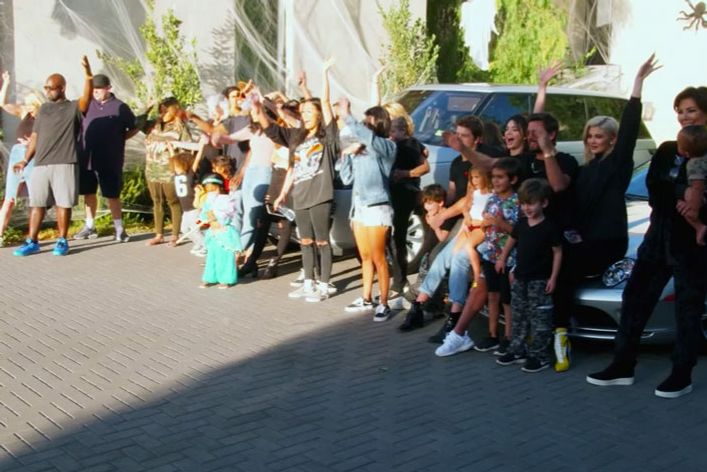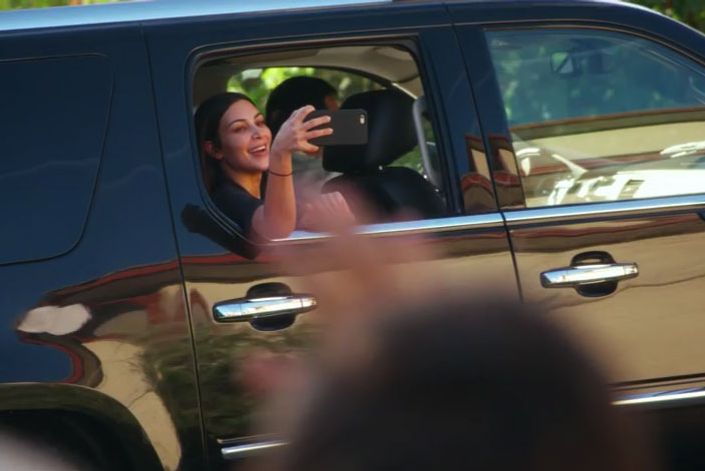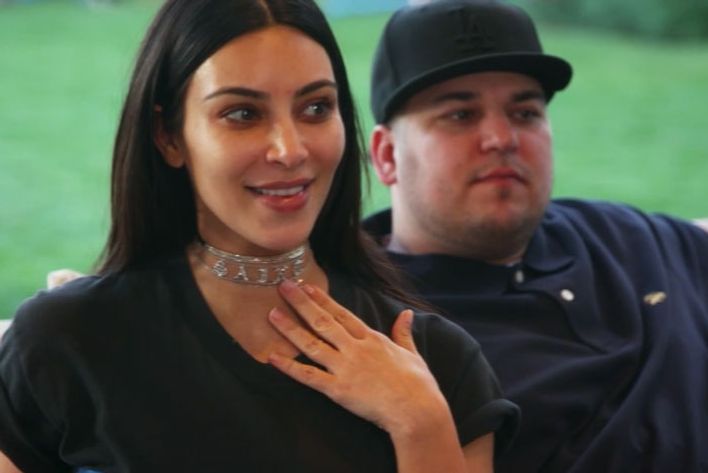 Thanks for joining me this week, fellow SAINTs and Dolls. Remember to keep a focused eye on this space for next week's #KUWTKE recap of Keeping Up With Kendall's Acting Career. #ComfyClothes