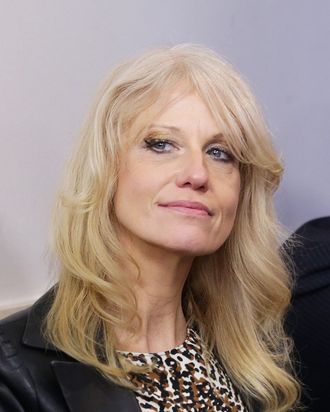 Kellyanne, uncloaked.
Photo: Alex Wong/Getty Images
Every glimpse into Kellyanne Conway's past leaves us with way more questions than we started with (remember her unearthed stand-up comedy routine?). A recent video interview with the Bergen Record in her North Jersey home went viral for Conway's suggestion that Obama used microwaves to spy on Trump — but one smaller detail had gone unnoticed.
Photographer Anne-Marie Caruso snapped a photo of a more candid moment of her with her children — and, as Franklin Leonard first pointed out on Twitter, there's something lurking to the side of the shot that's impossible to ignore.
Yes, that's a photo of Kellyanne Conway in a blue velvet cloak and pearl necklace, gazing wistfully in the distance — or at least, the shoulder of the Sears portrait-studio assistant. Smize, Kellyanne, smize.