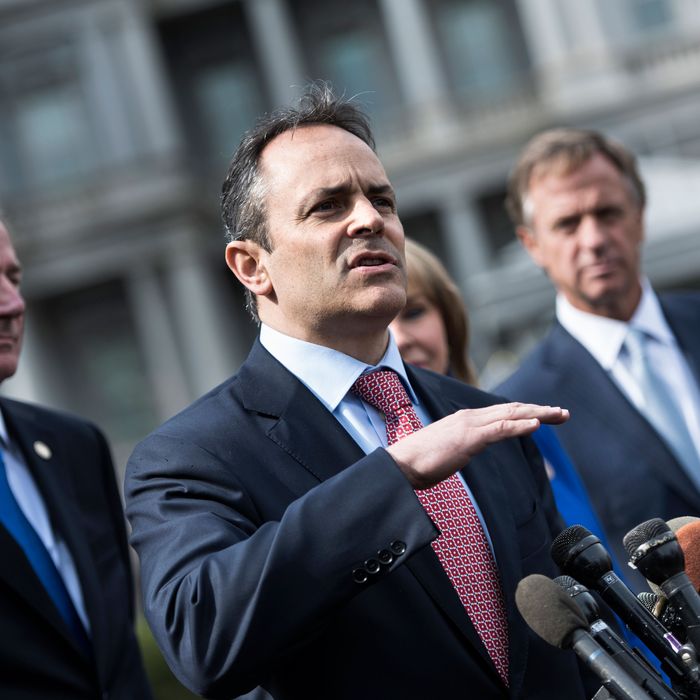 Kentucky governor Matt Bevin signed SB17 into law.
Photo: BRENDAN SMIALOWSKI/AFP/Getty Images
While the Trump administration reportedly mulls a national version of a so-called "religious liberty" order, the state of Kentucky is one step ahead. Last week, Kentucky governor Matt Bevin signed legislation that would let student groups at public schools and colleges bar LGBTQ members.
Senator Albert Robinson, who introduced the bill, said he was inspired when Johnson County school officials cut a Bible verse from a production of A Charlie Brown Christmas. He said the bill is designed to state students' rights "so that the public school can be a place where religious and political ideas can be expressed without fear of suppression."

Under the law, students can express religious and political views in class assignments and homework without fear of punishment; distribute religious and political literature; and wear religious symbols. But it also states that no "recognized or religious political student organization is hindered or discriminated against" for "determin[ing] that only persons committed to its mission should conduct these activities." That means that if student groups want to exclude LGBTQ students, they can cite their religious beliefs as the reason why.
Pro-LGBTQ groups have criticized the law, which they say "jeopardizes nondiscrimination policies at public high schools, colleges, and universities." But it passed both the Kentucky House and Senate with almost unanimous support — just eight House members and three senators voted against it. On March 16, it was signed by Kentucky governor Matt Bevin.
According to the Hill, Kentucky's new law is one of about 100 "religious freedom" measures that have been introduced in states across the country, and others — like Indiana and Mississippi — already have similar laws in place.