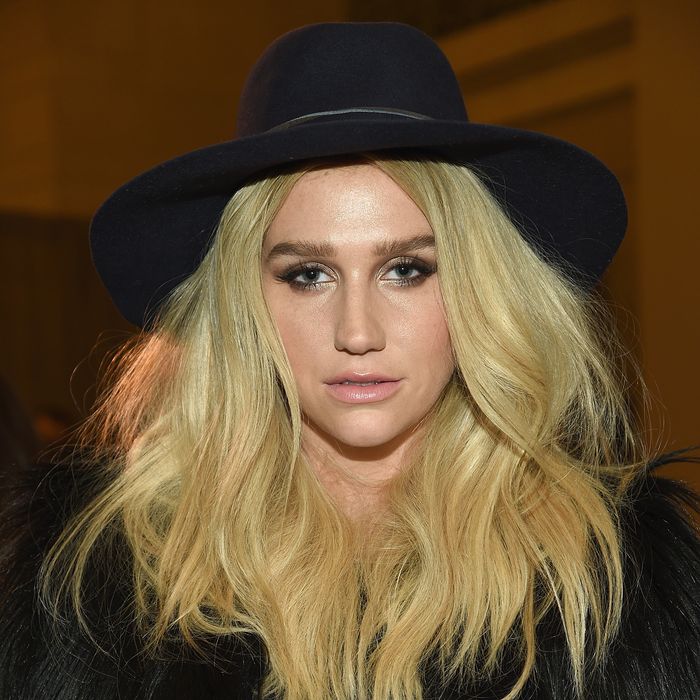 Kesha.
Photo: Dimitrios Kambouris/WireImage
At a panel on cyberbullying at South by Southwest, Kesha spoke about how she's struggled with her self-image over the years — battling an eating disorder and, at other moments, working to block out the hateful comments she gets online. Too often, she told the audience at SXSW, she used to let the internet trolls get to her without realizing she ultimately held control. "You're making people you don't know your higher power," she said, according to Billboard. "I was making trolls, I was making bullies, I was making people I had never met before who were projecting their insecurities on me, on the internet — I was making them the truth, the higher power."

Kesha, as has been widely reported, has been involved a prolonged legal battle with producer Dr. Luke, whom she accused of drugging and sexually assaulting her as part of a plot to control her by emotionally abusing her. Dr. Luke has denied the allegations and countered by saying that Kesha wants to slander him and get out of her recording contract. Though she didn't mention Dr. Luke or her legal challenges, Kesha said that she's been working nonstop on music and has recorded 70 to 80 songs. "I have a lot to talk about," she said, according to Forbes.

In another sobering moment in the discussion with Refinery29's Amy Emmerich, Kesha opened up about her struggle with an eating disorder. According to People, the pop star became visibly upset when speaking on the subject, saying, "People don't want to talk about eating disorders … and I just want people to know that they are not alone. It is not your fault and it is not a weakness. It is a disease." She added that she was previously embarrassed to speak about it, but now wants to openly discuss it because it almost cost her her life:

"I almost died. I came closer than I ever knew. By the time I entered rehab, they were surprised I hadn't had a stroke — because I hadn't consumed enough. I'm not ashamed anymore. It's emotional because it's a deep-rooted disease. It can really affect your self-worth."
Over time, Kesha said that she went through "[a] shit ton of therapy," and has since been able to work through the "facade" she built up of a woman who didn't "give a fuck." "I realized that was total bullshit," she explained, according to Forbes. She changed her name, too, when she realized the $ in "Ke$ha" was part of "the facade."

There were also some lighthearted moments during the panel. Kesha said she spent her 30th birthday in Africa and came to a small realization courtesy of some lions: "The day I turned 30 I was on safari and I saw two lions having sex and I thought, 'I think my 30s are going to be dope.'" Oh, and as for her ultimate goal in life? Well, she said, that involves plenty of cats and some nudity. "Just be naked, let everything sag, and just say, 'Fuck it.'"