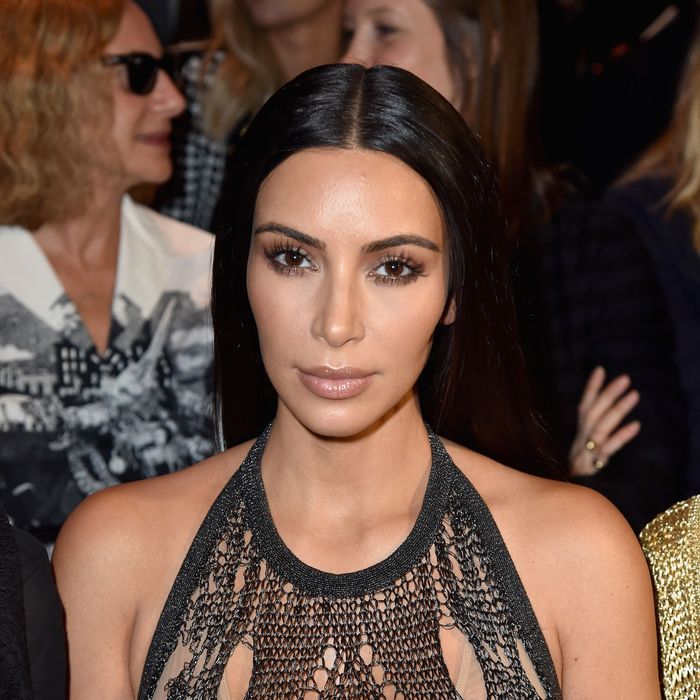 Kim Kardashian.
Photo: Pascal Le Segretain/Getty Images
Kim Kardashian endured two high-risk pregnancies with her children North and Saint, but in a clip from the upcoming episode of Keeping Up With the Kardashians, the 36-year-old revealed that she's undergoing surgery on her uterus in the hopes of being able to conceive a third child.
While pregnant with her first child, North, Kardashian suffered from preeclampsia, a dangerous pregnancy complication marked by high blood pressure and protein in the urine. She also had placenta accreta, a serious condition in which the placenta attaches too deeply into the uterine wall. And, while pregnant with Saint, Kardashian was at risk of developing diabetes and gave birth several weeks early.
In the clip, Kardashian explained to her family that she'd like to try to have one more baby with husband Kanye West, and that she needs surgery to prepare her uterus to be able to conceive again. "I have to have a surgery on my uterus to kind of repair this hole so they need to like clean that out and then there's like scar tissue," Kardashian said. "It'll still a really high-risk pregnancy, just I would be able to get pregnant."
The reality star went on to say that having more kids will be tough. "I've gone through so much with really bad deliveries that the doctors don't feel like it's safe for me to conceive again myself," Kardashian said, adding that the surgery is the "one last thing" she could do to try.
"I want my kids to have siblings and I want to know that I did everything I could to make this happen," she said.