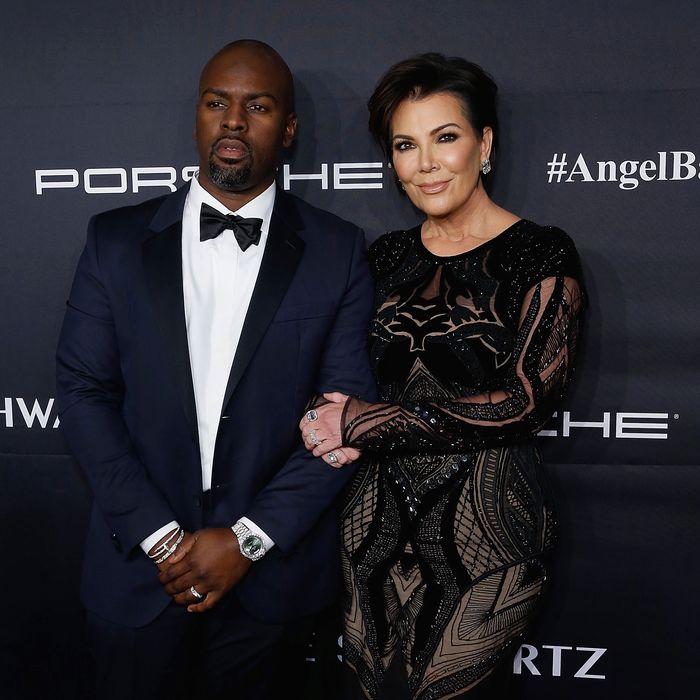 Corey Gamble and Kris Jenner.
Photo: John Lamparski/WireImage
Kris Jenner is a busy woman. And these days, the so-called "momager" of the Kardashian family has been reportedly taking more time to focus on work. Which means that there's less time for her to dilly-dally with her longtime boyfriend Corey Gamble, who has apparently been kicked to the curb. Sort of. Radar Online reports that Kris and Corey have been on "a break" ever since Valentine's Day, when they were last seen publicly together. While Kris hasn't officially called it quits with Corey, it's reportedly only a matter of time.
An unnamed source tells Radar Online that Kris wants to focus more on the family's reality-TV show, which doesn't sound far-fetched given that the season's premiere clocked in with the lowest number of viewers ever, according to OK! "She said that she was getting side-tracked with this relationship and that she needed to put her family before her own needs and wants," the source told Radar Online.

Plenty of rumors have surrounded the romance between Kris, 61, and Corey, 35, who began dating in 2014, shortly after Kris's ex-husband, Caitlyn Jenner, came out as transgender. This time last year, other unnamed sourced told "Page Six" that it was only a matter of time before the two called it quits, and that Corey was given a stipend and tasked with keeping an eye out for Kris's kids. "Their arrangement has become more of a publicity stunt and a 'trade' at this point," the source told "Page Six" last year. "They aren't really in love and there isn't much longevity. Everyone is just waiting for Kris to clip it."
If so, it looks like 2017 might be the time that Kris Jenner finally makes time to cut things off for good. Whatever the case, Corey seems to be doing just fine with the distance. Radar Online also reported that he's off skiing with friends in South Africa.