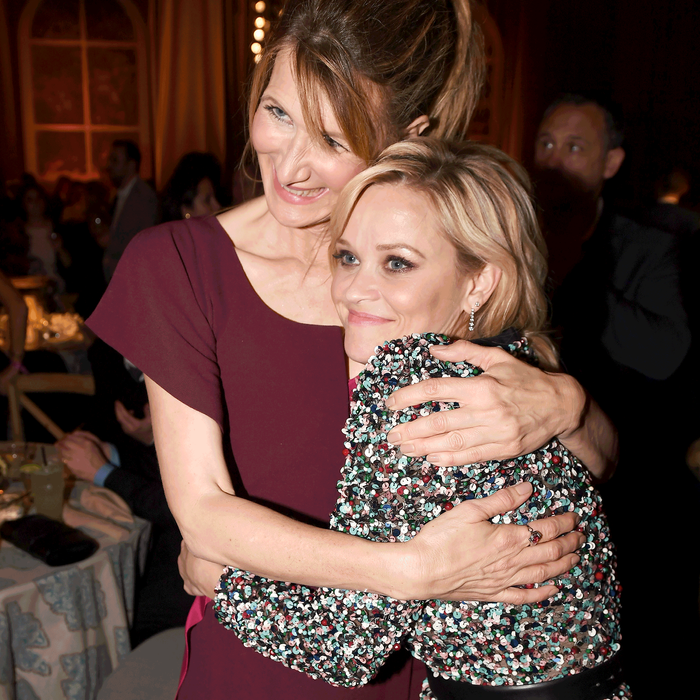 While there are a lot of great celebrity friendships out there — Ian McKellen and Patrick Stewart, Amy Poehler and Tina Fey, Huma Abedin and that guy from Scandal — there's no pair we'd rather wile away an evening with than Big Little Lies co-stars Reese Witherspoon and Laura Dern.
"We were together all over the world for five months," Witherspoon tells the New York Times of the Wild press tour that brought them together. "She taught me to love Red Vines. She taught me about brown lipstick." (What more could you want in a friend?)
The pair's lives have become so intertwined that watching their warring suburban moms go head-to-head on Big Little Lies has been hard for some of their family members. "My mother called me — and she's an actress — and goes, 'You didn't prepare me for what a bitch you are,'" explains Dern. I'm like, 'I didn't know I was supposed to prepare you for any character I play!' And she said, 'Yeah, but you're a bitch to Reese.'"
The only thing worse than being mean to each other onscreen? Not being onscreen together at all. "Every time Laura's on a movie that I'm not in, I'm jealous," explains Witherspoon. "I'm having FOMO [fear of missing out]. How dare she do Star Wars without me?"
The obvious solution? Put Reese Witherspoon in Star Wars.