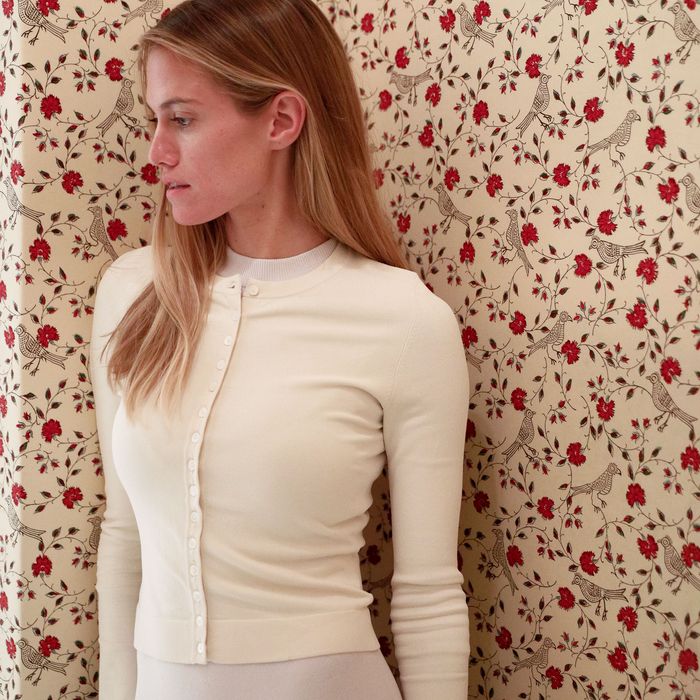 Photo: Matteo Prandoni/BFA.com
When Laura Vassar Brock, one half of the design duo behind Brock Collection, made it into the highly sought-after couture class at Parsons, she had no idea just how much the course would change her life. Not only did the class help her hone her design chops, but it was there that she met her future husband and design partner, Kris Brock. "He looked across the room and I was like 'Oh my goodness,'" she remembers. The two would go on to get married (2014), have a son, Charlie (2015), and launch a now-thriving fashion brand (2013). A match made in couture class, indeed: Brock Collection just won the prestigious CFDA/Vogue Fashion Fund award last November. (Previous winners, to give an idea, include Proenza Schouler, Alexander Wang, and Rodarte.) Fashion-forward and highly wearable, the line is equally known for its casual jeans and knits and impeccably tailored blouses and dresses. Think: Everything from a white, bell-sleeve sweater to belted, ankle-grazing furs and artfully ruffled, nipped-waist dresses.
And while the California-born Vassar Brock recently returned to the West Coast in search of that much-vaunted work-life balance, the brand retains a bicoastal appeal that's equally suited to women on either side of the country — or anywhere, for that matter. A fitting proposition, given the designers recently left their home in New York's South Street Seaport for a waterside abode in sunny Newport Beach.
While it snowed in New York, Brock spoke to the Cut from 80-degree California about getting her start in fashion, her first design (it was fuchsia), and her extensive collection of beauty products. Read on for the full interview.
How did you get started in fashion?
I went to Loyola Marymount University and then I went to Parsons to study fashion design, where I met Kris, my husband. Right after school I interned for Olivier [Theyskens] at Theory. He was my dream person to work with and be in the room with. My year there was one of the most special times in my life. Before that, while I was at LMU, I worked under stylist Petra Flannery and did a lot of celebrity styling, which always stuck with me. After Theory, Kris and I started Brock Collection.
Do you remember the first time you met Kris?
We met at couture class — it's one of the most coveted classes to get into at Parsons. During the third class, Kris showed up — he was wearing a Marc Jacobs sweater and a beanie and had a skateboard and a coffee, he was fully tattooed, and he was 20 minutes late. He went to the opposite side of the room, but each class he moved like one table closer, and one table closer. We didn't know he could sew, we didn't know his story at all, he was really shy and then one day he just started sewing. Markus Huemer was the teacher, and he comes to the show every season to this day; he gives us this look like "I started it all …"
When did you know you wanted to be a designer?
I looked back at pictures of me when I was like 4, I'm in an apron and putting a dress on a dress form. When I was in high school I started making clothes and wearing them because no one else had the same thing. That's pretty much when I knew I wanted to do it for a living.
Do you remember the first things you made?
I made a strapless, fuchsia, off-the-shoulder dress with a ruffle, and someone was like, "Oh my goodness, did you make this?" And it was the first moment I was like, "Okay, I'm going to get critiqued on this," but I didn't care.
You have a 2-year-old and a company, how do you stay organized?
Balance is a priority. We put our weeks — we use our Google calendars but for home we have a family calendar. We map it out the week on Sundays so everyone knows what to expect of the week. It's really helpful and even though it's hard for a 2-year-old to get the gist of time and organization it's a good exercise. I'm also a planner person. I like to physically open it up, and write down what numbers or anything else I need.
Who would you love to see wearing Brock?
Jane Birkin. She has such a strong personal style. You look at photos of her and she was able to tell her story through her clothes. You can really see her in photos. I love that photo of her where she's in a little crocheted top and she has the basket that she's carrying as a handbag, with the two children sitting below her and she just looks so beautiful and at ease.
What's your fashion uniform?
When I'm working I always have to be very comfortable, so I wear Brock jeans and a Brock white button-up. When I'm not working I like to switch it up and wear whatever's in the latest collection — a lot of denim and sweaters but I'm also really into cocktail dressing right now with separate pieces — a fun top with a skirt … It's fun when you have a night out or an event to mix it up. For daytime, I usually have on our little Brock loafer or mule; I'll wear a pump when we go out … We did these great alligator two-inch pumps that are so cute.
What was the inspiration for Brock's fall collection?
I'm inspired by the core moments in your everyday life — when you are in your favorite sweater and favorite pair of jeans, and you're having a day off at home or you're with your son at [a] playground — and how important those pieces of your wardrobe are in your life. She also has a need for being in love and going on a night out with her husband, or to a cocktail or a gala. Sometimes she needs that over-the-top, romantic cocktail dress or gown that makes her feel beautiful.
What are some of your favorite spots for one of those nights out with your husband?
We get on bikes and ride to a casual restaurant in Newport called Wild Taco or to San Shi Go, a sushi restaurant. Being able to get on bikes here and be mobile is really nice. I used to love riding bikes in N.Y. because you have a different aerial view of the city, but now as I'm older I'm getting to be like a worrywart. I'm so cautious. I've always been a perfectionist but being a mom you're hyperaware of everything around you.
What's in your bag?
I have two bags, the Céline larger black tote and a little Céline tote in a taupe color I got at A'maree's in Newport. Inside, I have this new product I'm obsessed with called Drunk Elephant C-Firma Day Serum. It's made in the USA, it's all organic, and it's one of the best products I've ever used. Then I have their whipping cream lotion for the face; Dr. Bronner's lavender organic hand sanitizer from Whole Foods, and Chanel Blue Serum which I do after my makeup. I also have the 3Lab line, it's the best. The Hydra Day SPF 20, and their Healthy Glow lip balm and amazing concealer. Then I have Jo Malone orange-blossom cologne, Tom Ford sunglasses, and a little Céline five-pouch card holder/wallet that my mother-in-law gave me.
You're pretty into beauty products.
I'm obsessed. And this one is not in my handbag but I love this Naturewell Collagen lavender lotion you can find on Amazon for your body — it makes your skin feel really plump.
You have a new studio in downtown L.A., what's it like?
Every place we work in we have to have great natural light, we have a few Gustavian and French antiques, and a big long farm table, and it's very clean.
What's on your desk?
I have to start my day and end my day with a completely clean desk so I don't have anything on it. There's usually nothing on my desk unless someone else has been sitting there.
What's it like also working with your husband?
Our working relationship very much yin and yang. In terms of the design process it's always 50/50 — sometimes it gets lost who started one dress or one coat. It changes and evolves and takes on its own life; in the end it's a piece we both worked on and we both touched and loved.
What's his desk look like?
He doesn't have the same thing about the empty desk as I do …
What are you currently reading?
I'm reading How Children Succeed; I like to read every night before bed.
What's your bedtime?
I go to bed super early, sometimes 8:30 or 9, because I'm a really early riser. I usually wake up like 5:30. I'm most productive in the morning.
What would you be if not a designer?
I feel like I would be styling — I would still be in the fashion world.