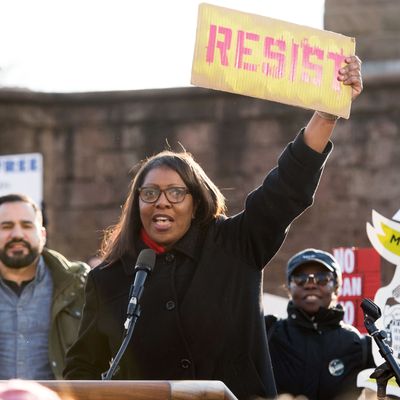 Public Advocate Letitia James.
Photo: Noam Galai/WireImage/Getty
On Wednesday, New York City Public Advocate Letitia James' bill that bans employers citywide from asking prospective employees about their salary histories passed City Council.
James's bill makes it illegal for businesses in both the public and private sectors from asking for salary histories from job applicants. "Being underpaid once should not condemn you to a lifetime of inequity," James said at a round table discussion last week in New York about the wage gap. "This bill is not a panacea, by no means," she said, but she acknowledged how important it was as a starting point.
James has positioned herself as a fierce champion of women's causes in the city (at a Planned Parenthood rally in January, she warmed up the snow-covered crowd with her rallying cry to never back down). She first introduced the salary-history legislation in August in an effort to help women start their careers on a level playing field with men. Three months later, Mayor Bill de Blasio signed an executive order enforcing that ban on municipal employees. At the time he said he "believed that we could move very quickly" in achieving the same measures in the private sector. Today, that became a reality.
Salary-history bans exist in Philadelphia and the entire state of Massachusetts, and legislation is being considered in California as well.