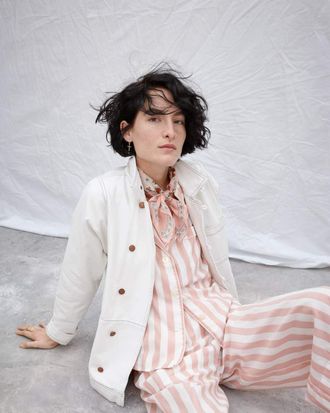 Madewell x Where I Was From capsule collection.
I realized vintage was not for me after a trip to one of Williamsburg's famed consignment stores. I had heard fables of miraculous finds like circa-1990s Prada slingbacks and perfectly tailored high-waisted jeans, but when you're a size-11 shoe and have a pear-shaped figure, the hunt for those sorts of treasures feels even more elusive. The few times I did spot something I liked — for instance, an A-line gingham dress that actually looked trendy — they were either too tight or looked like completely shapeless sacks. Even if you do succeed in spotting a gem in the racks of duds people gave away for good reason, there's no telling how much you'll actually pay for said treasure; I once considered buying a fluffy faux-shearling coat, but at more than $100 I'd rather buy one without the faint scent of mildew for less. Recognizing the headaches of shopping vintage, thrift stores have recently taken their business digital, selling second-hand items on platforms like Instagram and e-commerce sites, but there's still the problem of availability; in the world of vintage shopping, when something's gone, it's gone for good.
Luckily, there's still hope for those of us too impatient to scour through the smell of mildew or who want the look in expanded sizing. Madewell is partnering with one of the web's most well-known online vintage shops, Where I Was From, on a 12-piece collection that launches today. The collection is comprised of denim and knit items ranging from a delicate blush bag to relaxed, perfectly worn T-shirts. New clothing that mirrors the desirable, broken-in appeal of vintage seems like a dubious claim, but once you learn the design process behind the pieces, all doubt will be put to rest. To get the same rough texture of old-school denim, the Madewell design team used actual dead-stock broken twill from the '70s. The result is a genuine, decades-old feel that doesn't actually look old.

"For us it's about a pair of jeans with an awkward length or pulled-out necklines on T-shirts. We tend to push imperfection and character," explain Where I Was From founders Stacy Daily and Claire Lampert.
Flattering denim is the backbone of Madewell's casual appeal (also, any vintage wardrobe) so it's no surprise both teams mulled over every detail: "It started with reimagining a 40-year-old pair of jeans, in bleached-out broken twill, giving a rigid woven twill a lived-in feeling with knees that have been worn through, and with a hem that has been altered several times. We all spent the most time on denim development to translate the right feeling, from the right fit, fabric, and construction" Daily and Lampert explain.

Scroll below to see more looks from the capsule collection, and shop the pieces before they sell out online. If you have trouble getting your hands on something (true to the spirit of vintage shopping, items won't be restocked), the collab will also be available in 16 select Madewell locations.