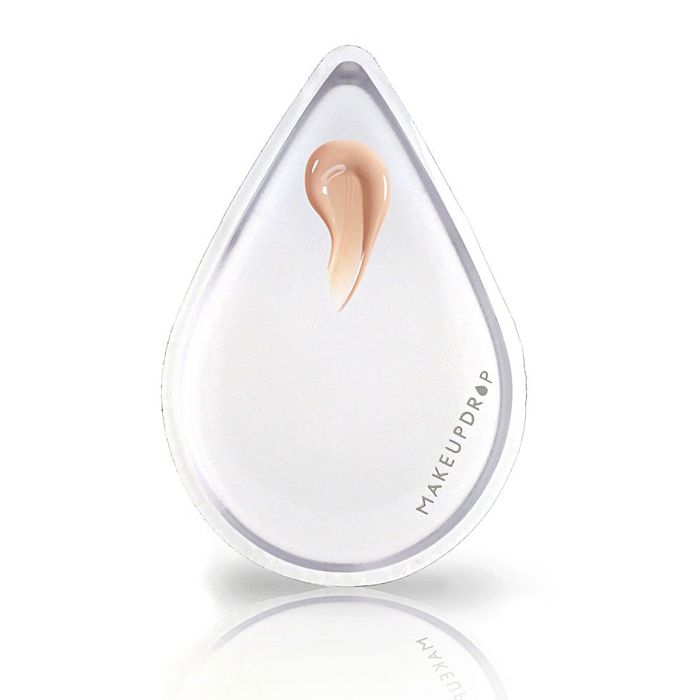 What is a man if he is not interfering in the life of a woman? Well in this case, he'd be a man without a makeup company. That's the abbreviated story of The MakeupDrop — a single-product beauty brand that was launched when one of its chief architects sought to upgrade his girlfriend's makeup sponge. Already the founder of a watch company that incorporated silicone into the bands, Jay Hartington (along with co-founder Drew Deters) used the same silicone to create a poreless, easy-to-clean, water-drop-shaped makeup sponge.
The concept arrives when implant-shaped makeup sponges are hitting their stride in Asia. The MakeupDrop appears to be the first U.S.-based company to introduce the reinvented tool stateside. So what are the perks? There are a few. Unlike porous sponges, The MakeupDrop is made entirely of silicone, which means liquid and cream products won't absorb into the tool. This guarantees that you'll waste less makeup than you would with a traditional sponge or brush. Another perk is that it's easy to clean — just rinse, wipe, and you're done. How easy.
But what kind of goof buys a tool simply because it's easy to clean? You want it to work, which fortunately for The MakeupDrop, is something it does quite well despite a few learning curves to overcome. To use, simply apply a liquid or cream product to your face or directly on the sponge. Tap The MakeupDrop repeatedly to blend the formula onto your skin and that's it. The pointed tip can navigate the small corners near your eyes and nose, and the fat rounded edge can cover everything else.
But ah, there are the learning curves. Here's the first: If too much foundation or blush is applied to your skin, the excess product will slosh all over your face and never fully absorb. You'll look like you're wearing too much makeup because you are. And another thing: You'll need to tap The MakeupDrop quite a few more times than you would need to with a Beauty Blender for the product to blend seamlessly onto skin. This means that application time is slightly longer, but only by a minute or so.
When I met Drew Deters, he explained that The MakeupDrop can function as a moisturizer and eye-cream applicator as well (using the same tapping method). That's nice, but it seems unnecessary. The MakeupDrop is excellent, more hygienic, and easier to clean than any other similar device on the market. For me, that's good enough.
The MakeupDrop, $20 at themakeupdrop.com.