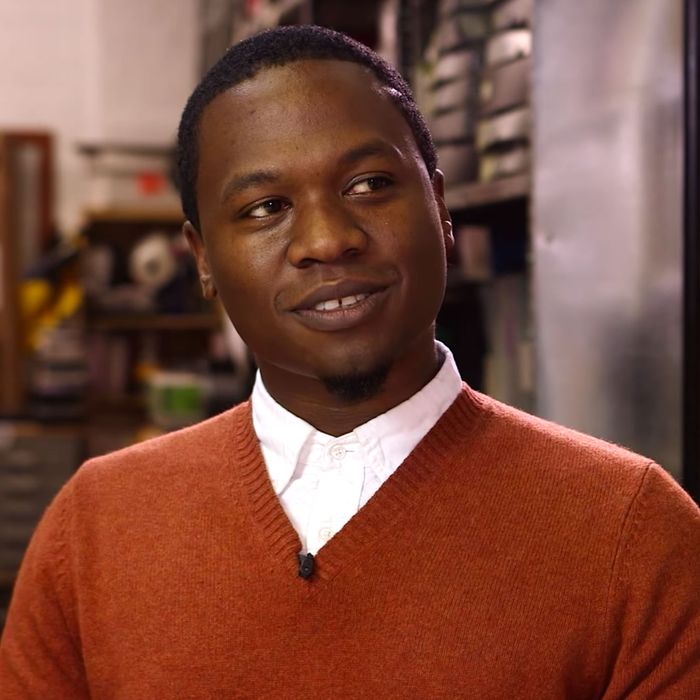 Juan Thompson was arrested for making bomb threats to Jewish community centers.
Photo: Bric TV
On Friday morning, the FBI arrested St. Louis resident Juan Thompson for making more than half a dozen threats against Jewish community centers, schools and a Jewish history museum. According to a federal complaint filed in New York, Thompson made several of the threats in the name of an ex-girlfriend, and prosecutors say he "appears to have made at least eight of the JCC threats as part of a sustained campaign to harass and intimidate" her.
The 31-year-old Thompson, who appears to be the same man who was fired from the Intercept in February 2016 for making up sources, has been charged with cyberstalking the woman by making threats in her name. But on his Twitter account, he insists she's the one who's been threatening Jewish centers and is trying to frame him for it. His Twitter campaign against her seems to have started on February 24, and a few days later he tweeted that he was visited by the Secret Service because "some awful white woman I date reported me." "Y'all know how to get a social worker in NY barred?" he tweeted that same day. "I'm being stalked and harassed by a white nasty white woman." He also tweeted condemning the JCC threats:
In the criminal complaint, prosecutors say Thompson began harassing his ex in July 2016 and continued until he was arrested. FBI agents said soon after she ended their relationship, the woman received emails alleging to be from a friend of Thompson's saying Thompson had been shot and was about to be taken off life support. Then, in September, Thompson threatened to leak nude photos of her, and in October her co-workers received emails alleging she had a sexually transmitted disease. Thompson reportedly made threats beginning in early February to a Jewish museum in Manhattan, a JCC in Michigan, a Jewish school in Manhattan, a JCC in San Diego, and the Anti-Defamation League offices in New York.
Thompson's arrest comes as more than 100 threats have been made against Jewish groups across the country. But officials said apprehending him doesn't break the case, as he made "copycat" calls to "settle a personal score."