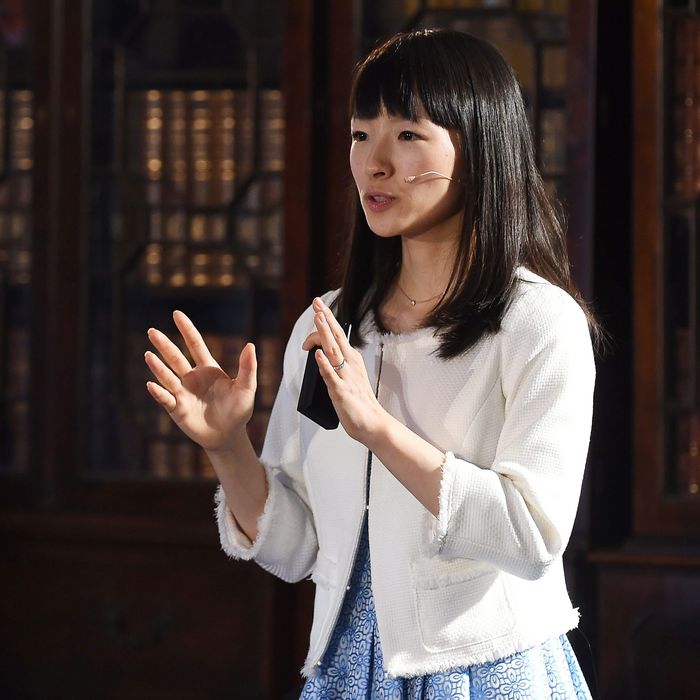 Marie Kondo.
Photo: Diarmuid Greene / SPORTSFILE / Web Summit/Corbis via Getty Images
The first weekend of SXSW 2017 is over. Everyone in America lost one hour to Daylight Saving Time and I can't find my favorite black jean skirt. Where did everything go? There are no answers, but there are lots of distractions.

This year's SXSW offers many button-ups and few band T-shirts. Jill Soloway, in her opening keynote film talk, gives me permission to avoid the corporate vibe. "Networking is a fake tool," she says, "It's day-drinking in laminates." She's adhering to Audre Lorde's principle that "the master's tools will never dismantle the master's house." I'm eschewing fake tools by refusing to wear my badge. Badges are the worst combination of dweeby and status-oriented. Also, I'm a sensitive newborn diva so the lanyard fabric literally hurts my skin.
"Being a director is about desire. There are no words you say more than, 'I want,'" Soloway says. Then she makes all the men the room stand up and imagine an alternative past for themselves, where they were object and not subject, where they prayed to a goddess and her daughter on earth, and where they were lined up and assessed for their beauty and given sashes. "I want to line you up and put a sash on you," she says, "like jars of Mayo."

At this year's festival, Marie Kondo seems to be the thought leader best poised for world domination. Wearing an outfit of all white, she perches onstage in front of a tightly packed room on Saturday afternoon and tells everyone how they can fold more neatly, and how this will not only change their lives, it will change the world. "When you get home, please fold your clothes this way, and enjoy." "Yes sir," says a man with a good Texas accent. There are audible gasps during the before-and-after demonstration about home organization. After she shows how to fold a towel so that it stands upright, like it's haunted or sentient, people clap. She could lead a cult. Maybe she will. Kondo announced that she is training a small army of consultants and starting a KonMari app to help people tidy their lives: "My dream is for everyone in the world to experience this joy." The audience is rapt.
Happily for me and my hatred of lanyards, the most exciting conversations are happening off-site anyway, where badges aren't scanned. One movie has truly everyone abuzz: It's a documentary on the politics of domestic labor, BBC News Reporter Interrupted by Kids. At the only party with genuinely fancy stemware I attend (a college friend who's a documentary producer shepherded me in before anyone asked who I was), no one talked about anything else.
On Sunday, my friend and I see Soloway walking down the street outside a bar where Girlpool and Sleigh Bells are playing. "There's Jill," my friend declares, calmly, and Jill turns around. This is a fun new strategy! Later, on the dance floor, she employs it on Joe Swanberg: "There's Swanberg!" He is very nice to us, even though I am suddenly holding him accountable for making me bite my nails during his movie, which was tense and funny. It was called Win It All and it was about gambling and breakfast dates.
At 2 a.m., the DJ told us we had to get out, but he didn't mean it, because he played "Bohemian Rhapsody" and suddenly everyone believed they were powerful and beautiful Freddie Mercurys and there was a lot of leaping and no one was hit by anyone's declarative opera-arm gestures. But then everyone went home. I didn't fold my clothes before bed, but I did think about how Marie Kondo would have wanted me to.