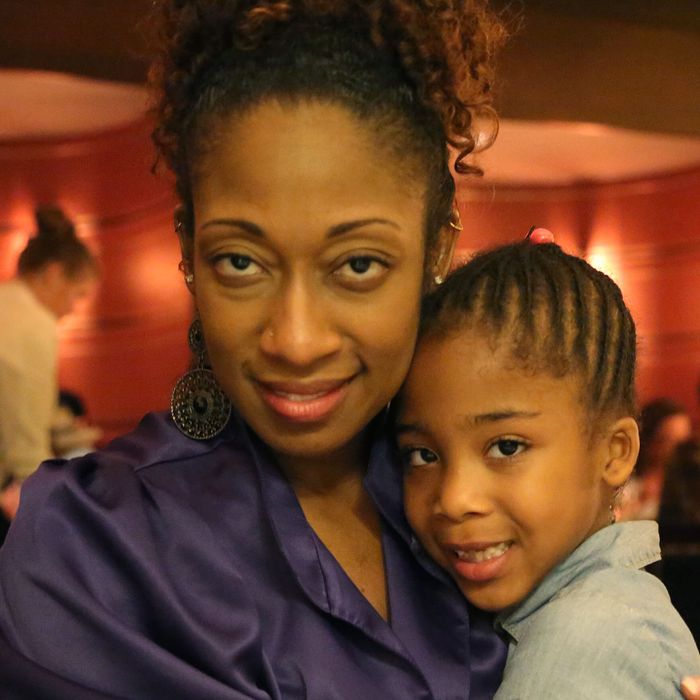 Marissa Alexander.
Photo: Terrell Starr
In February, Marissa Alexander did something she'd been fantasizing about for what seemed like forever: She walked outside as a free woman. Since May 2012, the mother of three has been serving a 20-year sentence for using a firearm. But Alexander didn't kill anyone; in fact she didn't hurt anyone at all. All she did was fire a warning shot aimed at the ceiling of her Jacksonville home, after she says her abusive ex-husband threatened to kill her. Despite Alexander's defense that she was "Standing Her Ground," using lethal force to protect herself, and despite no one being injured in the incident, she was convicted of aggravated assault with a deadly weapon. Florida carries a minimum sentence of 20 years for such a conviction. It took the jury only 12 minutes to decide.
Alexander's case became a lightening rod in the debate over gun control and racial justice when, a year after her sentencing, the jury in George Zimmerman's trial cited the Stand Your Ground law to vindicate the defendant from any wrongdoing in Trayvon Martin's death. Some asked whether the prosecutor Angela Corey (the same prosecutor in the Zimmerman trial) had it out for Alexander, and figures in the black community like Reverend Jesse Jackson appealed to the media, hoping that someone would step forward and help. Thanks to legal analyst Nancy Lockhart (who was famous for assisting in the Scott case), Alexander's case gained national recognition. Ultimately, it was the the Free Marissa Now Campaign and Alliance organizers across the U.S. that kept her case relevant that lead to the resolution of a plea deal in 2013, and she served the remainder in house arrest. Finally, last month Alexander was able to take her ankle bracelet off for the first time in four years. In her first month as a free woman, the Cut spoke with Alexander about what life was like in prison, how she plans to rebuild her life, and how she looks back on her case today.

What are you going to do now that you're out?
Originally when I got out I wanted to try and be a paralegal, but then I realized that I'm a convicted felon and nobody is going to actually let me help people and reach them as much as I would like. And that's why I started my nonprofit, the Marissa Alexander Justice Project, that supports communities in directly making changes. I wrote down a lot of goals I wanted to accomplish once I was off house arrest, and have pretty much achieved all those things. One of them was going to see my sister's new apartment. Right now, I'm in Columbia, South Carolina, with my family, and I've been traveling and speaking. My ultimate goal is to visit the places that supported my case and help them in any cases of this kind of work.
What was it like to be in prison?
Horrible! It was horrible. The environment and the conditions were horrendous. It's like a warehousing of bodies, there's 85 beds on one side and 85 beds on the other side, eight showers, ten toilets, eight sinks that you have to share with everyone. You are talked to like crap, you have some officers that are there to do their job, but most enjoy antagonizing, belittling, and demoralizing you.
How did being locked up affect your relationship with your kids?
It was difficult. I have a good relationship with my first husband so I was able to communicate with my two oldest children, my twins. We made it work. It's a different story with my youngest daughter, Rihanna. She was only 6 months old and her father — my ex-husband — decided that he didn't want her to see me. So I didn't see her until she was 3 years old. When I was in prison I had to condition myself that I only had two kids, because it was like dying everyday. I had to do that to maintain sanity; to not know a child that I birthed, breastfed, to not know anything about her was unbearable. I was only able to see her eventually because her father's sister felt she should have a relationship with me, and I guess at that point he had some kind of sympathy for me so he agreed to it. She would bring her to prison to see me, once or twice a month depending on what mood he was in.
At the time of the altercation with your ex-husband, were you aware that Florida has a minimum 20-year sentence for firing a gun?
I had seen the posters and the billboards about it but I never believed that it would apply to me because I'm not a habitual violent offender. I would never use my weapon in the commission of a crime, I had a concealed-weapons license for protection. I had never taken it out ever in any instance as long as I've had it so I didn't realize how serious it was until my first meeting with my attorney and he looked pretty spooked about the whole thing. And, I'm looking at him like "Why? I had a restraining order against [my ex-husband] and a concealed-weapons license. What's the big deal? It's self defense." And he was like: "No, this is pretty serious."
How are you feeling emotionally now?
Now I'm in a place of acceptance. The roller-coaster feelings happened when I was in jail. For the most part I had to have belief in something higher in myself, that everything is going to be okay; I just didn't know when or how. I really wanted to spend time evaluating myself. When you go through something like this you don't want to be filled with anger and bitterness; I really wanted to find happiness and that's what I did on this journey. There were extremely low days, almost to the point of suicidal, and there [were] days when I would feel the light and I would hang on to that. Having no other ties to the state of Florida and being able to progress forward is a nice full-circle point. There are so many other Marissas out there. And on my worst day I say to myself "There's 2.2 million people in prison right now, you can't have a bad day."
What's your home and work life like today?
My twins are 16, getting ready to turn 17. They do really well in school and are doing great considering what they have been through, very resilient. Their light is a bit brighter now that I'm able to get out of the house. And my baby girl is 6 now, and that's more of an adjustment because she has to go back and forth between two different homes but she is doing well, she knows me and it's a blessing because she didn't have to experience the loss that the twins had to. And I have my own consulting business going into companies and implementing project management, or taking a process and making it more efficient, which I've done for a few schools in their lunch programs, speaking engagements through my nonprofit, life coaching, etc.
For the people that vaguely knew about your case or are just now finding out, what would you say to them?
People assume that this isn't their fight but it is. We need to change the narrative about what's accepted because there's a lot of problems that stem from abuse in the home. Every year, more than 3 million children witness some type of domestic-violence situation and those instances are so traumatic and speak volumes and they go off into their lives with these horrible situations and a lot of them end up in the prison pipeline and once you're in the system it's a revolving door. My goal is to advocate and be more preventative and really break down for women what healthy relationships look like because I can tell you I didn't know what it looked like. I didn't come from it, and even if I did come from it, women need to see what love looks like when modeled in a positive [way]. In my experience, people have this sense about women of color — that we're combative or angry all the time and we deserve to be in these kinds of domestic-violence situations or triggered a person to react in a certain way. But not everyone is like that, and other women are portrayed as being more agreeable, docile in the media. That was the narrative that the prosecutor painted for me but the truth is domestic violence doesn't see color.