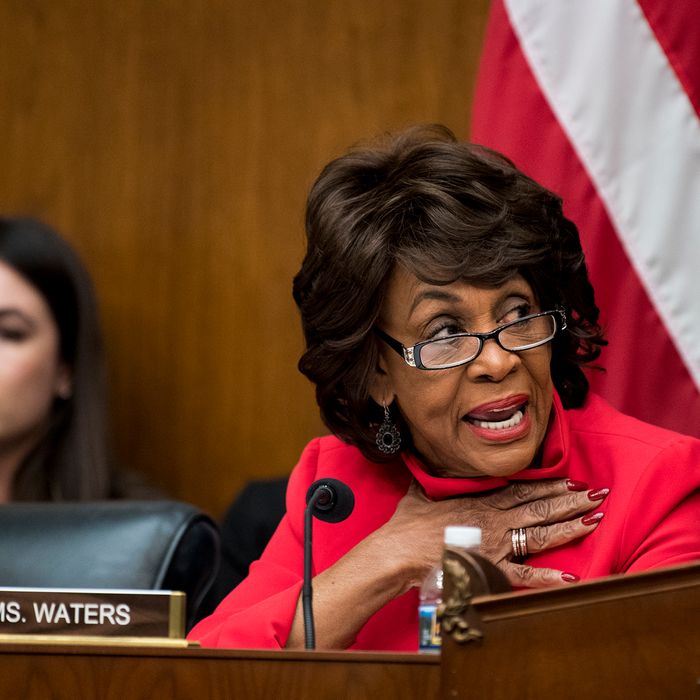 Photo: Bill Clark/CQ-Roll Call,Inc.
Representative Maxine Waters, quite frankly, doesn't give a damn about Bill O'Reilly's comments about her hair. At least, she's not letting him get to her. After the Fox News host said on Tuesday that Waters's hair reminded him of a James Brown wig, viewers at home called out O'Reilly for the sexist and race-tinged remarks. But the California representative remained unfazed by the comments. During an interview with Chris Hayes on MSNBC, Waters told viewers exactly why: "I am a strong black woman, and I cannot be intimidated. I cannot be undermined."
She's especially unconcerned about O'Reilly or any of the "right-wing talking heads," and likewise doesn't want other women to be intimidated by their comments.

"I cannot be thought to be a friend of Bill O'Reilly or anybody. And I'd like to say to women out there everywhere: Don't allow these right-wing talking heads, these dishonorable people, to intimidate you or scare you. Be who you are. Do what you do. And let us get on with discussing the real issues of this country."
Following the public backlash, O'Reilly issued a statement in which he said he respected Waters "for being sincere in her beliefs." He added, "Unfortunately, I also made a jest about her hair which was dumb. I apologize." O'Reilly went on to apologize again on-air during his show on Fox News, though, as The Huffington Post pointed out, he couldn't help but snicker during the remarks.

No matter: We can rest assured that Waters doesn't give a damn.