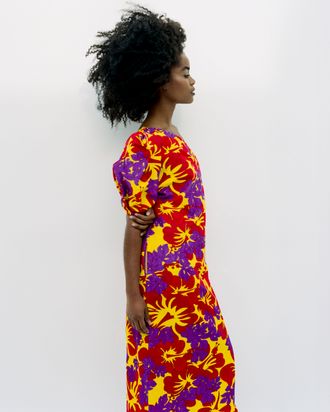 Denée Benton.
Photo: Andre Wagner
There's a crazy scene in 'Natasha, Pierre, and the Great Comet of 1812,' now in its fifth month on Broadway, where Denee Benton gets to smash a painting on someone's head. "It gave me a sense of release the day after the election," says Benton, now in her 21st week in the role. Night after night, the actress-singer Benton belts out Russian folk and music ensembles, while redefining the classic play's lead role as its first woman of color. Starring in Natasha, Pierre & the Great Comet of 1812, as well as the sole socially conscious character on Lifetime's Unreal are career-defining moments even for Hollywood veterans, but just the beginning for Benton, who says, "I'm in a really exciting position where a lot of my big dreams to be on television and on Broadway have come true. These opportunities have changed my life and my world is the biggest it has ever been." The Broadway musical based on Tolstoy's War and Peace garnered ticket sales of $1 million-plus per week in previews, according to The Hollywood Reporter, and Benton's character Ruby on Unreal was a fan favorite who viewers couldn't get enough of.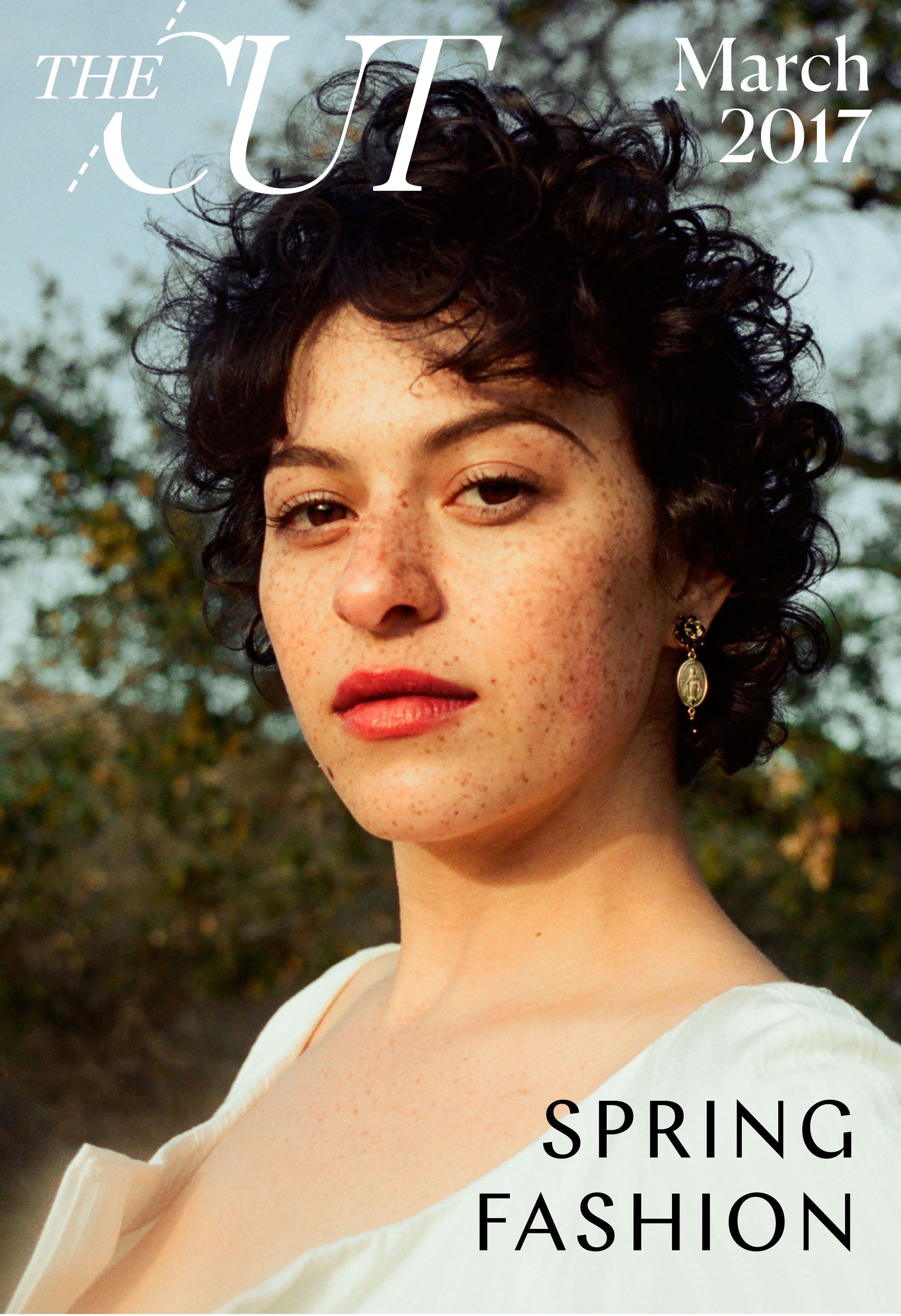 Benton grew up in Winter Park, Florida, and was first inspired to pursue a career on Broadway after she saw the iconic retelling of Roger & Hammerstein's Cinderella with Brandy and Whitney Houston. "I watched it over and over and over again. I just loved the drama of it all, the colors, the magic. It instilled in me that love of theater and storytelling." But it wasn't until her senior year of high school, when she landed the lead role in Aida, that Benton decided to pursue a career in acting and study drama at Carnegie Mellon University. "Everything before then was just building my confidence, I think, but college tore me down and built me back up. That's where I really learned what this is all actually like."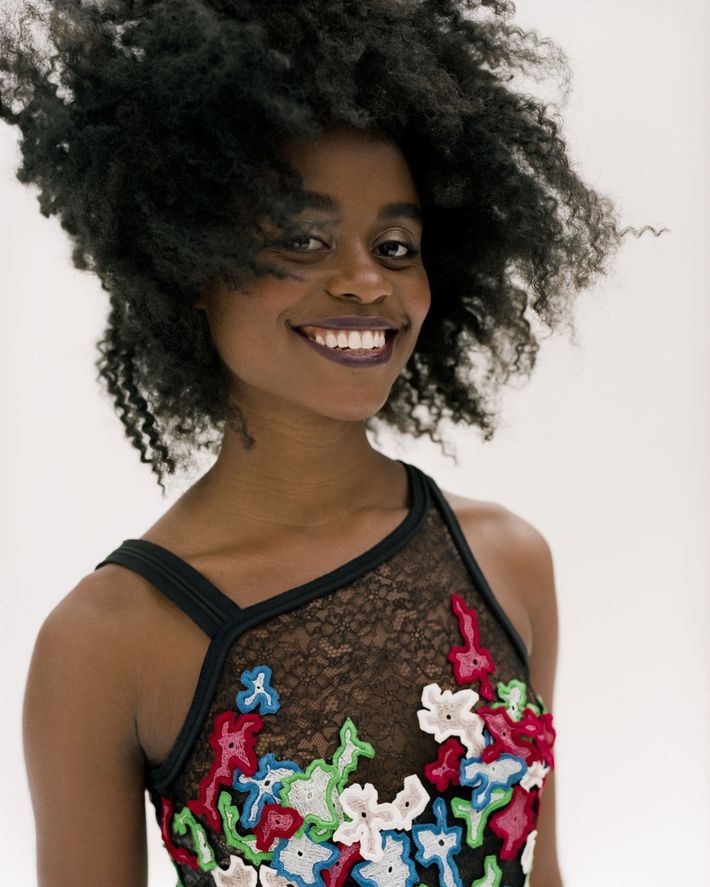 Boss Camoflauge Floral Lace Dress, price upon request at Hugo Boss
As fate would have it, as Benton was playing Natasha on the Off-Broadway version of Natasha, Pierre & the Great Comet of 1812 in Boston after she graduated, she heard about the audition for Unreal from her agent. "I did a self-tape audition and all my technology was failing me," Benton recalls. "I kept thinking how I didn't have the time. Of course, now I'm really happy I sent it in!" As Ruby on Unreal, Benton pushed the boundaries of traditional reality-TV star: A black woman with curly hair getting a fairy-tale ending isn't exactly the kind of script that gets repeated on television. "I love Ruby — she's like my alter ego. I grew up watching romances and all of the sweeping Notebook–type dramas, but the outspoken black girl with natural hair was never the center of that story," Benton says." "There's a line in the eighth episode, where Darius is trying to win Ruby back and she says, 'You told the world that I'm not a love story.' When I read that for the first time, I started crying, because I remember what how it felt to want to be in this business so badly and connected to these stories so badly, yet I never saw myself in them. That really affected my self-esteem growing up."
Benton's just entering the Hollywood scene, and admits that the work is far from done for women of color. "You can't even count the number of 20-something white female celebrities. But for black women, there's Lupita Nyong'o, Gugu Mbatha-Raw, in their 30s. There's Tracee Ellis Ross, Taraji P. Henson, Kerry Washington, and Viola Davis who are getting their huge moments in their 40s and 50s. If the accolades are even given, it's two or three decades after you've started working."
And even though most people seem to think we live in a post-racial society, race seems to still be a central role in the American dream and ideals of beauty. "Every woman of color — biracial, dark, light — deserves to be represented, but there's a common theme now in which only a certain type of woman of color is acceptable," Benton says. "With a few exceptions, you need loose curls and lighter skin and have to be able to pass for something other than just black. That's not right. When Hollywood continues to show a preference to attributes closely associated with 'whiteness,' they perpetuate a 400-year-old cycle of deeming a group of people hideous and worthless."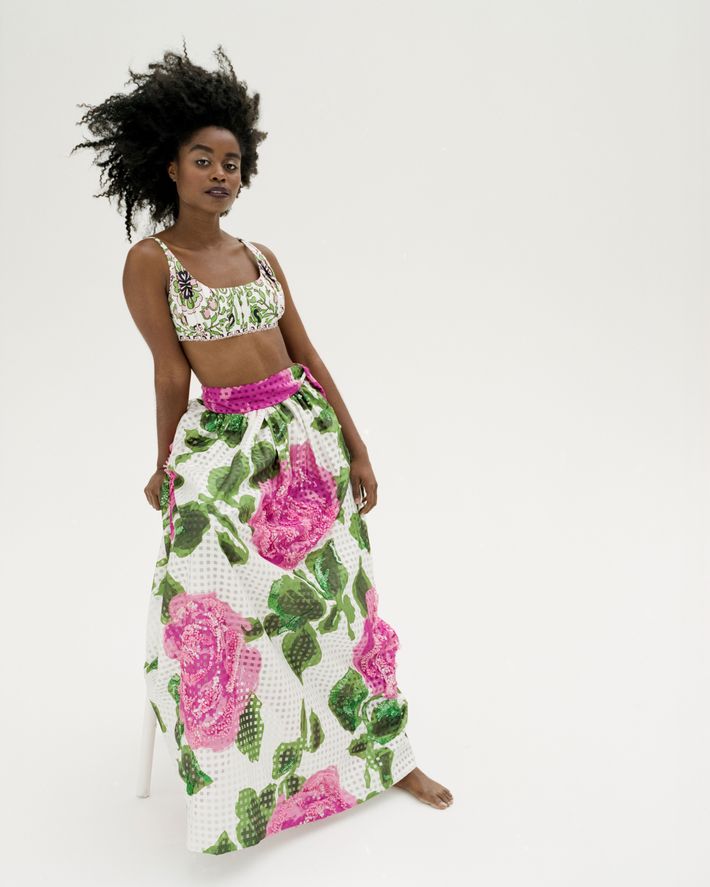 Tory Burch Ainsley Bra Top, $250 and Tory Burch Daniella Skirt, $895 at Tory Burch
Benton plays a Russian aristocrat on Broadway, a character who, for all intents and purposes, was written for a white woman. She wasn't sure casting would even consider her, not because of her talent but because period dramas have the bad habit of going for more traditional casting selections. Fortunately, the director Rachel Chavkin and writer of the book and music Dave Molly are "progressive [and] cared more about the essence of the character," Benton describes, which brought her back to the stage in October.
"I love Natasha; the way that she drinks in the world is very akin to how I see things. It's wonderful to get to play someone whose essence is so similar to mine. When you sign on to do a Broadway show, you know you'll be playing the same part day in and day out for weeks, maybe months. I wouldn't want to do that with just any role. But the material I'm working with is so wonderful, and supports me on those days where I don't think I'm going to make it up the theater stairs."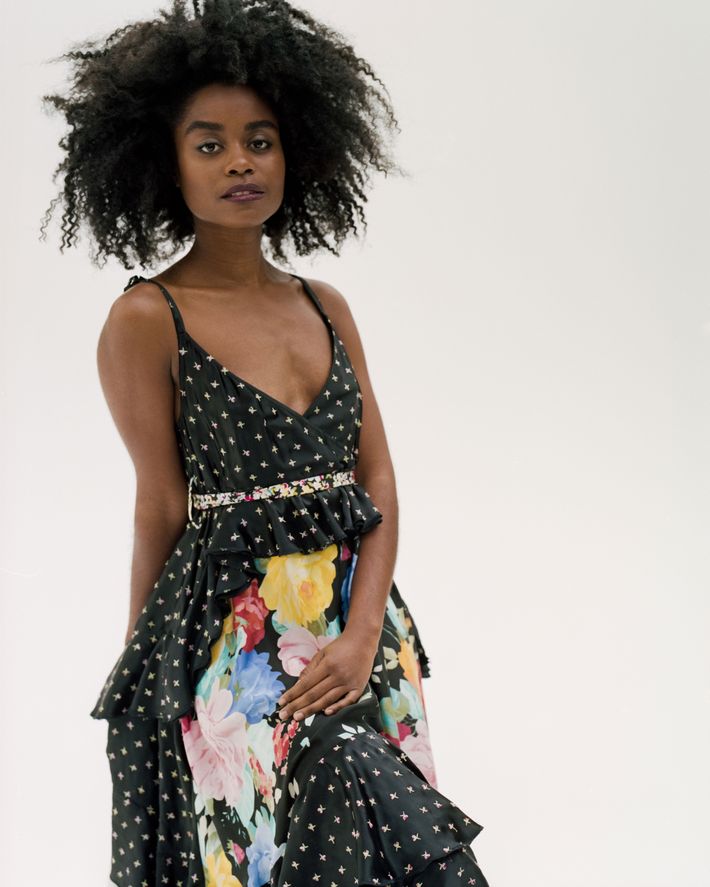 Attico Floral and Star Print Satin Dress, $3,258 at Matches Fashion
To say that Benton is in her element playing Natasha would be an understatement. Performing eight shows a week, with only Mondays off, she's achieved the stamina to carry a character through each two-and-a-half hour show, walking up numerous flights of large stairs that are a central part of a story line that mimics a traditional Russian dinner theater. "I'm trying to find a balance between doing things like shoots and fashion during the day and having enough energy to perform my best at night. I really am in the middle of figuring it all out, to be honest."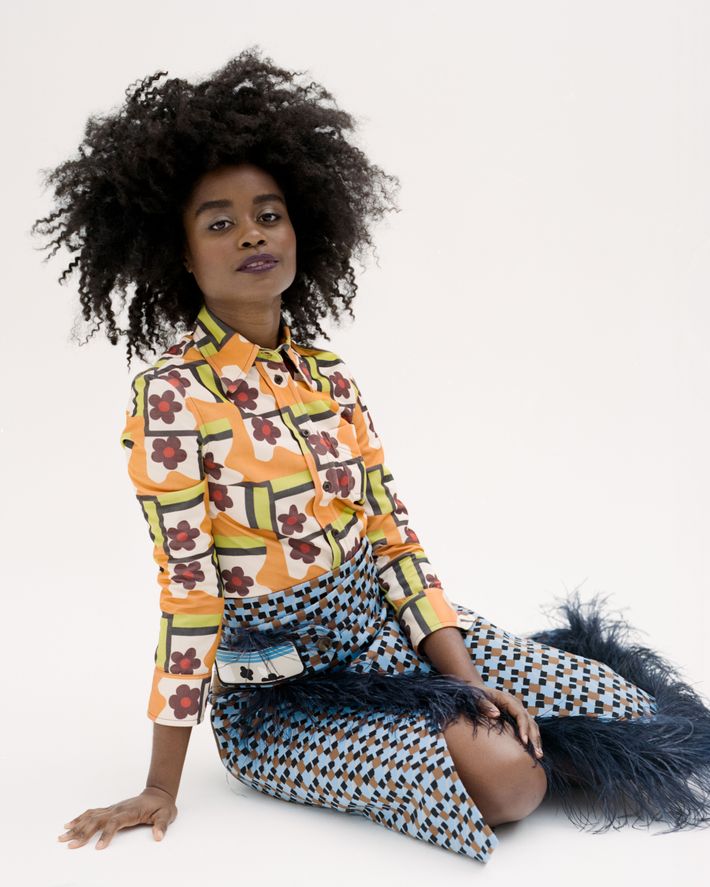 Prada Top and Skirt, price upon request at Prada
Now that she is on a larger scale of popularity, Benton loves taking the time to experiment with fashion, taking a liking to designers like Rosie Assoulin and Prabal Gurung and finding designers that fit her aesthetic. "I'm learning that I have to feel comfortable in what I'm in because otherwise it doesn't end up looking good, even if it's the most beautiful piece of clothing. Right now I'm experimenting with different silhouettes that I like, deep necklines, backless numbers, and things like that."
And while there's no chance of her Broadway stardom slowing down since her play is still scheduled to run until October at the least, Benton admits she's already dreaming of what's next. "I think my next bucket-list dream is a feature film. But I'm in a really exciting position because a lot of my big dreams have already come true. So I'm very open to whatever comes next — I have no clue what it will usher in."
Photographs by Andre Wagner, Makeup by Samantha Lau, Hair by Ted Gibson, Styling by Lindsay Peoples. Floral Puff Sleeve Dress by Rosie Assoulin, similar option at Moda Operandi.