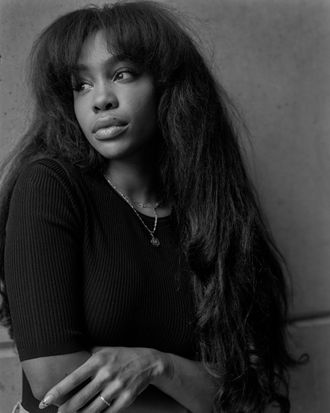 At a Lower East Side apartment on an abnormally warm day in February, SZA walks into our shoot in vintage Tommy Hilfiger overalls, an oversized navy-blue vintage sweater, and Jordans. She immediately delves into horror stories about other people doing her hair and makeup to explain why, today, she'll be doing her own. "I've only let one person do my hair and makeup and they did it right, I learned, and now I'm like let me take it from here. I feel like people don't know me and I'd rather just do my own shit. I'm just very adamant about what I'm into."
That makes complete sense when you hear the Maplewood, New Jersey, native's highly distinctive sound, a mix of R&B, nostalgic hip-hop, soulful ballads, and hints of pop and jazz into a unique sound that's all her own. She sings in both sultry tones and a sky-high falsetto, her lyrics unravel the emotional roller coaster of life and love, and, whether she's singing about a moment from a lifetime ago or something that happened recently, you feel like you're right there with her. Born Solána Rowe, SZA renamed herself with inspiration from the Supreme Alphabet (created by former Nation of Islam leaders) — the 'S' means savior or sovereign, the 'Z' stands for zig-zag, and the 'A' stands for Allah. She practiced gymnastics for 13 years, and even considered training for the Olympics, and her dad, a former executive producer at CNN, only let her listen to jazz music like Miles Davis and Coltrane growing up. She attended three different colleges before discovering singing at age 22. "I was recording background vocals for people and my friends decided they wanted me to open for a small show they were having. So I did this cover set of Amy Winehouse songs with their live band and sang 'Me and Mr Jones.' It was an, 'I don't give a fuck, I'm just going to commit in this moment' kind of experience. I felt like I wasn't a singer. Everyone started making me to go the studio after that."
Growing up, in school her first love was science (she majored in marine biology in college) but her second was writing. That led her to freestyling her own poetic lyrics, and eventually writing every song for her first album, CTRL (produced under Kendrick Lamar's label, Top Dawg Entertainment), which is set to debut this week. SZA now has three successful EPs and songwriting credits for Beyoncé and Rihanna under her belt, but says she's still "just trying to find [her] place in the world."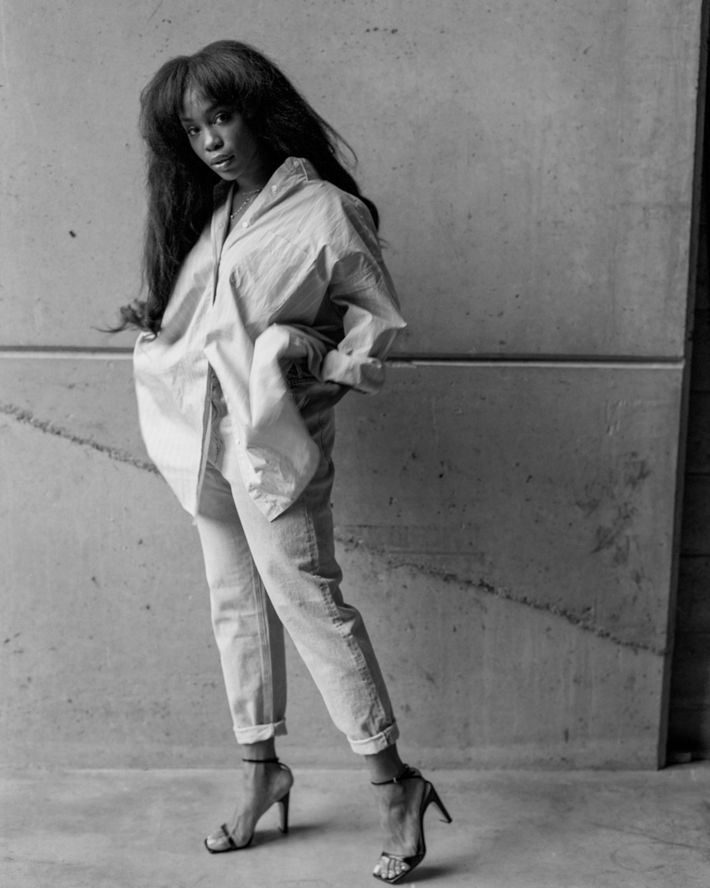 Unqilo Shirt, $29 at Uniqlo, Gap Archive Jeans, $54 at Gap, Sergio Rossi Heels, $730 at Sergio Rossi.
The singer describes her first EP, See.SZA.Run, which came out in 2012, as an experiment. "I was in a really ugly relationship, and I wasn't getting along with my parents, I was bartending at a strip club part-time, failing in school, but I found a way to write about what was hurting me." In the single "Bed," she reminisces on the life decisions that led her to music. Another, "Time Travel Undone," has been called a mix of Beyoncé and Bjork because of its avant-garde combination of jazz and pop. Once SZA got her music into the right hands — specifically those of Punch, TDE's president — she was officially signed and started her new life. "I was thinking back on that time yesterday, and I really didn't know why I moved out to Los Angeles," she says. "I had nothing else to do but work on music and be in the studio. I didn't know shit about a music label! Anything I knew about a music label was from Hustle & Flow or 8 Mile, that's it. I'm a whole different human being now."
As a woman of color, SZA is a minority in the music world. Even rarer is her refusal to conform to mainstream beauty standards. "In certain ways I was aloof to how people viewed me, or that people looked at me and thought, 'We usually don't see thick, black girls like you.' A lot of doors weren't open to me because of my size. But I care a lot less now about what I look like."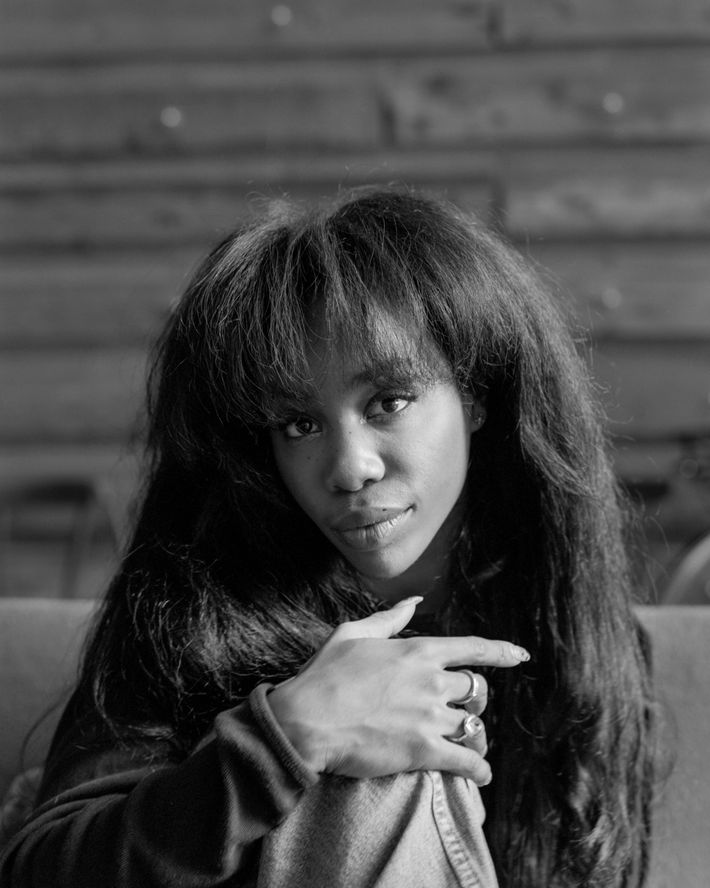 Tommy Hilfiger Overalls, $179 at Urban Outfitters, SZA's own top.
Though SZA describes herself as "an introverted extrovert," she's outspoken on politics. She recently shared a picture of herself wearing a "Fuck Donald" sweatshirt on Instagram and told me that Trump's Muslim ban brought up painful memories from her past. "My father is a devout Muslim, he works for CAIR [Council of American-Islamic Relations]. I wore a hijab everyday at Muslim prep school, and I felt free to be who I wanted until after September 11. It just got really scary. I was bullied. Kids would call me a terrorist and pull off my hijab."
Reflecting on that horrific situation and the current political climate, SZA says racism in America feels more heightened than ever. "I feel like I must have been naïve as fuck — I didn't see any of this coming — cops killing tons of black folks, and that nobody would care. I definitely didn't see people generalizing an entire religion; especially because if you know anything about Islam, nonviolence and love is the root. I used to be an ignorant person, but gaining perspective changed everything. You just have to want to be unafraid, you have to want understanding."
That understanding that SZA speaks of is what made her realize that she hasn't come out with a big body of work since 2012. Culturally, so much has happened in the past couple of years that has changed the landscape for women of color and even priorities, like writing music. "I was born in Saint Louis, Missouri. The death of Trayvon Martin was the marker for me. I had to think back like, there's no way that happened five years ago? It feels like that happened yesterday. These past couple of years haven't just been about working on my album, but also developing as a human, just living and realizing that the earth is so much bigger than what you think."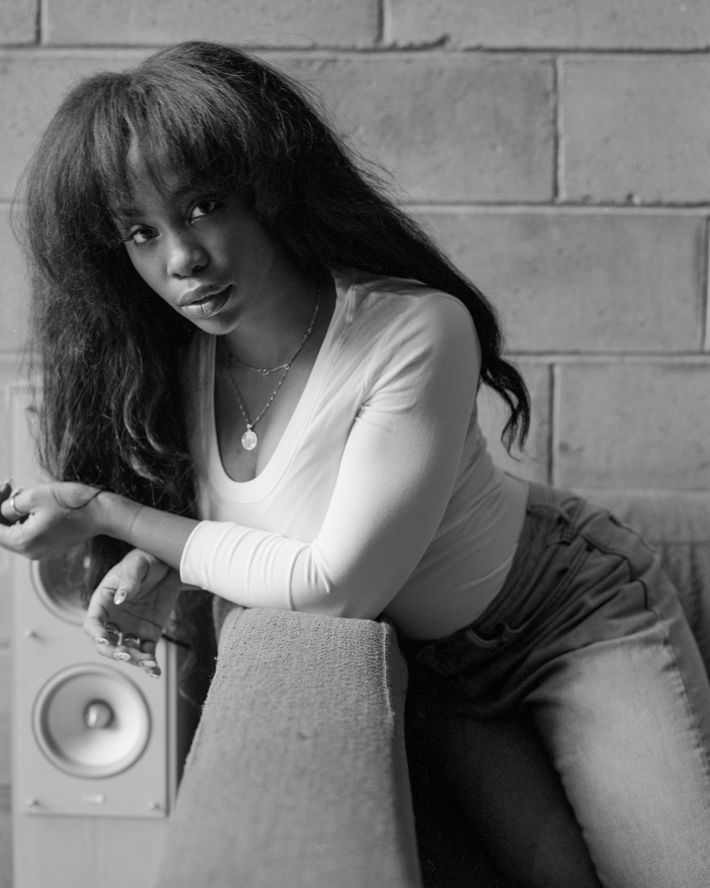 Calvin Klein Scoopneck Tee, $26 at Calvin Klein, Gap Archive Jeans, $54 at Gap.
The first single from CTRL, "Drew Barrymore," (which she performed live on Jimmy Kimmel recently) gave her fans just a glimpse of what's to come with her new music. She's described it as "the soundtrack to one of those cute Freddie Prinze Jr. movies," but the song takes you on the journey of her struggle with low self-esteem and confusing self-worth with companionship. "This album is a journey of who I am without any interference or even when I've tried to edit myself. Merging the unconscious me and the conscious me is very interesting." And in the process, she's also experimenting with her love of eclectic '90s fashion: "I'm excited to incorporate new inspirations aesthetically because I'm comfortable in my own skin. I trust myself right now." SZA describes her style as "girl next door," but it's decidedly cooler than that — she's one of the new faces for Beyoncé's Ivy Park campaign for Spring/Summer 2017 and she has a talent for mixing vintage-cool streetwear brands like Tommy Hilfiger and Champion with form-fitting silhouettes. Her style is an homage, of sorts, to Janet Jackson.
SZA has said that CTRL will be her last album — she's even tweeted as much, publicly airing her frustration with the music industry. "I don't know if I want to do this for the rest of my life or if my purpose extends to music forever," she says. "I do feel like I have a distinct responsibility to be myself; which includes blackness, woman-ness, but I don't know because I'm growing. The way my brain works, I just feel like I don't really know what's going on until after it's already happened."
Photography by Andre Wagner; Styling by Lindsay Peoples; Makeup by Frank Guyton; Hair by Jeanie Syfu.
Lead Image Credits: Vince Top, $255 at Vince, SZA own rings.