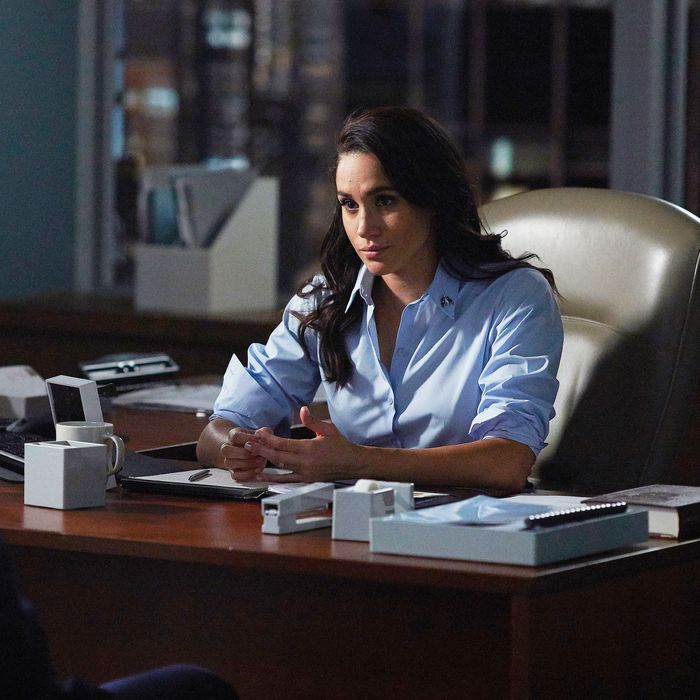 Meghan Markle in Suits.
Photo: USA Network/NBCU Photo Bank via Getty Images
In December, Meghan Markle opened up about the experience of being biracial in Hollywood, revealing that she never quite fit the Hollywood mold until her current role on Suits. But now, the actress and humanitarian delved even further into the discrimination she's faced because of the color of her skin in a new interview with Allure.
Markle's mother is black and her father is white, and she often felt that she was too light for the black community while also too mixed for the white community, the actress told Allure. After entering the entertainment business, she'd find herself being mistakenly labeled as different races during casting, and her freckles were often airbrushed out of portraits. "To this day, my pet peeve is when my skin tone is changed and my freckles are airbrushed out of a photo shoot," she told Allure.
The actress explained that she'd always felt a sense of "belonging" growing up with her family, though the feeling had nothing to do with the color of her skin. It wasn't until she enrolled at Northwestern University and took an African-American studies class that she even learned about the concept of colorism that ended up playing such a major role in her early Hollywood years. She noted, "For castings, I was labeled 'ethnically ambiguous.' Was I Latina? Sephardic? 'Exotic Caucasian'?"
Markle told Allure that she now embraces her freckles and the color of her skin. "For all my freckle-faced friends out there, I will share with you something my dad told me when I was younger: 'A face without freckles is a night without stars,'" she said.