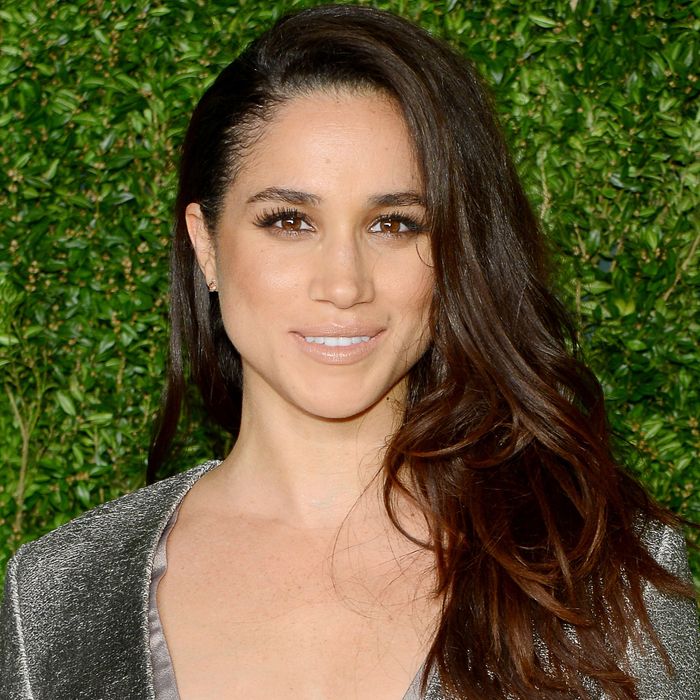 Meghan Markle.
Photo: Andrew Toth/Getty Images
Meghan Markle penned an essay for Time about her recent trip to India with World Vision, where she met with women and girls directly impacted by the stigmatization of menstruation. The actress and humanitarian (and royal girlfriend) wrote that many of these young girls are forced to drop out of school as a result of their periods and the lack of access to proper sanitation, which prevents them from reaching their full potential.
During her January trip to Delhi and Mumbai with the organization, Markle met with just a few of the 113 million girls between the ages of 12 and 14 in India who are at risk of dropping out of school because of the stigma of menstrual health. Many of the girls told her that they felt "embarrassed" to go to school during their periods and that they were forced to use rags instead of pads. They were also unable to participate in sports during their time of the month and didn't have access to proper bathrooms, so they often felt that leaving school entirely was their only option. Markle wrote:
Furthermore, with minimal dialogue about menstrual-health hygiene either at school or home due to the taboo nature of the subject, many girls believe their bodies are purging evil spirits, or that they are injured once a month; this is a shame-filled reality they quietly endure. All of these factors perpetuate the cycle of poverty and stunt a young girl's dream for a more prolific future.
Markle noted that, when a girl misses school because of her period, she falls behind her male classmates by a cumulative 145 days. "And that's the mitigated setback if she opts to stay in school, which most do not," she added.
The Suits actress explained that, to remedy the problem, it's vital for young girls to learn about menstrual-hygiene management, and to have access to toilets and sanitary pads. "We need to push the conversation, mobilize policy making surrounding menstrual-health initiatives, support organizations who foster girls' education from the ground up, and within our own homes, we need to rise above our puritanical bashfulness when it comes to talking about menstruation," Markle wrote.